Sony China's head a witness of singular moments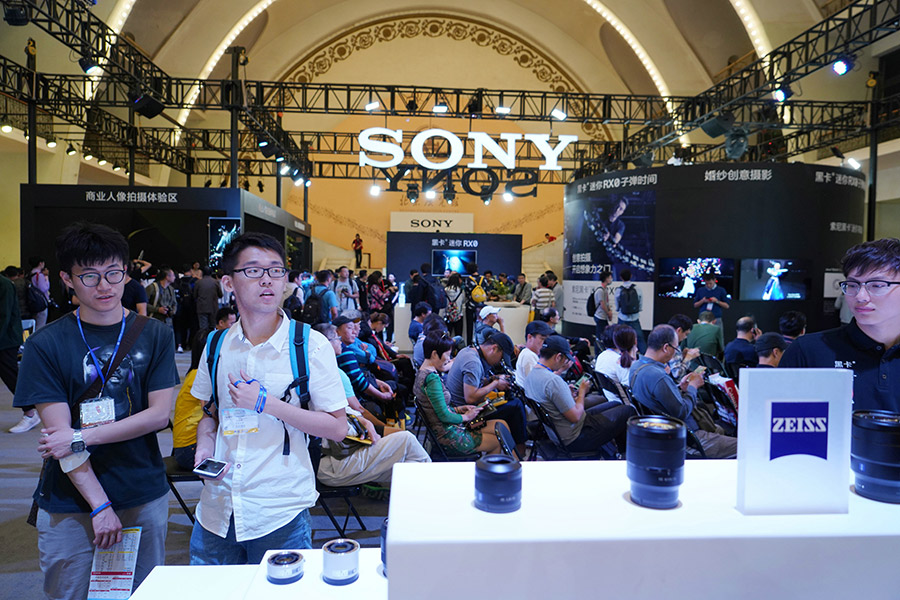 Editor's Note: This year marks the 40th anniversary of China's reform and opening-up. China Daily interviewed top executives of well-known multinational companies for their views on the country's socioeconomic development.
Experiencing nation's reform and opening-up first-hand since 1979 reveals rapid pace of development
Please use three words to describe China's changes in the past 40 years.
Rapid, across-the-board and drastic.
What are the biggest achievements in China since the introduction of the reform and opening-up policy 40 years ago?
The biggest achievements in China have happened in the area of economic development, people's living standards and their thinking. Thus, society is changing increasingly rapidly due to widespread adoption of new technologies.
What's the biggest challenge China faces today and how can the country overcome it?
Rapid development has brought China some challenges, such as unbalanced regional development. As developed countries have followed similar paths, China should work out its own methods to realize sustainable, balanced and healthy development for the long run.
How has your company benefited from the reform and opening-up policy?
Sony products were first introduced into the Chinese mainland in the late 1970s. In 1979, Deng Xiaoping met with Akio Morita, who was one of Sony's founders. In 1996, Sony China was formally established and began to see enhanced sales and marketing in China. Sony has benefited from China's reform and opening-up policy and witnessed the great achievements in this historical drive.
In the early days, Sony was lucky to provide people with their first Walkman, TV, camera or personal computer, enriching people's lives and bringing them happiness. Now, facing the needs brought by consumption upgrades, we are honored to provide premium choices to deliver both functional and emotional value.
Currently, China is one of Sony's largest single markets along with Japan and the United States. Since I took over as chairman and president of Sony China in 2016, Sony has realized double-digit sales growth in China for two consecutive years. Being confident in China's prospects and potential, we have made bold targets for 2018 as well.
In addition, Sony owns five factories in China that produce electronic products and devices for markets all around the world.
In the past 10 years, a number of fast-growing local internet companies have emerged and boomed in the Chinese market, changing the business environment and people's lives a great deal. Sony is committed to deepening cooperation with local Chinese enterprises and participating in the construction of new ecosystems.
Sony has sophisticated professional systems and products, and premium consumer gadgets, which have created vast opportunities for cooperation on two ends of the value chain. We can provide professional cameras and IP broadcast systems for local content creators such as Youku and iQiyi, which are building up their own content-making workhouse.
Sony TVs sold in the Chinese market also draw from these platforms and offer customers more contents choices.
We are selling products on e-commerce platforms such as Tmall and JD, and at the same time utilizing their big data to better grasp our customers' tastes and tailor our services accordingly.
Could China's experiences and practices be used to solve global problems?
Sony China is our first regional sales company to implement a data-based sales operation, which started in the 1990s. Unlike some other companies overloading dealers with stock, we closely monitor the Dealer Out index to help dealers to digest inventory. This model was world-leading at that time, and has since been applied to other markets.
With the popularization of mobile internet applications, new business models are emerging in China and seeing success in the market, such as mobile payments and the sharing economy.
Last year, Kenichiro Yoshida, Sony's current president and CEO, visited Shanghai to learn about mobile internet usage and showed great interest in the Chinese market. He has high expectations for the Chinese market and hopes that as a fast-growing market, China will continue to contribute to Sony group financially.
In addition, he hopes that Sony China can play a strategic role in exploring China's new business models, forming valuable alliances and cultivating new businesses.
What is the most unforgettable experience you have had in China?
I have lived in China three times throughout my learning and working career so far. At the first time back in 1979, I came to China to study Mandarin. The second time was in the 1990s, when I participated in the establishment of Sony China. In 2016, I came to China for the third time serving as chairman and president of Sony China.
It can be said that I have witnessed China's reform and opening-up at three singular moments.
In the late 1970s, China was still a planned economy. I remember that I had to use coupons to buy food and clothing. At that time, I would seldom see customers in the store and the sales people were impatient and indifferent.
In the 1990s, I came to Shanghai, finding that China's market economy had just kick-started, and many market activities were still in a primitive stage. For example, Sony began selling cameras and televisions in stores at that time, through a model of wholesalers selling to retailers and then to customers.
Due to a lack of instructions from the product makers, retailers did not feel the need to put any product introduction beside the products. Sony was the first company to display product descriptions, put up promotional posters and send promoters into stores.
We have also learned a lot of Chinese business habits. I still remember the first time I received an invoice and understood the concept of the account period in the Chinese market.
At that time, Chinese consumers were drawn to the Sony brand in groups. On holidays, users queued to pay and would check the products carefully, spending their months' or years' savings on a Sony appliance.
What I have seen from 2016 until now is a completely different market. The speed of market change is fast and consumer habits are completely different.
These days, consumers are more rational, informed and have strong purchasing power. They have a clear requirement for a high quality of life and a high level of personalization.
Most important of all, I have witnessed innovative business models and outlandish technology adoptions in China.
Apart from economic development, what progress in other fields have you witnessed in China in the past 40 years?
Rising wealth and material satisfaction bring out increasing cultural and spiritual needs. According to a report released by iResearch in July, China's middle and high-income earners have spent a significant share of their income on tourism, children's education, communication, entertainment, hobbies and self-improvement in the past two years.
In general, affluent Chinese consumers now are quite similar to those in the US and Europe. They tend to accept new technologies and new living styles faster.
They are well-informed and value others' opinions. In China, key opinion leaders are more influential among their peers. In addition, they have a strong desire for a quality life and diversified and personalized needs.
In recent years, Sony has been committed to providing premium products and services to meet various and increasingly sophisticated needs in the Chinese market, hoping to seize the opportunity of quality and diversified consumer demand that is emerging in the current consumption upgrade process.
For example, although the overall Chinese TV market volume declined in 2017, Sony TV sales increased by 30 percent. We observed that the market decline mainly focused on small-sized and low-end TVs, while the high-end section almost doubled.
Our corresponding strategy is to target the large-screen, high-quality TV market to meet consumer demand for high-end products.
Today's Top News
Editor's picks
Most Viewed