Tariffs kill China market for US-produced pig feet, heads
Share - WeChat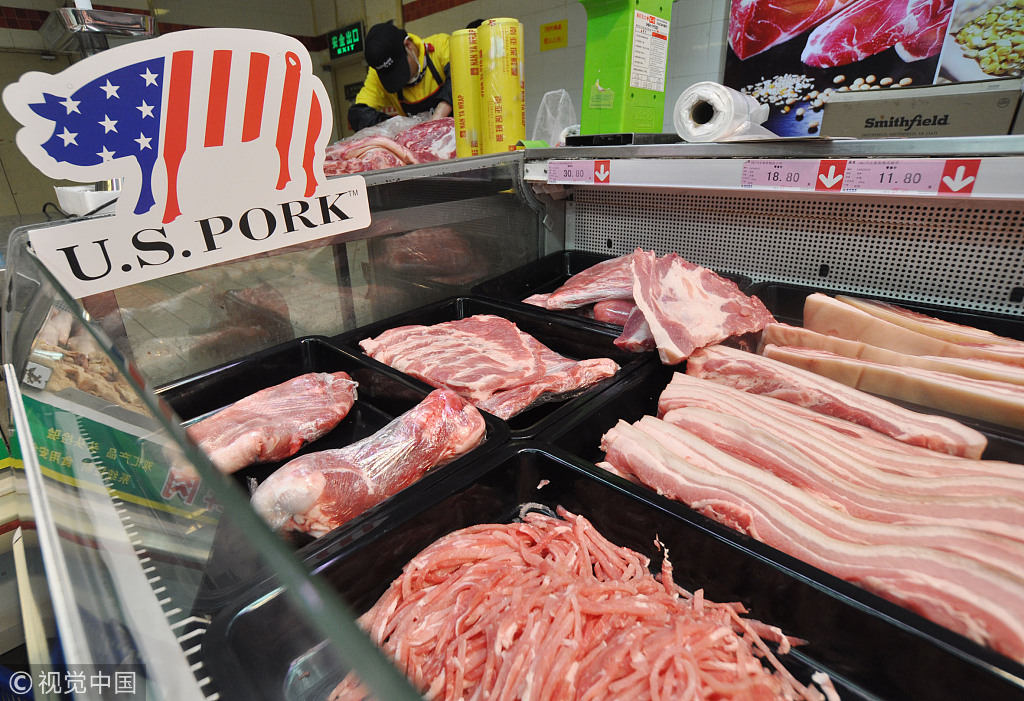 Feet, heads, hearts, tongues, kidneys, stomachs, entrails – parts of a pig that most Americans would shun are considered special in China.
"Chinese consumers have different preferences than US consumers. They value different parts of the animal," Dermot Hayes, an agricultural economist at Iowa State University, told China Daily.
Those different parts, known collectively as offal or "variety meats", had been a money-making export for US pig farmers in 2017 with $874 million in sales to China, the top buyer of US variety meats last year.
But then came the tariffs, and "had been" is where American pig farmers now find the market.
The US pork industry took a hit after Mexico last month slapped American pig products with a 20 percent tax. China imposed a 25 percent tariff on American pork in April. Washington imposed 25 percent duties on $34 billion of Chinese goods on July 6. Beijing responded by imposing similar charges on the same amount of US products, including pork.
Before the tariffs were increased, the Chinese had been the biggest buyers of the two largest categories of US-produced variety meats: more than 91 percent of pig feet (about 175,000 metric tons) and 96 percent of pig heads (about 42,000 metric tons), according to the US Pork Producers Council.
China is the fourth-biggest buyer of American swine – $1.1 billion in 2017, according to the council – and the world's largest pork consumer.
According to the USDA, US pork exports to Chinese mainland/Hong Kong from the beginning of this year through May were down 18 percent by volume and 6 percent by value. US exports likely continued to fall in June and July, particularly in July since the second 25 percent tariff was imposed on July 6.
Iowa State University economists estimate that the trade disputes have cost US hog farmers about $18 per hog or more than $2 billion on an annualized basis from the beginning of March – when rumors of the Chinese duties began to circulate – through May. Most of that loss can be attributed to China's first 25 percent retaliatory tariff, they said.
"US pork meat and variety meat exports to China have fallen to zero. Moreover, the grey market through Hong Kong is also closed," Hayes told China Daily.
"It's a real big blow to producers to lose the Chinese market because of the variety meats," Ken Maschhoff told USA Today. "It is a $30 million impact to our operation," he said, making up a third and as much as half his profit.
Maschhoff is chairman of the board of The Maschhoffs, the largest family-held pork producer in the world. Based in Carlyle, Illinois, the company markets about 5.5 million hogs a year and operates in 10 states.
Variety meats make up as much as $5.25 to $5.50 in profit per hog out of the at least $10 per animal that producers need to remain profitable, according to Maschhoff. "I estimate the average hog farmer can only sustain the losses caused by tariffs up to two years," he said.
In 2017, the average value of US variety meat exports to China was about 76 cents per pound, according to the US Meat Export Federation, a trade association. If processors don't sell them elsewhere for human consumption, the byproducts will be rendered in the US for about 18 cents per pound – a loss of $1.55 per hog for the volume exported to China, the federation said.
"We are looking at an $800 million loss on variety meats alone," Joel Haggard, senior vice-president for the Asia-Pacific region at the federation, told the Washington Post. "It's brutal."
China will likely have little trouble finding supplies to replace US variety meat, analysts said.
"The Chinese aren't going to get hurt by this," said Maschhoff, chairman of The Maschhoffs, "Chile or Europe or somebody else is going to say, 'Well, we've got a bunch of stomachs or livers or feet that we're not using....'"
The loss of the Chinese market for US-produced variety meats also hurts major processors, including Virginia-based Smithfield Foods Inc, the nation's largest pork producer. It is owned by China's WH Group, and ships pork to more than 40 countries. The company declined to comment to China Daily.
American pig farmers are looking at other markets like Japan, South Korea, the Philippines for variety meats, as well as US pet food makers.
"The parts that we don't eat here in America for pork often have nutritional value to our pets," said Dana Brooks, president of the Pet Food Institute, which represents companies that make 98 percent of all US pet food and treat products.