Pittsburgh celebrates first charter flight
By Zhang Ruinan and Wang Linyan in Pittsburgh, Pennsylvania | China Daily | Updated: 2018-08-07 09:04




Share - WeChat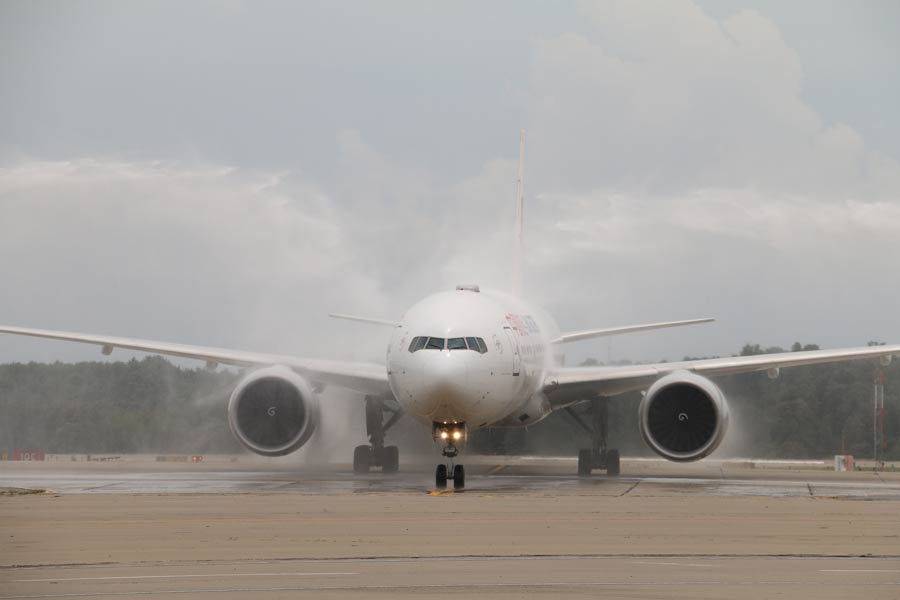 Despite China-US trade friction, Pittsburgh is seeking stronger ties with China as it welcomed 316 Chinese visitors who arrived on the first direct charter flight from Shanghai to Pittsburgh International Airport on Friday.
Rich Fitzgerald, executive of Allegheny County, where Pittsburgh is the county seat, described it as "historic" for Pittsburgh to be the first medium-sized city in the United States to host a tourism charter flight.
"This is a fantastic opportunity for our region," he said. "We know how important the market is. For Americans, China is such a growing market.
"A lot of relations and connections are already forming (between China and Pittsburgh), so we want to continue that along," he said during a welcome event the city organized for the Chinese visitors on Friday. "Our region's businesses, the airport and our tourism industry will be the primary beneficiary of this agreement."
Fitzgerald said that the city wants to encourage trade, tourism and education partnership with China as it transitions from the iconic "Steel City" in western Pennsylvania to a city committed to education, medical and technology innovation, such as autonomous vehicles and artificial intelligence. Pittsburgh has around 20,000 people from China living in the city.
"A lot of things that are happening in Washington are out of our control, but there are things we are doing in Pittsburgh with our friends in Beijing and Shanghai on technology and trade that we want to continue and encourage," said Fitzgerald, who visited Beijing and Shanghai last year.
"We are hoping on the national level President Donald Trump and President Xi Jinping and their administrations can work things out," he added, "because we think the trade could be beneficial to both countries, and we hope it will occur".
For Christina Cassotis, CEO of Pittsburgh International Airport, Friday was the day on which her more than two years of efforts with local and Chinese partners paid off.
The airport subsidized about $560,000 for the charter flight. Together with Visit-Pittsburgh, the official tourism promotion agency for Allegheny County, and the Idea Foundry, a Pittsburgh-based nonprofit that encourages educational ties and investment, the subsidies totaled $910,000 and are part of a three-year agreement with Chinese tour operator Caissa Touristic to market and sell trips to Pittsburgh, according to USA Today.
Cassotis is looking to turn the charter program into a regular flight service.
"It's our goal to eventually have a nonstop scheduled services between China and Pittsburgh and to make Pittsburgh into a thriving tourist attraction for travelers like yourselves," Cassotis, told Chinese visitors during the welcoming ceremony. "We want to introduce Pittsburgh to China as well as welcoming all of our visiting friends."
The nonstop air link is operated by China Eastern Airlines on a seasonal basis and will feature two roundtrip flights between Pittsburgh and Shanghai Hongqiao International Airport on Aug 3 and Aug 11.
"This is a historic day. We have been waiting for this day for more than two years, and we are so excited that it's finally here," said Craig Davis, CEO of VisitPittsburgh. "Our reputation for innovative businesses, advances in technology and medicine, a vibrant arts community and attractions like the Carnegie Museums, our fabulous inclines, our fantastic universities, Point State Park, have made Pittsburgh a must-visit destination."
"And we really want to be a regular stop for Chinese visitation," Davis said.
According to the US Commerce Department, about 3 million Chinese traveled to the US in 2016 and spent $33 billion, with the number of visitors up 15 percent and spending up 9 percent from 2015.
And US cities are rushing to adapt to and attract Chinese visitors, who spend an average of $7,200 per person, according to the US Travel Association.
Like his local partners, Michael Matesic, CEO of the Idea Foundry, thinks long term.
"This incentive will have a significant impact on the local economy. This is an investment for the future," said Matesic. "We would like to see more students coming here to study, more visitors coming here to visit and more Chinese people coming here to invest.
"Recently we've seen students coming here facing more visa challenges, more immigration questions, so even if we embrace the openness, there are barriers that already have an impact on what we're doing," Matesic added.
"But I believe we are all people, we all have the same passion and desires, so I think nothing from a trade barrier can prevent people-to-people relationships."