Despite dents, gold to glitter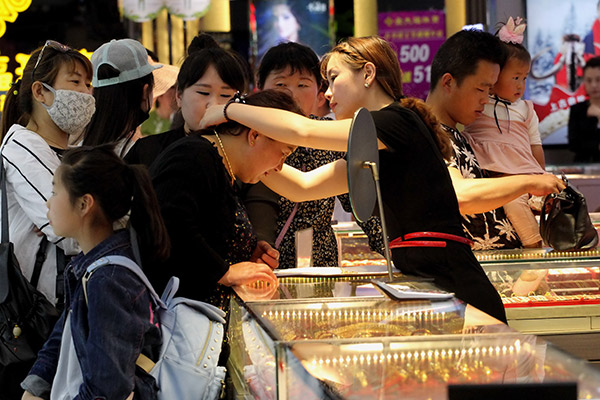 Jewelry demand, access to foreign resources may offset negatives in the second half
Gold's appeal as a safe haven seems to have dimmed recently, as gold prices have swung wildly this year due to dollar volatility and global geopolitical uncertainty, market insiders said.
Yellow metal prices are likely to remain buoyant in the second half of this year, given the continuing uncertainty over global economic growth and growing jewelry demand, said Zhu Yi, senior analyst of metals and mining at Bloomberg Intelligence.
"Gold prices may continue to fluctuate as the downside is supported by costs and the ongoing uncertainty over global economic growth, geopolitical troubles and inflationary pressures, while the upside is limited by modest supply growth and further (interest) rate hikes," she said.
According to China Gold Association data, international gold prices were at $1,302.70 per ounce at the beginning of this year. Prices fluctuated within a narrow range around $1,330 per ounce in the first four months, during which the peak was $1,366.05 per ounce.
Prices began to drop from the end of April under the pressure of China-US trade tensions and the growing strength of the US dollar. Gold closed the first half at $1,253.20 per ounce and further declined to $1,211.42 per ounce by July 19.
Amid this unsteady environment, China's overall gold consumption during the first half reached 541.22 metric tons, up a tad year-on-year, with the jewelry segment's consumption up by 6.37 percent year-on-year to 351.84 tons.
"Demand from jewelry, the largest consuming sector for gold, is improving, mainly from India and China," said Zhu. "Gold may yet retain its (long-term) safe haven asset status on global geopolitical and macroeconomic challenges."
According to Song Xin, head of the China Gold Association, the continuous increase in the consumption of gold jewelry is mainly because of growing demand among younger Chinese consumers for gold earrings, bracelets, necklaces, clothing and other kinds of jewelry.
"The rise of the new generation of consumers has led to changes in aesthetics, and their pattern of consumption is driving the gold jewelry market," he said.
China's gold consumption reached 1,089.07 tons in 2017, a year-on-year increase of 9.41 percent, with demand for gold jewelry, gold bars and industrial-use yellow metal surging, according to the association.
Demand for gold is expected to continue to rise on the back of growth in high-end consumption and demand from second- and third-tier cities, it said.
According to Song, Chinese companies have invested over $4 billion in overseas markets during the past few years, accessing gold resources of more than 1,500 tons and producing 35 tons in overseas destinations by the end of 2017.
Some 408,700 tons of gold material worth $573.4 million was imported from the countries and regions participating in the Belt and Road Initiative last year, 48 percent of China's total imports and 34 percent of the total value of imports.
Considering that markets like China and India have long prized gold for its financial and cultural value, analysts believe deepening regard for traditions and increasing prosperity will continue to boost demand for the yellow metal.
John Reade, chief market strategist and head of research at the World Gold Council, said maturing economies including China and India will see changing jewelry purchase patterns with sales to younger generations being the biggest challenge.
While uncertainty, market downturns and crises of various kinds will keep investment demand buoyant, the outlook for demand looks positive and will benefit from emerging market growth, he said.
"Technology demand will benefit from a more connected economy. Investment demand will ebb and flow."
Gold will remain an integral part of the economy in 2018, he said.
China Gold Association data showed the country has become the world's top gold producer for the 11th consecutive year since it surpassed South Africa in 2007.
Zhao Xuezhu contributed to the story.