Fine-tuned gambit seen to cushion blow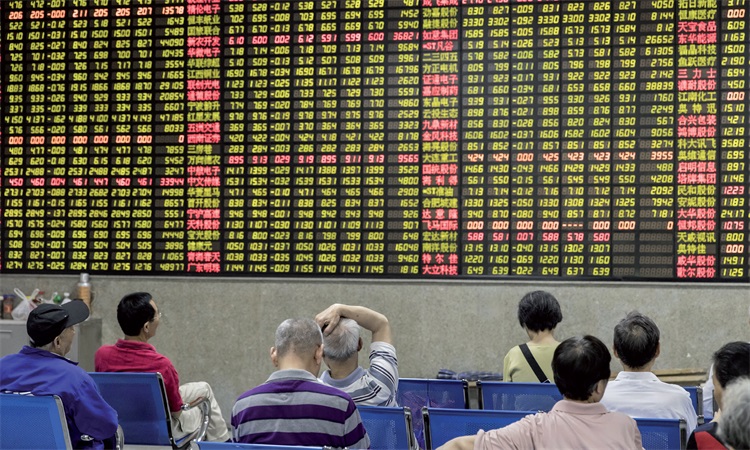 China tipped to open up market further, easing financial climate to soften impact of trade tensions
With the United States bent on intensifying or prolonging its trade war with China, the world's second-largest economy is poised to take a measured approach in dealing with the capricious US tariffs unleashed in the escalating tensions, and further open up its vast market to counter unilateralism and protectionism.
Market observers have adopted a cautious tone, shrugging off talk that China would hit back with highly punitive steps, such as dumping US treasuries, depleting its foreign currency reserves or meddling in the operations of US enterprises on the Chinese mainland.
Instead, they reckon that China would mostly likely resort to using a good combo of domestic toolboxes and easing market access to fine-tune its economy.
In less than a week since the US slapped 25-percent tariffs on $34 billion worth of Chinese imports, an additional 10-percent tariffs on a further $200 billion worth of Chinese imports was announced on July 10.
"In short, we don't see any benefits coming out of the trade war," said Erik Norland, senior economist of Chicago-based CME Group. "Putting up tariffs and barriers is creating inefficiency in the market. It could reduce corporate profitability and raise costs for consumers. This is really a deadweight loss to the economy."
Asked for his thoughts on why the ongoing US-China friction had gone off in the first place, he replied: "If you look at the global distribution of income over the past 30 years, people at the lower spectrum of the income, meaning the emerging market, have been seeing a tremendous increase in their living standards. People at the very top of the income rung have also seen a tremendous increment, while those at the upper tier, such as the middle-class in developed countries like the US, do not see similar income progress."
"You don't need to blame your own countryman, blaming someone else in a different country has certain political advantage of externalizing things outside the country," said Norland.
Swiss multinational investment and banking group UBS believes that, as much of the current downward pressure comes from tightening financial regulations and strained credit, the Chinese government will adjust the pace of deleveraging to cushion the effects of the escalating trade war, and it does have a good variety of tools to play with.
It believes that the first obvious measure might come with increased liquidity by allowing for a further cut in banks' reserve requirement ratio (RRR).
Wang Tao, head of Asia economics at UBS, sees the RRR trimmed by 150 basis points or more this year. It would not necessarily be a targeted rate cut like previous ones, but a general liquidity injection into the market, she said.
The People's Bank of China — the nation's central bank — cut the RRR by 50 basis points late last month — the third such reduction this year — allowing an injection of 700 billion yuan into the market so that big lenders could conduct equity-to-debt swaps, and support lending to credit-strapped small and medium-sized enterprises through smaller banks.
Wang also expects the mainland to ease scrutiny of the public–private partnership (PPP) and infrastructure projects and increase explicit funding, such as issuing special local government bonds for such investment.
The trade tension also coincides with the current review of China's new tax laws, multiple tax abatement initiatives, including higher monthly exemptions and more deductibles, which are expected to take effect early next year after they're approved by lawmakers.
Wang said tax cuts, undoubtedly, would ease the burden of low- to middle-income earners and boost domestic consumption — a critical component at a time when exports are set to drag down GDP growth amid growing protectionism. But, the reduction would only have a small impact on the overall economy as income taxes account for just 1 percent of national GDP.
Last year, the country's annual personal income tax reached 1.2 trillion yuan — up 18.6 percent year-on-year — according to the Ministry of Finance.
There's also concern that China, as the largest foreign owner of US treasuries, holding a $1.18-trillion portfolio as of April this year, or around 20 percent of US debt held by foreign countries, might prompt a sell-off to roil the US bond market.
"It would be too easy for the US to respond to that by having the US Federal Reserve to buy more," Wang reckoned, refuting other self-sabotaging measures, such as burning its $3-trillion foreign currency reserves to disrupt the US market.
"I think the Chinese government is smarter than doing this."
While many financial experts don't expect China to depreciate the yuan as a weapon, they agree that the Chinese currency would come under more downward pressure as the trade war escalates.
Hong Hao, managing director and head of research at Bocom International in Hong Kong, said the market shouldn't be overwrought about an orderly depreciation. In the near term, he believes, both the Chinese currency and the stock market will remain volatile, but once the currency volatility subsides, there'll be tranquility in the market.
"In unsettled times, the market can be very volatile," said Hong. "But, once the market understands this is how China is going to play the game, they're going to depreciate the currency, control capital flow and lift the competitiveness of exporters. The market will then stabilize and recover."
At the Global CEO Council roundtable summit held in Beijing last month, President Xi Jinping met with global executives from the likes of UPS, Pfizer, Cargill, Prologis and Goldman Sachs, and urged the international community to stand up against "protectionism, isolationism and populism", while vowing to open up the country's market further to foreign players.
The 20th European Union-China summit held in Beijing last week saw both sides endeavor to conclude the Geographic Indications Agreement that aims to protect well-known European food brands in China. If signed, it would be the first international treaty between China and the 28-member grouping, according to an article written by the EU ambassador to China and published in the Chinese media.
The China Securities Regulatory Commission also announced earlier this month it will allow foreign individual investors to trade in A-shares through local brokers.
"In a way, the trade war has pushed us to reform faster and be more opened-up," Hong said.
Contact the writer at evelyn@chinadailyhk.com