Technology is written into ING's DNA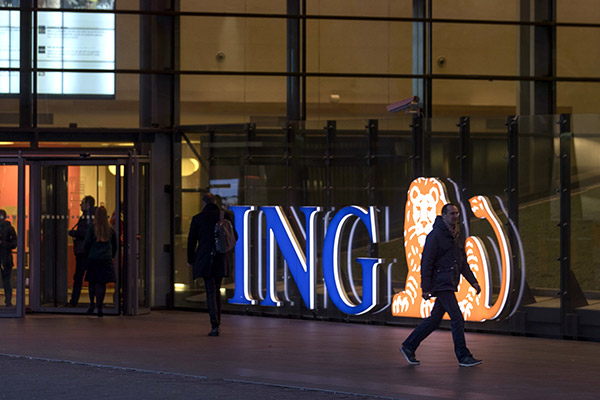 Dutch banking and financial firm sees opportunities in Chinese market, which is opening wider to foreign institutions
Ralph Hamers, CEO of Dutch multinational banking and financial firm ING Group, said technology is a crucial part of the company's DNA.
The group is increasing its investment in technology with an annual budget of 1.2 billion euros ($1.4 billion), as well as 300 million euros earmarked to form partnerships with financial technology firms with smart and novel ideas, according to Hamers.
ING is exploring the possibility of establishing a digital banking joint venture with its Chinese partner, Bank of Beijing Co Ltd. The aim is to gain a share of the online banking market in China, where the combination of technology and financing is creating new business opportunities that large companies cannot overlook.
"If you look at our recent history and our DNA, we build banks for the online channel. The opportunity we see with Bank of Beijing is to set up a joint venture in the regulatory environment and excel in customer service through mobile phones," Hamers said in an interview with China Daily.
The chief of the Dutch financial group said there are emerging opportunities in China's evolving financial sector, which will only open up wider to foreign institutions.
The country's pursuit of higher-quality growth, with an emphasis on sustainability, could lead to greater financing needs from clean energy and environmentally friendly infrastructure, to which ING Group could cater.
The Belt and Road Initiative will bring about more cross-border investments from big Chinese and foreign companies, for which ING is well-positioned to support, Hamers said.
The government has been very willing to further open up the Chinese financial and banking industries. What is ING Group's plan to expand its presence in China?
We have been committed to China since 1993. We were one of the first non-Chinese banks to come into the country when it opened up the economy.
If you look at our strategy in China, you can actually divide it into three parts. Through our wholesale banking business, we support Chinese businesses and large companies outside China, and we support non-Chinese companies to enter into the country.
The second part is our 13-year partnership with Bank of Beijing. We always look at how we can support the bank, give them the best practices that we see elsewhere in the world, and make it a part of the ING ecosystem.
The third part is that we have been exploring, together with Bank of Beijing, setting up a joint venture to develop a digital-driven bank within the Chinese regulatory framework. We have a joint team working on this plan, preparing the business in order to get a license for that.
We have to take a look and see whether that can actually help us as a partner to build a better business.
What will be the business focus of the digital banking joint venture?
ING is well-known for its online banking capability, which we refer to as fintech today.
What we bring to the table is a deep knowledge of technology and how to apply technology to deliver a unique, different and genuine customer experience. What Bank of Beijing brings is their extensive knowledge of the local regulatory environment.
If you generate deposits in the bank, you have to lend that money in a prudent way. Bank of Beijing has shown itself to be very adept at risk management during the past 13 years. We need a combined approach in order to build a successful digital bank in a regulated way.
How do you see the rise of Chinese technology companies such as Alibaba and Tencent, which already have a big presence in the mobile banking or online financing market in China?
I think they are examples to the world of how quickly you can develop a digital ecosystem and develop social media into a whole array of products focusing on different customer experiences.
Having said that, we do well in applying all that in a banking regulatory environment, where there are different regulations and laws to adhere to if you want to generate bank deposits and offer loans. And that opportunity is still here.
There are also upcoming changes in regulations to open up the banking system and more regulations coming in for the non-banking, shadow banking sector, and even the larger tech companies, on how to deal with data, security and compliance issues.
We are the digital player in the financial industry and we know how to deal with regulation and compliance. So we do think there is a specific opportunity for us.
We will bring more of our own people into the joint venture with Bank of Beijing. We have people at ING with backgrounds in direct banking coming from Australia, Singapore, the Netherlands and Germany, where we are the fastest-growing digital bank. We are already the third-largest digital-only private bank in Germany.
Why has ING maintained a significant stake in Bank of Beijing for so many years, while many foreign investors have sold their stakes in Chinese banks over time?
When we made the investment in 2005, we were a bank-insurance company. It was very important for us to solidify a collaboration between Bank of Beijing and ING on the distribution of insurance products in China. That was one of the reasons we wanted to become a partner to Bank of Beijing.
But over time, we have seen the strength of Bank of Beijing not only as a way to distribute insurance products, where we were not active anymore, but also its value as a bank. Over time the relationship between the two institutions has developed very strongly.
If you look at the investment opportunities alone, as a shareholder, we have received a good return on our investment. But given the fact that we have invested so much in the relationship, we have become much more than a shareholder, as the bank has become a strategic collaborative partner looking for opportunities.
We also look for opportunities outside shareholding. I cannot talk for other international institutions that have sold their stakes in Chinese banks. We are probably a little bit more Chinese than other international institutions because we look at things from a much longer-term perspective than just financial opportunities.
If you see what President Xi Jinping has indicated, and the leadership and vision he showed in terms of supporting the Paris Agreement, the Belt and Road Initiative and the opening-up of the economy to foreign ownership, then you see that you have to be committed for a longer term to make an even broader collaboration work.
What opportunities do you see in the Belt and Road Initiative?
We are investing in people and specialists in order to support the initiative and grow the number of clients, as well as to support both outbound and inbound business, because the Belt and Road Initiative will also generate more inbound initiatives.
ING wholesale banks were active in 40 countries and regions around the globe and active in 25 economies related to the Belt and Road Initiative. So we are very well positioned to support Chinese companies that want to invest in these countries and regions, and to provide banking services in these economies. We have decided to double the number of clients from the ING perspective in China to support them alongside this initiative.
In addition to the joint venture with a local consumer digital bank, we now also have plans to collaborate much more on the wholesale banking side, to support Bank of Beijing's large client base that wants to invest along with the initiative.
How much does ING invest in new technology to adapt to the changing business environment?
First, we are a technology company, so every year we invest about 1.2 billion euros in technology. We invest in maintenance to make sure that the system we have is constantly upgraded. It is about real change, change in the customer experience, bringing a completely new product to the market, or improving our apps and connections between systems.
We also have an annual budget of 300 million euros to invest in partnerships with fintech firms that have ideas that are better than ours. We have good ideas but there are also smart people outside ING, and they might have good ideas as well. To date, we have invested in 150 partnerships.
On top of that, we have a budget of 25 million euros to support futuristic ideas, the kind that are completely out-of-the-box thinking.
China is experiencing an economic transformation with a pursuit of higher-quality growth, and that growth is more driven by services and consumption. What are the new opportunities for foreign banks amid such trends?
It represents solid opportunities for non-Chinese companies to invest in China, and that is what we can cater for through our partnership with Bank of Beijing.
We see many opportunities for investment in renewable energy, sustainability, and transportation. We have a very clear strategy to combat climate change-we have a portfolio of 14 billion to 15 billion euros specifically in climate change-related financing and debts, which we want to double.
We also support customers in issuing green bonds, through which you bring investment to communities via sustainable projects.
We were among the first to launch the sustainability loan, where the credit margin charged does not just depend on their credit rating or the risk they represent, but also on their sustainability rating. It means that the better the sustainable rating of our client, the lower the margin they have to pay. It is an in-built incentive for clients to do everything possible to change their carbon footprint.
All of these initiatives support higher-quality growth and represent mutual opportunities for Chinese and international companies, which are exactly our sweet spots.
How would you describe your management style?
We are a purpose-driven organization. Our purpose is literally the word "empowerment", which means empowering people to stay ahead in life and business.
If you empower people, you support them, coach them and give them tools. You do that in order to enable them to make decisions themselves rather than making decisions for them. That is also the way we deal with clients.
As a bank that is very technology-driven, it is the client that makes decisions themselves. What we do is to make things very clear and transparent, ensuring we are always available and giving our clients the necessary tools to empower them.
What do you do in your free time?
My priority is my family. I try to be home for the weekends. I am dedicated to my children-I have twins. One plays soccer and the other plays field hockey. I like cycling, swimming and sometimes running.