New growth engines drive the economy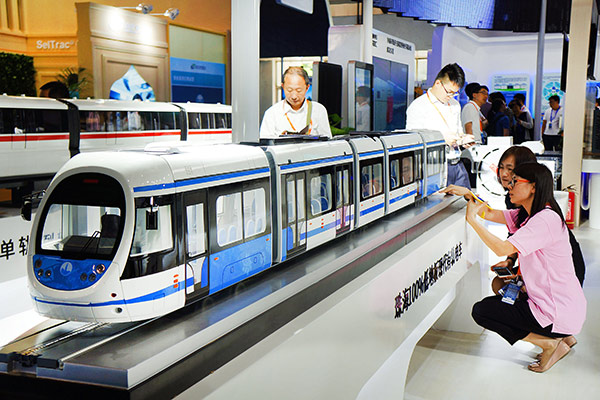 Tackling challenges
China has taken strenuous measures in recent years to lower its leverage and debt levels, making some progress. By the end of May, the asset liability ratio of major industrial firms had fallen to 56.6 percent from 57.2 percent a year ago. The authorities have defined the prevention of major risks as one of the three key tasks facing the country, along with poverty reduction and environmental protection. Analysts said risk prevention will require control of financial risks posed by corporate and local government debt.
Signifying strengthened control of local government debt, the State Council, China's Cabinet, issued a document on July 6 stating that it will carry out a nationwide inspection to see if local governments have implemented central policies on economic and social development. The document stated that one of the focuses of the inspection will be control of local government debt.
In another document, released on July 13, the State Council said fiscal funds should account for at least 40 percent of the investment in urban rail transit construction projects.
He Daixin, a researcher with the Chinese Academy of Social Sciences' National Academy of Economic Strategy, told National Business Daily, "This move is to prevent some local governments borrowing more money to start such projects, which will worsen their already heavy debt burdens." There are also challenges emerging overseas.
In the United States, the Federal Reserve decided last month to raise the benchmark interest rate by 25 basis points, the second rise this year. It is widely expected to raise the rate twice again later this year.
The increase has triggered drastic fluctuations in the financial markets of emerging economies, as it is expected to drive international capital into the US from other parts of the world, especially volatile emerging markets.
The US-initiated trade war against China and traditional allies, such as Japan and the European Union, on the other hand, has prompted the International Monetary Fund to warn that it will substantially undermine global trade and economic output.
However, on Wednesday, the US and EU agreed to work towards zero tariffs, barriers and subsidies.
Against this backdrop of an unstable environment overseas, the Chinese authorities have acted to maintain stable growth while taking more measures to cushion possible shocks emerging from outside the country.
On Monday, a State Council executive meeting, chaired by Premier Li Keqiang, decided to "better utilize fiscal and financial policies to support the expansion of domestic demand, structural adjustment and boost development of the real economy".
The meeting agreed to pursue a more proactive fiscal policy. The government will focus on cutting taxes and fees, and more companies will be eligible for preferential policies on the additional deduction of spending on research and development from taxable income, Xinhua News Agency reported.
"We are confident in our capability of maintaining the resilience, health and sustainability of the economy," said Yan of the NDRC at the news conference on July 17.
Wang Zhuoqiong contributed to this story.