Chinese amateur 'Carl' Yuan takes two-stroke lead at Qingdao Championship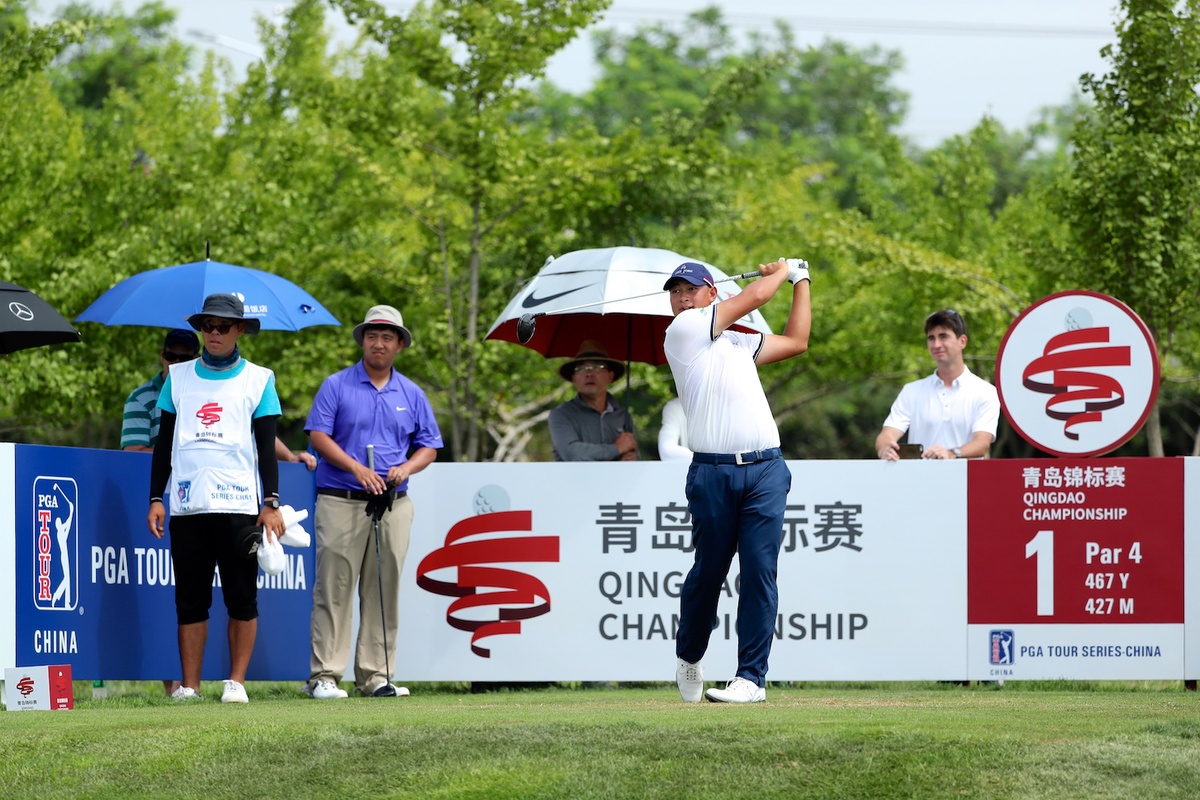 HAIYANG, SHANDONG - Yechun "Carl" Yuan carded a 1-over 73 to take a two-shot lead after the third round of the Qingdao Championship as he bids to become the first amateur to win a PGA TOUR Series-China event since long-time China teammate Cheng Jin achieved the feat in 2014.
The 21-year-old Yuan, who will play in Sunday's final group for a third consecutive Tour event, moved to 6-under on a tough day over the seaside layout at Tiger Beach Golf Links, a sister course to Carnoustie, host of The Open Championship this week.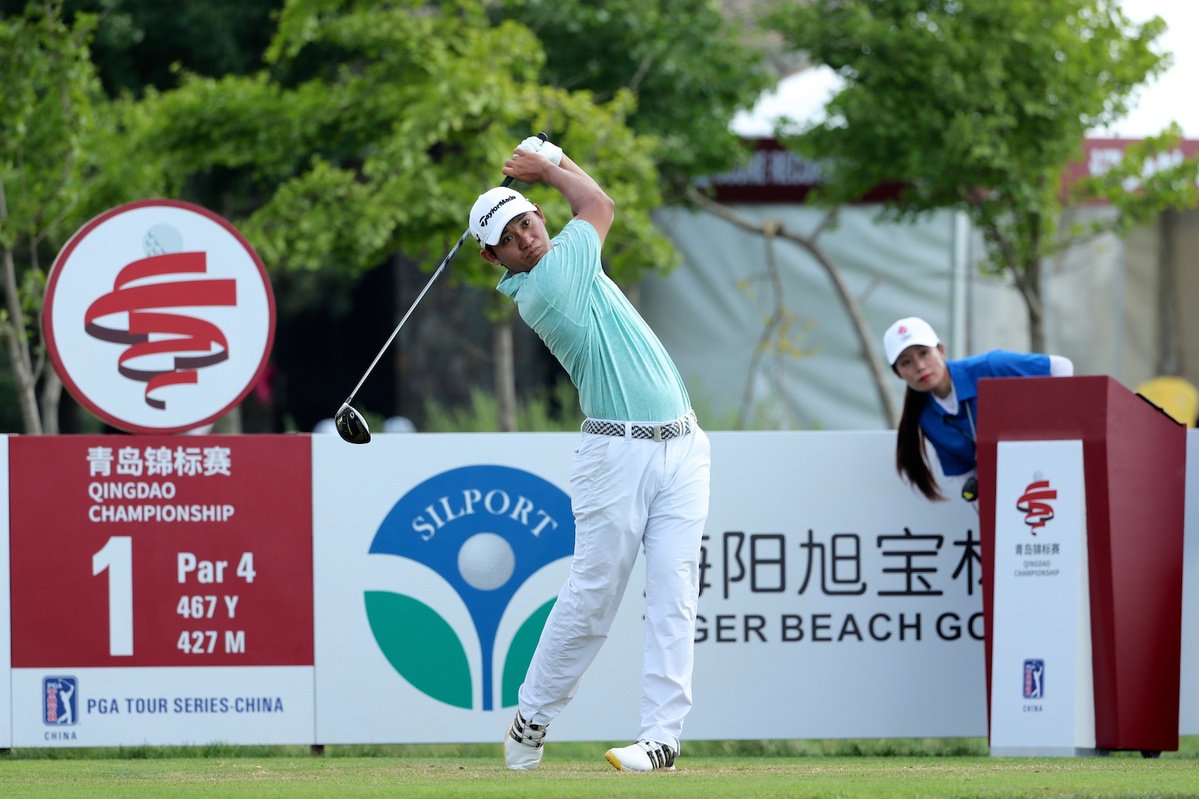 American Sam Chien, a winner on the Tour in 2014, shot 70 to move to 4-under and share second with Australia's Max McCardle (74)and New Zealand's Campbell Rawson (71), one ahead of Thailand's Gunn Charoenkul (72), who won on the Tour in 2014 and 2016.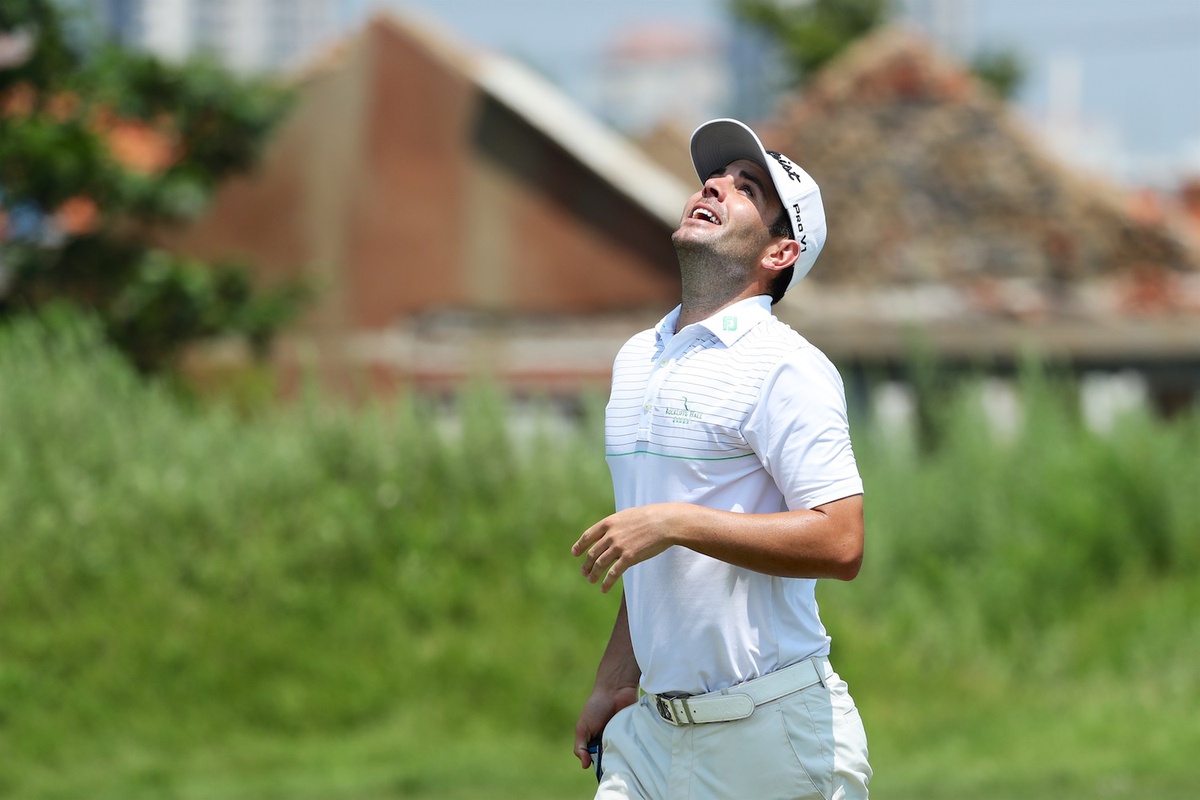 Third-round leader Callum Tarren of England shot 78 to drop into a tie for six that 2-under with Chinese Taipei's Chihuang Tsai (74), China's Yinong Yang (70) and two former winners, Canada's Eugene Wong (77), triumphant in 2015, and Australian Bryden Macpherson (70), victorious twice in 2015 on his way to topping the Order of Merit.
Yuan took the lead despite shooting his first over-par round in his three events on the Tour this year, and will now try again to close out on the final day.
"I'm slightly disappointed as that was my first round on the Tour shooting over-par, but I got my personal goal of the day and stuck to my plan. We still have 18 holes to go," said Yuan, who tied for 18th at last month's Kunming Championship and third at last week's Yantai Championship, each time shooting 71.
"I did well the last couple times on the Sunday, even if I wasn't able to close it. I'm going to do what I always do which is stick to my plan. I won't try to do something funky or change anything."
Yuan, who works with Sean Foley, Justin Rose's current coach, is aiming to be the Tour's second amateur winner and follow in the footsteps of Jin before the pair represent China at the Asian Games in late August.
"He's definitely one of the most hard-working guys I've ever met. He can play 18 holesand hit golf balls for another three hours after that. He's really talented and has always been very disciplined and hard-working,"said Yuan, who played for the University of Washington for three years.
"We played a bunch together in junior golf and we played a couple of times in college, and we went to Indonesia a couple weeks ago for a practice round for the Asian Games. I would say our games are pretty even, I guess."
Chien, who finished fourth on the Tour's Order of Merit in 2014, carded three birdies and a bogey as the 28-year-old put himself in the hunt in his fifth Tour event of the year.
"I hit the ball really well and kept the ball in play. The pin positions were difficult today, so I was happy with posting a 2-under," Chien said.
"I'm excited for tomorrow. The key for me is to just play my game and I will need to stay sharp mentally."
McCardle, 32,started with back-to-back 69s and is looking to regain his spark after not making a birdie in a 'frustrating' third round featuring 16 pars and two bogeys.
"My game was pretty ordinary and it was a bit of a grind. It was frustrating, but I hung in there and I'm only a couple back which is nice," said McCardle, the leading Australian on the Order of Merit, in 18th place.
"I'm going to try to get off to a good start, try and catch the leader and keep to my strategy. I'll try to give myself some birdie looks and make some putts. If I can do that, I can be around the mark."
Every tournament on this year's PGA TOUR Series-China offers RMB 1.5 million, a 25-percent increase over purse levels from 2016.
The PGA TOUR established PGA TOUR Series-China in 2014 as its third international developmental tour, following in the footsteps of PGA TOUR Latinoamerica and the Mackenzie Tour – PGA TOUR Canada. Since its inception, PGA TOUR Series-China players have received Official World Golf Ranking points for top finishes at official tournaments.