Douyin to give tech giants a run for their money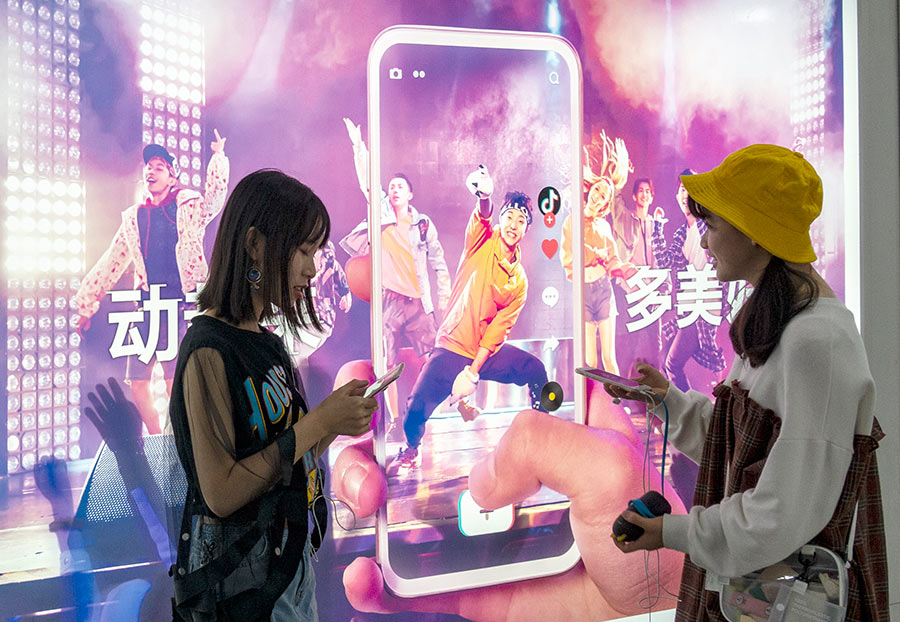 Upstart short-video app Douyin is going viral.
Not only have its global users topped 500 million this month, it's also set to challenge China's biggest tech companies, by diverting user attention from online chatting and shopping to a wide array of 15-second videos.
Figures showed how Douyin is rewriting the rules of the mobile internet. The short music-video app was the most downloaded on Apple's iOS platform in China in the first three months of this year, according to researcher QuestMobile.
Outside China, the app is known as Tik Tok and had been downloaded 45.8 million times from January to March, surpassing Facebook and Instagram to become the most downloaded iOS application, according to consultancy Sensor Tower.
Beijing-based Analysys also found that Chinese users spend a solid 49 minutes every day watching either professionally produced videos or funny stunts aimed at hep urban youngsters via the app.
That has posed a severe challenge to WeChat, the messaging service with over 1 billion global users run by Tencent Holdings Ltd, whose average daily use hit 66 minutes last year.
"Apparently you can see a strong social aspect to short-video apps," said Ma Shicong, an entertainment analyst at Analysys. "They present a new medium for online expression and interaction."
Ma's comments echoed those of Douyin's general manager Zhang Nan, who believed the winning recipe lies in "the shared values and the benign intentions of the online community".
"People aren't simply devouring one catchy clip after another on Douyin, they are actively sharing and commenting on each other's work," she said.
Created in 2016, Douyin enables its users-most of whom are millennials living in China's relatively wealthy first and second-tier cities-to upload, browse and forward music videos. Meanwhile, a smart recommendation mechanism helps make the contents more relatable to users and keep them hooked.
That growing level of user stickiness is eroding the dominance of China's tech duos, Tencent and Alibaba Group Holding Ltd, which boasts 552 million active users on its Taobao and Tmall online shopping spaces.
But just as important, Douyin's parent, Beijing Bytedance Technology Co Ltd, is the only major Chinese tech startup that has not publicly announced investments from any of the two. Tencent and Alibaba have the tradition of taking fast-rising services into their orbit and fighting for supremacy in the zero-sum internet sphere in China.
This could in part explain the escalating tension between Bytedance and Tencent since June, when the pair filed competing lawsuits against each other over content and data, and even reported the cases to the police.
On the surface the two firms are embroiled in a legal dispute, but the larger battle lies in the heated short-video app sphere, which can guide traffic to new avenues such as advertising and e-commerce, analysts said.
"For example, WeChat's strong functionalities can meet one's daily needs without leaving the app, but that level of user engagement (of Douyin) allows it to bypass bigger rivals' platforms," said Liu Dingding, a veteran internet analyst in Beijing.
Tencent President Martin Lau singled out short videos as a growth engine in the company's first-quarter earnings call, as growth almost stalled in existing entertainment formats such as text and photos. The social media giant is therefore upping the ante in Weishi, a homegrown short video platform, apart from backing Douyin's main rival Kuaishou.
Meanwhile, Alibaba's e-commerce sites have featured short videos and online livestreaming for better customer engagement and product promotion.
But thanks to such a vast and young user base, Douyin is shaping up to be a novel force in digital marketing as the nature of entertainment and e-commerce are merging, according to Shaun Rein, managing director for market consultancy CMR China.