Internet giants in new spat
Share - WeChat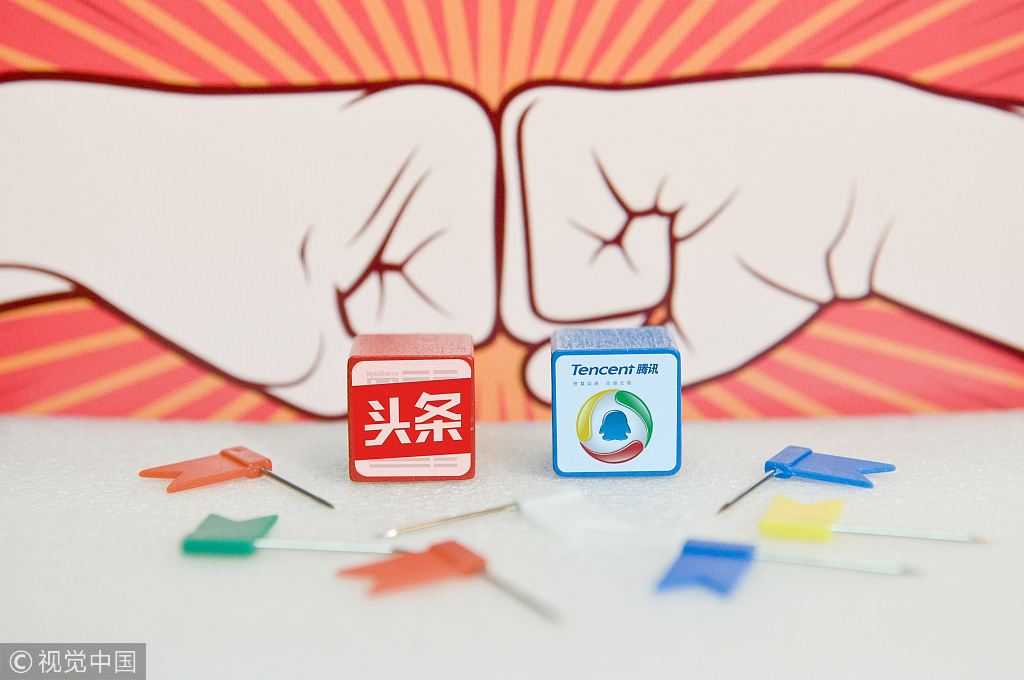 Tencent, Beijing Bytedance contact police over defamation allegations
Two of China's leading internet companies have contacted the police over each other's alleged "malicious public relations maneuvers", taking the duo's monthlong friction to new heights.
The spiraling spat between WeChat app operator Tencent Holdings Ltd and Beijing Bytedance Technology Co Ltd, which owns mobile news aggregator Toutiao and shortvideo app Douyin, reflects the cutthroat fight for user attention as China's mobile internet market becomes saturated, experts said.
In a post published on Monday via Tencent's official Weibo micro-blogging account, the company said it has suffered from "consistent, intensive and unconventional" attacks in the form of articles and online communications that defame it in an unfair manner.
Tencent said it has collected relevant evidence and has reported the case to the public security authorities in order to seek termination of such behavior.
Later on the same day, Bytedance issued a statement saying the company, as well as Toutiao and Douyin, have become victims of slander and abusive articles by self-owned media outlets or freelance writers since April.
Bytedance said it has tracked down the distribution channels and has called on the police for timely investigation.
While neither has publicly pointed to a specific party behind the alleged misconduct, the latest developments mark the apex of the ongoing conflict between the pair, whose mobile applications have gained huge traction among Chinese users but are at the same time vying heavily for user attention.
The dispute emerged earlier this month, when Tencent accused Bytedance of defamation and sought token compensation of 1 yuan (15 cents) in a court filing. It accused Toutiao of intentionally tweaking a State-owned media report's headline, tampering with sources and spreading news that cast Tencent in an unfavorable light.
Bytedance responded by suing Tencent for anti-competitive behavior, such as blocking Douyin links on some of Tencent's channels to protect its own news and video offerings.
The quarrel reflects the vast internet market where companies are scrambling to grab a slice of the cake, said Liu Xingliang, president of the China Internet Data Center, a market research firm.
"As WeChat is on course to becoming the default way of life for Chinese people, its user number growth is inevitably getting close to the peak," he said.
Over 1 billion users globally rely on Tencent's WeChat app to pay for taxi rides, make doctors' appointments and consume news, according to the company's financial figures released in March.
Meanwhile, the meteoric rise of Toutiao and Douyin-each of which boasted over 100 million daily active users, with customized content offerings tailored to users' individual preferences-are gradually eroding WeChat's dominance, said Liu Dingding, a veteran industry analyst in Beijing.
"WeChat's strong functionalities can meet one's daily needs without leaving the app. The likes of Douyin and Toutiao could become potential disrupters," Liu said.
China has a high mobile penetration rate, with up to 97.5 percent of China's 752.7 million internet users already accessing the web on their mobile devices, according to data from the China Internet Network Information Center.
Tencent said last year that users spent on average 76 minutes on WeChat a day. Toutiao and short-form videos are closing in on WeChat by claiming the same figure earlier this year, according to a report by consultancy Analysys in April.