Aviation cooperation with UK to see renewed momentum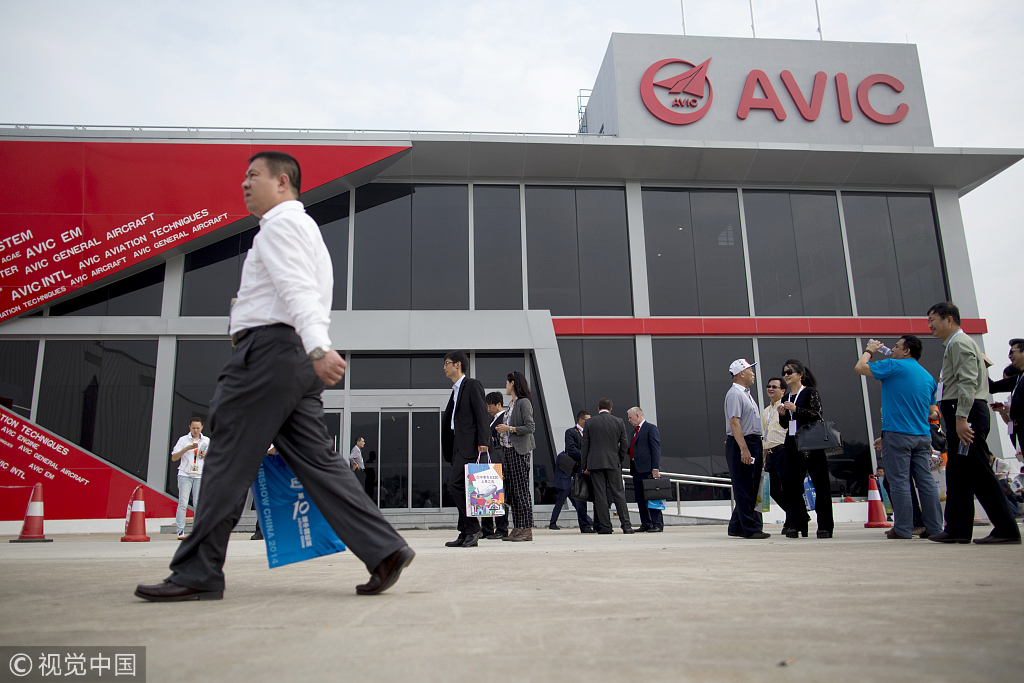 Aviation is set to play a major role in China-UK economic ties as companies announced a slew of deals on the opening day of the Farnborough International Airshow 2018.
The Aviation Industry Corporation of China (AVIC), one of China's biggest players in the sector, announced a new subsidiary - AVIC Cabin Systems Co Ltd - at the UK's largest airshow, on Monday.
Liu Xiaoming, Chinese ambassador to the UK, said China-UK cooperation in aviation is moving to a higher level, and the ACS launch is a good example of that. "This will allow the aviation industry of China and the UK to put their strengths together", he said.
He stressed that, as China opens its market wider, the aviation sector will offer new opportunities for both countries, and he encouraged aviation companies from both sides to seize opportunities and build a closer partnership, especially as the world faces "certain protectionism".
Headquartered in London, ACS is an integration of five companies that operate in the cabin interior business, including Austria-based FACC and China's Fesher Aviation Components Ltd, both of whom are suppliers of airplane interiors and composite aero-structures. The UK's first-class and business class seats supplier Thompson Aero Seating is also participating, along with China's economy-class seat producer ALI-Jiatai Air-craft Equipment Co Ltd, and the UK's AIM Altitude, a supplier of premium monuments and galleys.
Tan Ruisong, chairman of AVIC, said that ACS demonstrates AVIC's confidence about the business environment in the UK and Europe, and said it is another important step in AVIC's globalization.
Chen Yuanxian, executive vice-president of AVIC, said overseas sales accounted for 23 percent of AVIC's total sales revenue in 2017. He expects this year it will be "more than 23 percent".
After the launch ceremony, ACS signed a memorandum of understanding with Hainan Airlines Co Ltd, which has asked ACS to provide seats for 40 planes.
China's aviation market is the world's second-largest, after the United States. It is growing fast and is expected to be the largest market globally within a decade, according to Global Market Forecast 2016-35 released by Airbus.
For Airbus, China is already the most important market, with deliveries in China representing about 22 to 24 percent of its global production in recent years.
George Xu, Airbus China CEO, said: "China is not only Airbus' biggest market, it is also a long-term strategic partner. Airbus has been actively involved, and has carried out in-depth cooperation with the Chinese aviation industry."
By the end of May, more than 1,570 Airbus aircraft have been put into service on the Chinese mainland, the company said.
On the first day of the airshow, Airbus announced several Chinese deals, including 10 Airbus A350 XWBs sold to Sichuan Airlines, and 20 A320neos ordered by Goshawk Aviation Ltd, which is a joint venture between Hong Kong-based conglomerate NWS Holdings Ltd and Chow Tai Fook Enterprises Ltd.
Airbus' rival Boeing has also announced significant deals involving China. About one-third of Boeing 737s are now being sold to China. In May 2017, Boeing broke ground on its Chinese 737 completion center in Zhejiang province, which will deliver 100 aircraft a year at full production.
Dennis Muilenburg, Boeing's chairman, told Aviation-Week.com ahead of the Farnborough Airshow that aerospace is a great business for the US, and, as China grows, it will be a great business too.
"The amount of passenger traffic in China's future is incredible", he said, adding that the world needs a healthy aerospace ecosystem, and that it has to be part of the trade solution.
"I am hopeful we will come to a positive resolution. There is a mutual interest here", Muilenburg said.
Zou Shuyue in London contributed to this story.