Construction starts on AVIC regional jet
Share - WeChat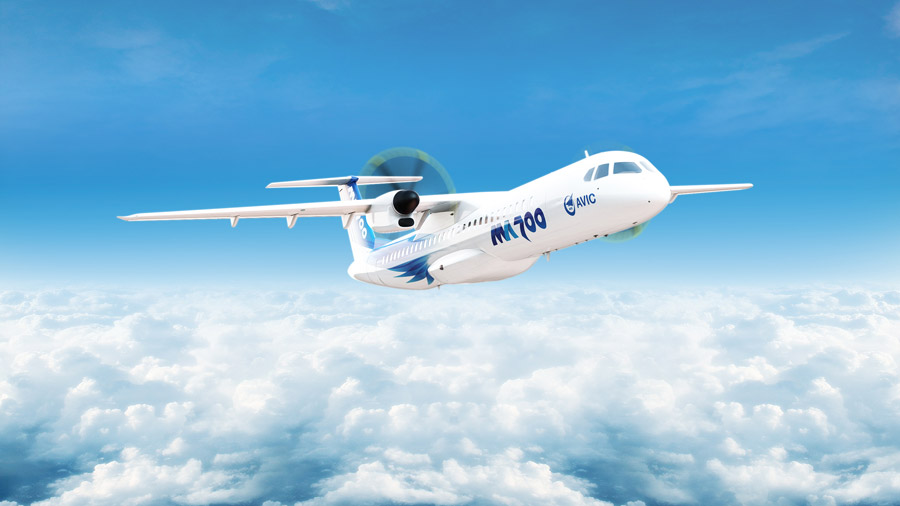 Aviation Industry Corp of China, the State-owned aircraft giant, has begun to build its MA700 turboprop airliner, planning to conduct its first flight in 2019, according to the company.
Production for the aircraft's flaps started on Thursday at an AVIC plant in Xi'an, Shaanxi province. On the same day, the plane's doors began to be made at another AVIC factory in Shenyang, Liaoning province, according to AVIC.
Development of the MA700, China's latest regional airliner, was launched in December 2013 and has been listed by the government as an important program that will boost the country's civil aviation industry, together with the C919 and ARJ21 jetliners.
AVIC said the plane adopts a host of advanced technologies such as fly-by-wire flight control and modular avionics. It will make its maiden flight in November 2019 and is expected to be delivered to buyers in 2021, replacing its predecessors-the MA60 and its variants that were developed in the 1990s, according to the company.
So far, AVIC has received orders for 185 MA700s from 11 several domestic and foreign clients including Joy Air and Cambodia Bayon Airlines, the release said.
Dong Jianhong, chief designer of the MA700, said that the airliner features good adaptability for airports with poor conditions and is able to take off and land on short runways.
He said the plane is suitable for operations on plateaus or in places with high temperatures, so it will suit China's western regions, high-altitude areas in Latin America and tropical areas in Southeast Asia and Africa.
Compared with its competitors in the international market, the MA700 has better operational economy, a more comfortable cabin environment as well as a number of greener design elements, Dong added.
Sources from AVIC previously explained that the MA700 series aims to take at least one-third of the global market for turboprop airliners, explaining its major rivals in the market are Europe's ATR 72 series and Canada's Bombardier Q400 series.
They said AVIC plans to apply for airworthiness certification with the United States' Federal Aviation Administration and the European Aviation Safety Agency so the plane can enter the Western market.
Specifications from AVIC show that powered by two PW150C engines, the MA700 has a maximum takeoff weight of 27.6 metric tons, a maximum payload of 8.6 tons, a cruise speed of 580 kilometers per hour as well as a standard range of 1,500 km. It will be capable of carrying up to 86 passengers.