Companies play Mbappe name game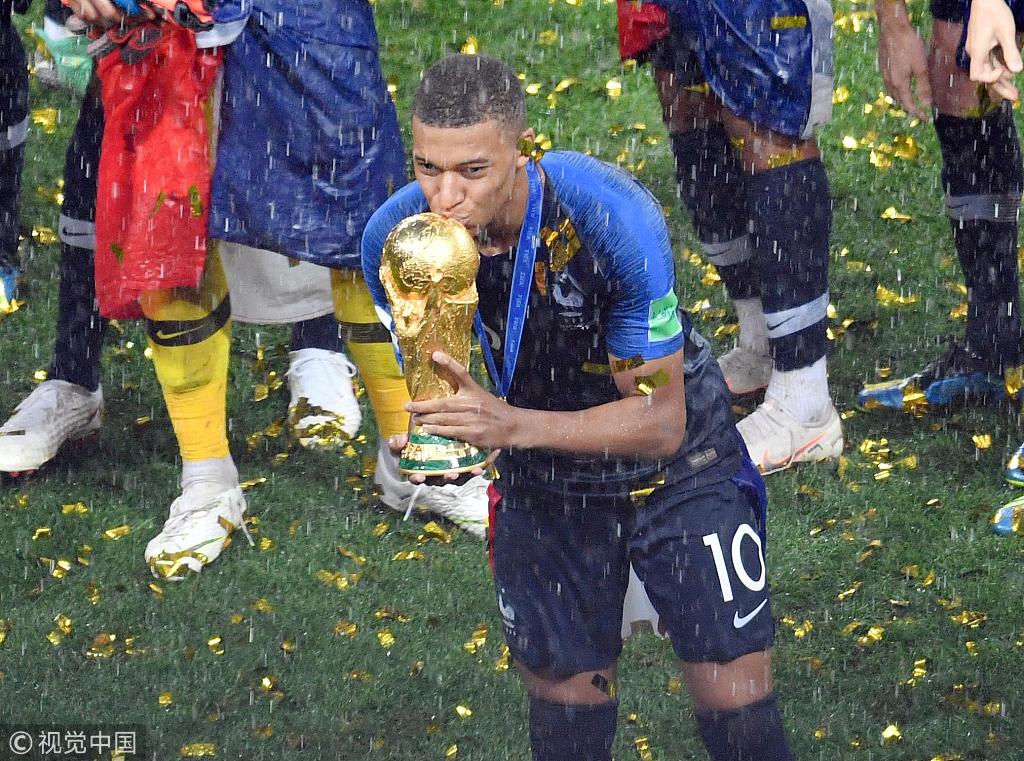 Kylian Mbappe, France's prodigious scoring machine, is expected to become the most wanted name brand in China-even for companies that have nothing to do with sports.
From July 1-14, a total of 142 companies in China applied to attach the Chinese or English version of 19-year-old Mbappe's name to their brands, according to the website of the Trademark Office of the State Administration for Industry and Commerce of China.
Chinese news website ifeng.com reported that number had jumped to 159 on Monday-mere hours after Mbappe scored France's final goal in Sunday night's 4-2 victory over Croatia in the World Cup final in Moscow.
Apart from sports outfits, the long list of applicants includes companies involved in food production, fertilizer, clothing, building materials and animal feedstock.
Although none of the new applications have yet been approved, the Chinese version of "Mbappe" was registered in 2017 by a clothing company in Jinjiang, Fujian province, and a glasses company in Danyang, Jiangsu province.
Both companies can legally use the brand name on their products for 10 years.
Mbappe is not the first soccer megastar to attract such attention in China.
According to the Daily Mail, Chinese companies have successfully registered the trademarks of "Cristiano Ronaldo" toilets, "Messi" fruit juice and "Harry Kane" infant wear, using the stars' translated names. Other products that use the Chinese names of famous World Cup players include "Neymar" tires, "Suarez" pots and pans and "Pogba" pyjamas.
Retired basketball superstar Michael Jordan went to court in China to challenge the unauthorized use of his name for corporate branding.
In 2016, the Supreme People's Court overturned two decisions made by Beijing courts against the former NBA star in 2014 and 2015, asking the State Administration for Industry and Commerce to issue a ruling over the use of the Chinese characters in the brand name "Qiaodan".
Jordan had been in a series of disputes with a Fujian-based company, Qiaodan Sports, because he claimed the company registered multiple trademarks by using "Qiaodan", a transliteration of Jordan's English surname, which violated his rights.
"I am happy that the Supreme People's Court has recognized the right to protect my name through its ruling in the trademark cases," Jordan said in a statement after the top court's ruling.
"Chinese consumers deserve to know that Qiaodan Sprots and its products have no connection to me. Nothing is more important than protecting your own name, and this decision illustrates the importance of that principle."