Fujian facility to lift chip supply
Share - WeChat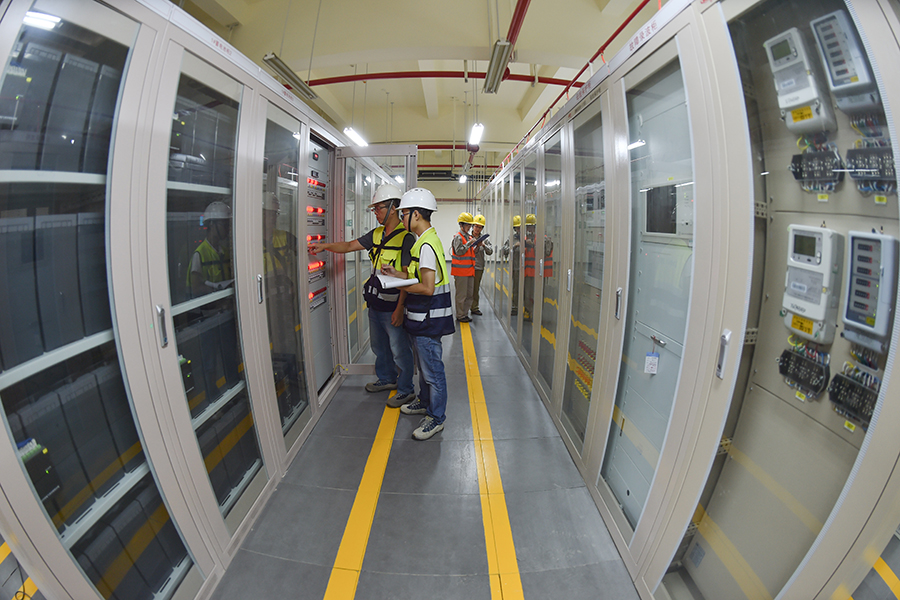 New integrated circuit factory in Jinjiang to focus on development of advanced technologies
The country's largest single integrated circuit manufacturing facility, Fujian Jinhua Integrated Circuit Co Ltd, is expected to fill the gap in the domestic market for memory chips after the completion of the first phase of its construction in September.
Jinhua is an advanced chip manufacturing enterprise established by Fujian Electronics & Information (Group) Co Ltd and Jinjiang Energy Investment Co Ltd.
The $5.65 billion investment in Jinjiang, a county-level city in East China's Fujian province, will see the establishment of a facility designed to develop advanced memory technology and process techniques and carry out the manufacturing and sales of related products.
Jinhua's first phase is expected to come online in September and reach a production value of $1.6 billion annually. Completion of the factory's construction will see production increase to $6 billion each year, according to Xu Zheng, deputy general manager of Jinhua.
The company's goal is to realize the domestic manufacturing of integrated circuit chips and become an advanced integrated circuit manufacturing enterprise with an independent intellectual property system.
Xu said: "Jinhua is looking to fill the gap in the domestic market by producing integrated circuit products for mobile phone manufacturers in the country." South Korea is at present the world's leading exporter of integrated circuit products, he said.
Wang Wenhui, vice-mayor of Jinjiang, said the city has prioritized integrated circuit manufacturing as the driving force for its development in the high-technology industry and as the new engine of the local economy, which has long been based on labor-intensive manufacturing of sportswear, food and sanitary products.
Wang said massive imports of integrated circuits and chips are crucial for the country's information industry security.
The coastal city plans to build a whole value chain, ranging from design, manufacturing, testing, equipment and terminals to reach an industry value of 100 billion yuan ($15 billion) by 2025. So far, more than 20 high-tech projects have been signed and introduced to the city.
In addition to integrated circuits, Jinjiang is also opening to innovations and startups.
Fujian Strait Graphene Industry and Technology Institute in Jinjiang has conducted research into the material's applications in the industry.
Graphene is made of a thin layer of carbon atoms and has incredible strength and conductivity. Potential applications include lightweight, thin, flexible, yet durable display screens, solar cells, and various medical, chemical and industrial processes enhanced or enabled by the use of new graphene materials.
Xu Zhi, chief scientist of the institute, said graphene-enhanced soles of shoes are lightweight, flexible and odorless.
The institute has signed a contract with a local apparel company worth 160 million yuan to develop and manufacture lightweight, anti-bacterial and comfortable soles.
The city, also known as the world's shoe capital, is home to more than 3,000 shoe manufacturing enterprises. It is reported that 40 percent of the sports shoes manufactured in China and 20 percent of sports shoes globally come from Jinjiang.
"The material can bridge the integration of the emerging industry and the traditional manufacturing industries to make Jinjiang a more globally competitive city," Xu said.