Soaring to a splashy finish
China's freestylists proving they don't need snow to put on a show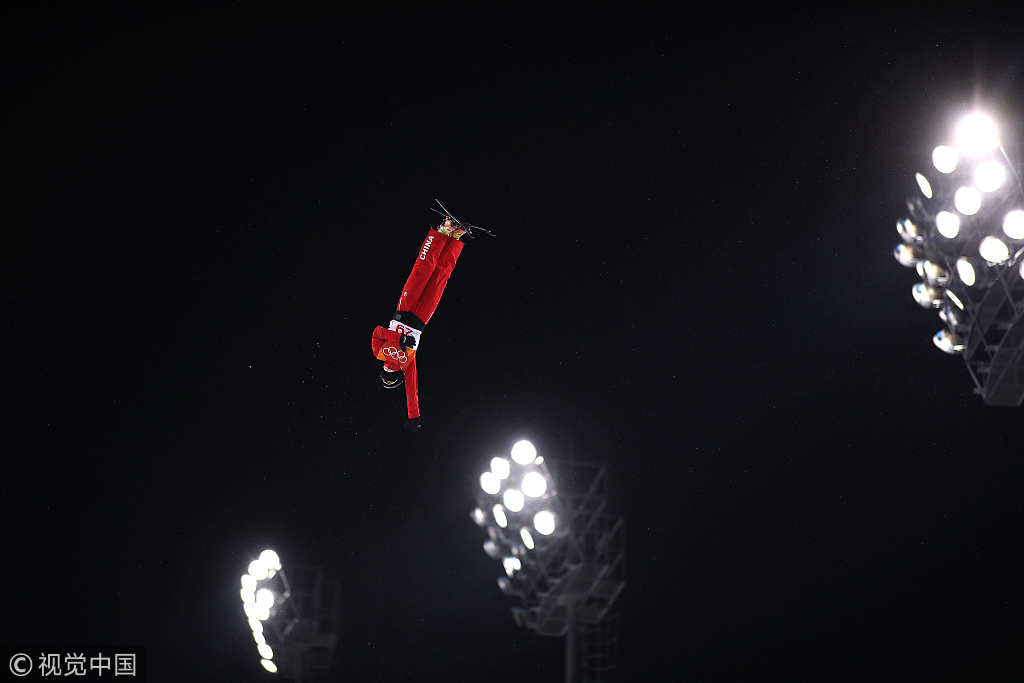 For China's future Olympic aerial skiers, dreams are hatched in the most unlikely places-like a diving pool under the blazing sun.
In the height of the summer sizzle, members of China's national freestyle aerials ski team are taking advantage of dry-snow ramps and a deep landing pool at a Qinhuangdao training base in Hebei province in their quest for Olympic glory at home in 2022.
Skiing down a six-story ramp paved with an artificial surface that provides lubrication, Yan Ting launched herself high in the air, flipped and twisted before plunging into the pool.
Her group's training session sounded like a diving practice.
"Technically, the descent, takeoff and tricks in the air feel almost the same here as on snow, but the landing is more fun and safer in the pool," said Yan, who represented China at the Pyeongchang Winter Olympics in February.
The 21-year-old from Heilongjiang province is one of 44 young athletes training at the base-a three-hour drive east of Beijing-on a two-month program through Aug 30.
During the offseason camp they will also focus on gym workouts to improve strength and conditioning before having their routines honed and trick difficulty upgraded on the pool, according to team manager Yan Xiaojuan.
"It's been an open secret in the aerials that we use these unique facilities during the summer to continue technical training to prepare for the winter season," said Yan.
Built one year after Han Xiaopeng claimed China's first Olympic gold on snow in men's aerials at the 2006 Turin Winter Olympics, the training base began serving aerial skiers in 2009 as they prepared for the 2010 Vancouver Games.
It has since became the cradle of a group of elite skiers such as Jia Zongyang, who won silver in men's aerials at Pyeongchang, three-time female world champion Li Nina and World Cup final winner Xu Mengtao.
Held up by wooden structures, the five ramps feature detachable surfaces made of plastic bristles, which provide lubrication and friction similar to snow. They feature different heights to provide various takeoff speeds.
An air-duct system at the bottom of the five-meter-deep pool bubbles up the water just before a skier lands to reduce the impact on ankles and knees, according to Chen Sufeng, a member of the team's science support crew.
"To minimize the risk of injury it is important to prepare them for more intense training in winter. Every jump and workout they do here is monitored, tested and protected," he said.
China has won one gold, six silver and four bronze medals at Winter Olympics since entering the event in 1989, but the attempt to end its 12-year gold medal drought in Pyeongchang fell short after Jia and Zhang Xin both narrowly missed the top podium by less than one point to eventual winners Oleksandr Abramenko of Ukraine and Belar Hanna Huskova of Belarus.
Eyeing a gold rush at Beijing 2022, the national program has extended its scouting network to technically similar summer events such as gymnastics, trampoline and diving to draft gifted young talent.
"The similarities in training methods, air tricks such as flips and twists and general physical conditioning make some gymnasts and trampoline performers perfect for aerials," said Chen Hongbin, the coach in charge of the cross-sport group at the camp.
"The biggest challenge is the skiing skills and to conquer the fear of height and speed. With the artificial slopes available, this part is no longer difficult for them to get used to."
Thanks to ongoing support from the General Administration of Sport of China, the cross-sport talent development policy has seen all major summer sports governing bodies within the State-run system establish parallel winter event assistance offices.
The 16 teenagers currently training in Chen's group were selected from a national youth gymnastics championship last year and have all made solid progress on the ramp and in the air after one year's training.
"It was a flying start too fast to believe in my 20 years of experience as a coach," said Chen.
"The advance facilities we have now, along with support in science, nutrition and rehab has us on schedule for a good showing in 2022."