US protectionism harming world trade, British experts warn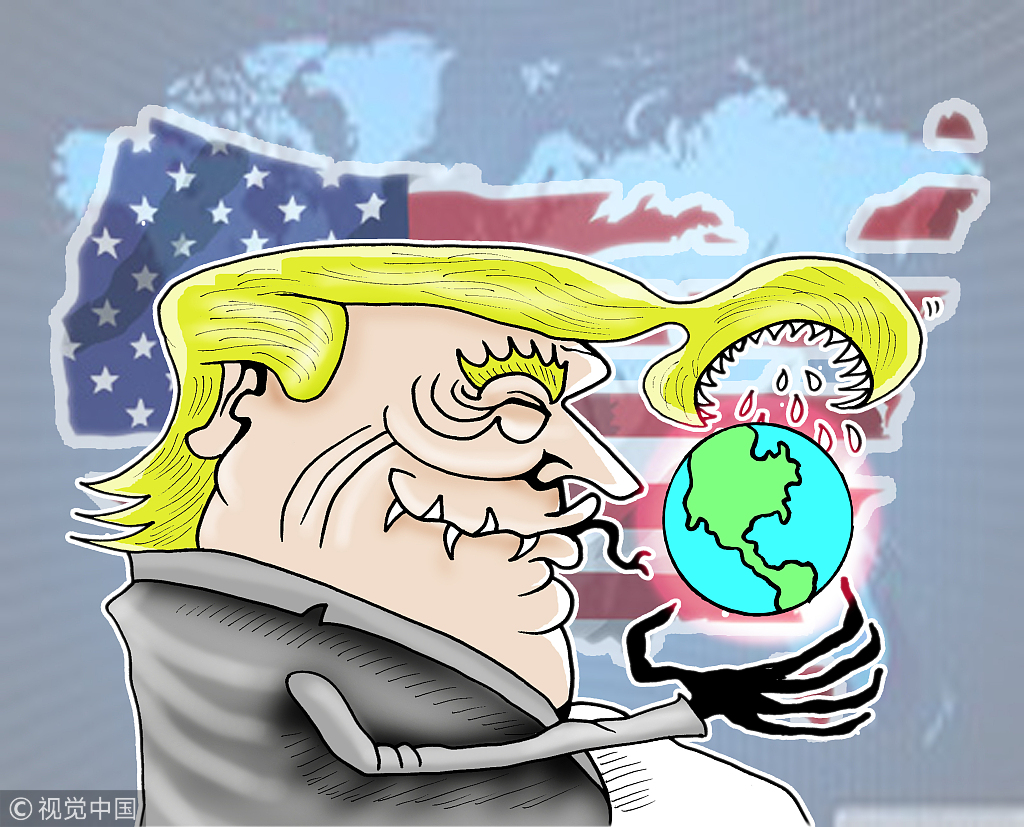 British economists and scholars said the latest protectionist tariffs introduced by Donald Trump's administration against exports from China, the European Union, Mexico, and Canada, significantly harm global trade.
Such tariffs, they say, severely affect the global supply chain and put an extra burden on multinational companies, including US companies that import components internationally.
"With regret from many (countries) around the world, the US has departed from the principle of free trade and has embarked on full-blown trade wars," said Christopher Bovis, a professor of international business law at the University of Hull. "The US actions threaten to unseat global supply chain arrangements and destroy existing trade partnerships that have promoted economic growth and employment in many parts of the world."
On July 6, US tariffs on $34 billion of Chinese goods, including medical devices and airplane parts, took effect. Beijing responded with tariffs of a similar value on US exports of products including soybeans, pork, and automobiles.
Trump has also levied tariffs on steel and aluminum exports from Mexico, Canada, and the EU, and is threatening a 20 percent tariff on cars and auto parts.
Trump is citing national security concerns, theft of intellectual property, and unfair trade practices as reasons for his taxes on Chinese products but analysts say the trade imbalance between China and the US, and Trump's efforts to win in the upcoming US midterm elections are likely the real reasons.
"The US has opted to resort to protection and preferential trade systems in order to support national industries and employment policies," Bovis said.
Alan Barrell, a professor and entrepreneur-in-residence at Cambridge's Judge Business School, said Washington's fear of China's economic emergence and Beijing's growing international leadership will have also prompted Trump to try to contain China's development.
"With the US becoming protectionist and isolationist, the world's economic growth would be in danger of slowing seriously," Barrell said. "So, all attempts to avert a real trade war should be made … The tariffs will be passed on … making products more expensive to US customers. US companies will suffer revenue and profit losses."
Some sectors and industries have already been impacted. US semiconductor chipmakers Intel and Qualcomm, which generate $15 billion each in annual revenue in China, have already expressed concerns. And Mid-Continent Nail of Missouri, which makes nails, has laid off 60 employees. Harley Davidson, a 117-year-old US motorcycle manufacturer, has said it will move more production overseas because of the EU's retaliatory tariffs. And BMW and General Motors have warned about rising automobile prices.
Reduced confidence about economic growth has been reflected in stock markets in both the US and China.
Douglas Morton, head of Asia research at Northern Trust Capital Markets, said the tariffs, which also impact exchange rates, will create challenges for multinationals that take out loans in one market to fund their expansion in another. Airlines and property companies are also especially vulnerable to exchange rate fluctuations.
Morton said he hopes China's continued opening-up of its economy will appease people in the US who want change, and diminish the perceived need for trade tariffs.
Earlier this year, Chinese policymakers announced numerous measures to further open China's domestic market to foreign access. China has also pledged to strengthen its laws around intellectual property protection.
Bovis added that "responsive and responsible political and economic leadership" is needed to promote sustainable development and reduce the threat of a trade war.
In particular, the "current rapprochement" between China and the EU could drive forward this sustainable development agenda.
Chinese and European leaders are set to gather in Beijing on Monday and Tuesday for the EU-China summit, which analysts say is an opportunity for closer China-EU collaboration to head off a global trade war.
Last weekend, China's Premier Li Keqiang met with leaders from Central and Eastern Europe and said China will continue to widen access for foreign investors.