Internet giants see healthy revenue growth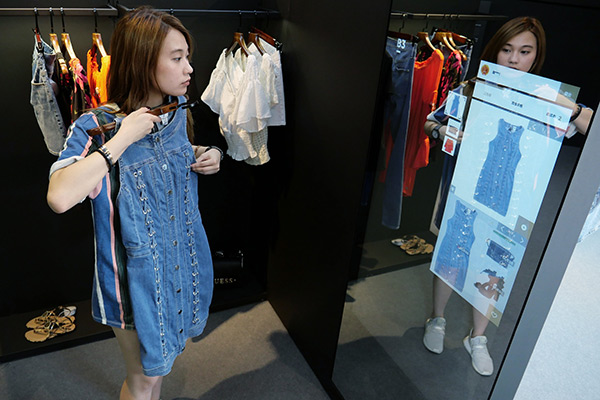 China's big internet firms saw steady business revenue growth in the first five months of this year, with the stable market expansion of online gaming and video and music streaming apps.
Industry insiders said China's internet and related sectors maintained rapid development in recent years, and will witness double-digit growth in the next three to five years.
Chinese firms in the internet and related sectors whose business revenue exceeded 3 million yuan ($452,200) last year earned 332.5 billion yuan from January to May, up 23.9 percent year-on-year, according to data from the Ministry of Industry and Information Technology.
Information services were the biggest revenue contributor, earning 300.4 billion yuan during the period, with e-commerce business accounting for more than one-third of the subsector's revenue.
Chinese internet heavyweights such as Baidu Inc, Alibaba Group Holding Ltd and JD all saw revenue growth in the first quarter of this year.
Baidu reported its total revenue increased 31 percent year-on-year to 20.9 billion yuan during the first three months of this year. Its net profit grew by 277 percent from a year earlier to reach 6.7 billion yuan by the end of March.
"We had a strong start in 2018, with our core business exhibiting robust growth, and continue to execute on our strategy to strengthen Baidu's mobile foundation and lead in artificial intelligence," said Robin Li, chairman and CEO of Baidu.
Chinese e-commerce giant Alibaba said its net income for the fiscal year ending March 2018 rose 47 percent year-on-year to 64 billion yuan.
Its annual revenue stood at 250.3 billion yuan, an increase of 58 percent. This was driven by the rapid growth of its commerce retail business, cloud computing business and the consolidation of newly acquired businesses.
Meanwhile, the net income of Alibaba's archrival JD reached 100.1 billion yuan in the first quarter of 2018, an increase of 33.1 percent year-on-year.
Wu Hequan, an academician with the Chinese Academy of Engineering, said: "Chinese internet companies are investing heavily in internet finance, artificial intelligence and cloud computing, and e-commerce in rural areas and cross-border e-commerce will be new growth points in the future."
Lu Zhenwang, CEO of Wanqing Consultancy in Shanghai, said: "With the rapid development of the mobile internet, people prefer shopping online, watching videos and playing games online, and enjoying other internet value-added services via their mobile phones.
"The internet and related sectors will witness double-digit growth in the next three to five years," Lu added.
The statistics from the ministry showed that Guangdong, Shanghai and Beijing saw their internet business revenue rise 32.9 percent, 19.9 percent and 34.2 percent respectively year-on-year in the first five months of 2018.
China had around 4.15 million mobile apps by the end of May. Gaming apps took the biggest market share, followed by daily service apps and video and music streaming apps.
Xinhua contributed to this story.