US tariffs could hinder LatAm economic recovery: Experts
Share - WeChat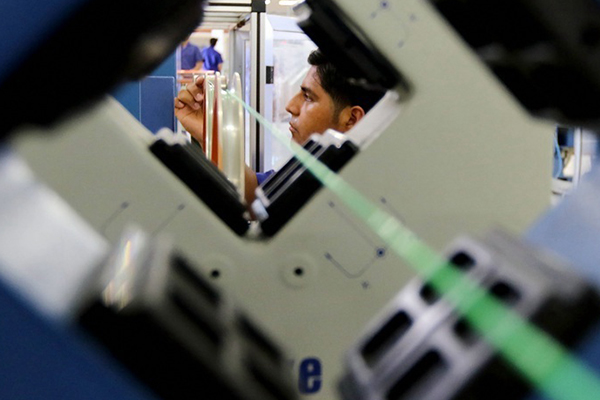 MEXICO CITY - The US decision to slap tariffs on a slew of imports could have a dampening effect on Latin America's fledgling economic recovery, economists said.
Moody's Analytics, a subsidiary of the credit-rating agency, is considering downgrading its 2018 growth projection for Latin America from 2.2 percent to 1.8 percent or lower.
The tariffs "are somehow going to affect the volumes of international trade," Alfredo Coutino, Latin America director at Moody's Analytics, told Xinhua.
"And of course that deals a significant blow to Latin American countries, especially in the Southern Cone, which are big producers of raw materials," said Coutino.
Top economies of suffer
In late May, US President Donald Trump's administration announced a series of tariffs on a wide range of goods in a bid to shrink the trade deficits the United States has with several key commercial partners.
The move has diminished Latin American hopes of bolstering an incipient economic recovery, following two years of negative growth and four years of economic slowdown.
"We were expecting a stronger recovery in 2018. We are downgrading it. Up to now, it has been a weaker recovery," said the economist.
The agency now expects Brazil's gross domestic product (GDP) to expand between 1.6 percent and 1.8 percent following an initial forecast of about 2 percent growth.
Latin America's biggest economy is likely to not only suffer collateral damage from the US tariffs, but also feel the effects of domestic issues, including corruption, a crippling truckers' strike in May, and uncertainty involving presidential elections in October, he noted.
Those factors tend to slow investment and consumer spending, two trends that have been evident since the second quarter of the year.
Mexico, Latin America's No 2 economy, has seen its trade outlook even more uncertain, since the United States is its main export market, said Coutino.
"We are seeing what is happening to the peso due to the trade threats, the uncertainty around the negotiation of the North American Free Trade Agreement (NAFTA)," he said, referring to the three-way trade deal between Mexico, the United States and Canada.
Talks to modernize NAFTA began in August 2017 with an eye to wrapping up the negotiating rounds in a few months, but have instead dragged on with the three sides disagreeing on key regulations. With every setback, the peso has slipped.
"Mexico is more affected by what the United States does or doesn't do, by what is happening to oil and by what the (US) Federal Reserve is doing, which directly hits Mexico," said Coutino.
Mexico's GDP is forecast to expand by 2.5 percent this year, but any change will tend to head downwards.
The region's third economy, Argentina, could see less than 2 percent growth or even a slight recession following two quarters of negative growth, but a sizeable $50 billion loan from the International Monetary Fund (IMF) could in the end improve its GDP growth.
"Considering the cases of Argentina, Brazil and Mexico well explains almost two-thirds of Latin America's economic growth," said Coutino.
Marcos Casarin, chief economist for Latin America at Oxford Economics, agreed the US import tariffs are likely to usher in a worse second half of the year for Latin America and its top economies.
"The trade war that Donald Trump started between the United States and China, and later expanded to Europe, Canada and Mexico, with steel and aluminum (tariffs), makes greater impetus for growth very difficult," said Casarin.
"It discourages the economic agents, when they were already being very cautious, so if there was uncertainty already, now there is more," said Casarin.
Another factor to take into consideration, he said, is that the global economy no longer supports Latin American expansion as it did before, since the stronger dollar, which has affected emerging currencies like the Brazilian real and the Mexican peso, makes financing more expensive.
External factors, such as political and trade tensions far from Latin America, will shave 0.3 percentage points from regional growth in the second half of the year, for an annual rate of 1.8 percent, Casarin estimates.
Smaller ones might float
However, all is not bleak.
Colombia's economy is poised for better performance in the second half of the year, after conservative candidate Ivan Duque won the presidential runoff on June 17, said Casarin.
In addition, elections in Colombia were not as much immersed in uncertainty as in Brazil or Mexico, and the country is benefiting from higher oil prices.
Chile is another source of good economic news, he said, because it has a combination of higher wages (than the regional average) and more jobs coupled with low inflation that spurs consumer spending.
Unlike other exporters of raw materials, Chile is somehow buffered by the price of copper, its main export product, representing two-thirds of its total exports.
"We don't see Chile very affected by the negative waves of foreign trade," said the chief economist.
Peru appears to be in a "holding pattern" following the resignation in March of then President Pedro Pablo Kuczynski.
Casarin described Ecuador's economy as fragile.
"After Venezuela, it's Latin America's most vulnerable. They have quite a large fiscal gap that has to be covered, either by issuing debt or cutting back on spending," he said.
But fixing the problem won't be easy, because "if they cut spending, they will grow less, and by increasing debt, they will have a big problem with the debt ceiling," said Casarin.
The 30 or so small economies of Latin America and the Caribbean account for only a third of total regional GDP, so they can hardly compensate for poor economic performance in the top three.
An IMF report in early May predicted Latin America could see 2 percent growth in 2018, up from 1.3 percent last year, but the forecast was released before the Trump administration unveiled its new trade policy.