UAE-China banking ties to see more growing synergy: Dubai financial official
Share - WeChat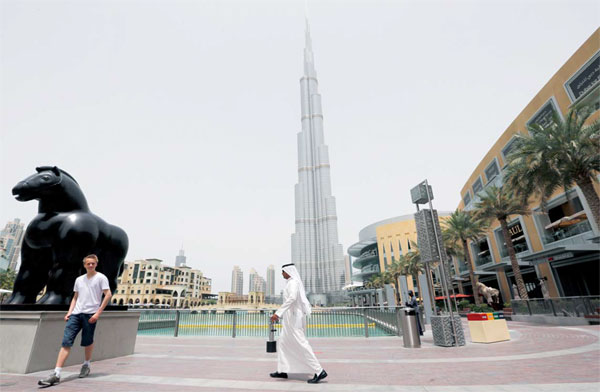 DUBAI - The banking relations between the United Arab Emirates (UAE) and China will see more sustainable and growing synergy in future, a senior official of the Dubai International Financial Center (DIFC) told Xinhua in an interview on Thursday.
Salmann Jaffery, DIFC's chief business development officer, made the comments before attending the 2018 IIF (Institute of International Finance) China Financial Summit to be held in Beijing on Friday.
The Washington-based IIF is a global association or trade group of financial institutions with about 450 members from 70 countries.
The UAE-China success story "is one of sustained investment and ever closer cooperation," Jaffery said.
China's four largest banks in terms of total assets, namely Bank of China, Agricultural Bank of China, Industrial and Commercial Bank of China and China Construction Bank, have successfully upgraded their banking licenses from being subsidiaries to becoming fully-fledged branches in the DIFC, Jaffery noted.
"Last year, Agricultural Bank of China was designated a clearing bank for the Chinese currency yuan in Dubai - one of the few destinations selected worldwide," he said.
The DIFC, which is also home of two markets - the Nasdaq Dubai and the Dubai Mercantile Exchange, is the biggest banking free zone in the Middle East.
It has become a driving force behind China's rise to Dubai's number one non-oil trading partner, Jaffery said.
Nevertheless, from the DIFC's point of view, these achievements just mark the beginning of a longer journey for the coming decades, or even generations.
Over the next five years, the private wealth in the Middle East and Africa region is set to reach $12 trillion, according to a report by the Boston Consulting Group, as the regional economic development is becoming increasingly dynamic, said Jaffery.
He also pointed out that the Middle East, Africa and South Asia region are "key elements" of China's Belt and Road Initiative, with a population of over 3 billion people and combined gross domestic product of $7.4 trillion.
The initiative, proposed by China in 2013, aims to build a trade and infrastructure network that connects Asia with Africa and Europe along the trade routes of the ancient Silk Road.
"We are currently in talks with several new Chinese banks ready to join our ecosystem and we will update the market in due course," Jaffery added.
There are now over 4,000 Chinese companies in the UAE, contributing significantly to the local economy.