UAE energy firm eyeing Chinese market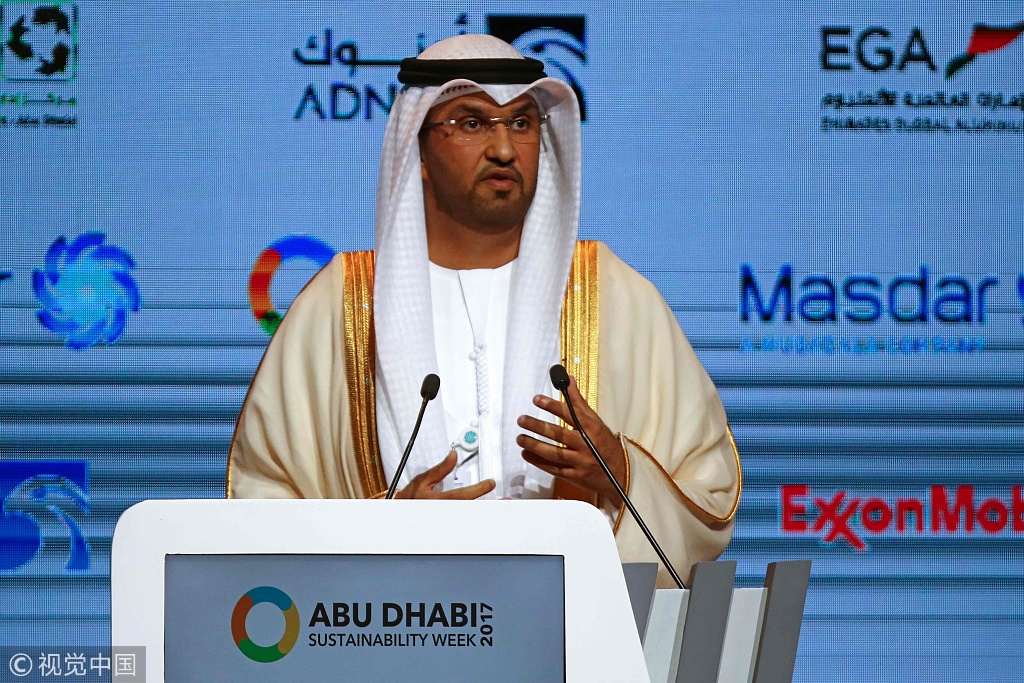 'We are wholly committed to ensuring oil supplies for China and the wider Asian region,' says CEO of ADNOC
Abu Dhabi National Oil Co, the state-owned oil company of the United Arab Emirates, has vowed to continue increasing its share of oil supplies to China.
"We are wholly committed to ensuring oil supplies to China and the wider Asian region ... China's growing demand for crude remained integral to our long-term growth strategy," said Sultan Ahmed Al Jaber, CEO of ADNOC.
China imported 419.6 million metric tons of crude oil last year, surpassing the United States to become the world's No 1 importer. Imports are expected to make up more than 70 percent of China's crude oil supply in 2018 amid sound economic growth, and all crude exporters are hoping to grab a larger slice of the pie.
"In order to ensure we meet this demand, we are on track to increase our production capacity to 3.5 million barrels per day by optimizing both our existing and untapped hydrocarbon reserves, and further leveraging our low-cost advantage to ensure reliability and efficiency of supply," Al Jaber said.
After China National Petroleum Corp secured a 12 percent stake in ADNOC's onshore oil concession last year, ADNOC also finalized another important 40-year oil concession partnership agreement with China Energy Company Ltd, extending 4 percent of its largest onshore oil concession in Abu Dhabi. These companies are now key ADNOC partners across a range of areas.
The company has also recently signed a further framework agreement with CNPC covering various other areas of potential collaboration, including offshore opportunities and sour gas development projects.
"We look forward to a relationship that complements ADNOC's resources and China's technology, know-how and local market access," said Al Jaber.
In an exclusive interview with China Daily, Al Jaber talked about his understanding of the Chinese market, his rich experience in the energy industry and his management style.
How has the relationship between ADNOC and China developed?
China is a key growth market for both ADNOC and the wider UAE. ADNOC has established upstream partnerships with China National Petroleum Corporation and China Energy Company through our onshore oil concession. Downstream, we have built a solid long-term presence in China's petrochemical market through our Borouge business, which has been operating in China since 2009.
ADNOC is uniquely positioned to meet the rising Chinese demand for both crude oil and higher value products derived from oil. As ADNOC moves into the next phase of transformation, China will continue to be very important for the growth of our business.
What are ADNOC's plans in China for the next five years? Are there any co-investment opportunities in the downstream petrochemical and refining businesses?
Cooperation with Chinese companies in the petrochemicals sector has been a priority for us, as we look to support the Chinese government to boost its own petrochemical production.
We already have business and partnerships in place that are delivering this increase in production. Borouge, our joint venture with Borealis that is headquartered in the UAE, has extensive operations and investments across China. We announced an increase in capacity of compounded polypropylene resins from 90kt/pa to 120kt/pa by 2020 last May at its plant in Shanghai to support growing demand of the auto manufacturing industry. It's been an extremely positive business experience for ADNOC.
How do you think artificial intelligence can be used in the energy sector and by ADNOC in particular?
Artificial intelligence is being applied to the energy sector, including minimizing disruptions, reducing costs and optimizing performance. For instance, predictive analytics have the potential to enhance the electricity grid by instantly evaluating terabytes of information to anticipate demand peaks and system stress.
At ADNOC, we are leveraging the power of big data to augment visibility into our operations both below and above ground. As part of our ongoing transformation, we are exploring how AI could help further improve efficiency, make us more agile and drive profitability. We also arranged a visit to Huawei's cutting-edge innovation park and learned more about the breakthroughs Chinese firms are making across different areas.
What is the role of Chinese investors during ADNOC's transformation?
ADNOC is also looking to develop upstream concessions with value-add companies, which could potentially be Chinese. We are creating innovative investment structures and ventures including pipelines, storage, processing and refining-related infrastructure assets that we think might be attractive to Chinese investors and business partners.
Across the business, especially in the downstream refining and petrochemical areas, we are also looking to create a number of new investment opportunities where we will bring in long-term partners to help us drive growth, efficiency and knowledge transfer to generate greater returns from our assets.
How will you compete with competitors in China and the rest of the world?
We don't just compete, but in many cases we lead, including the strategic location of our resources, assets and projects at a key pivot point between East and West. Our energy resources are world-class, while long-term consistency, security and stability of the UAE's business environment also gives us an advantage over many of our regional and global competitors.
Saying that, we are never complacent and we must constantly adapt and look to create the maximum amount of value to all our stakeholders and customers.
What business opportunities will emerge through the Belt and Road Initiative?
As a result of the growth of Belt and Road economies, the UAE is developing into an important logistical hub facilitating the increase in trade between Belt and Road countries, Africa and Europe. DP World's Jebel Ali port is now the largest in the Middle East and Abu Dhabi Ports is one of the fastest growing.
Over the next 20 years, there will be double-digit growth across every sector of the Belt and Road region including energy, infrastructure, manufacturing, financial services, education, healthcare and tourism, and the UAE looks forward to playing its part to enhance that growth.
What is your philosophy managing the business strategy of ADNOC?
Energy companies must adjust their strategies to remain resilient in response to the new realities of a fast evolving global energy landscape and flexible enough to take full advantage of market opportunities. Over the last two years, we have embarked on an ambitious and bold transformation and value creation strategy for our business, to ensure that we remain a resilient, agile and performance-driven company, fit to compete and lead in this new energy era.
Central to this further transformation and value creation strategy is a strategic pivoting of ADNOC to the downstream. In this regard, we will be announcing our new ADNOC downstream strategy, as well as a number of new investment and partnership opportunities, at our Downstream Investment Forum to be held in Abu Dhabi on May 13 and 14.