Innovation remains focus as BMW unveils new R&D center
Share - WeChat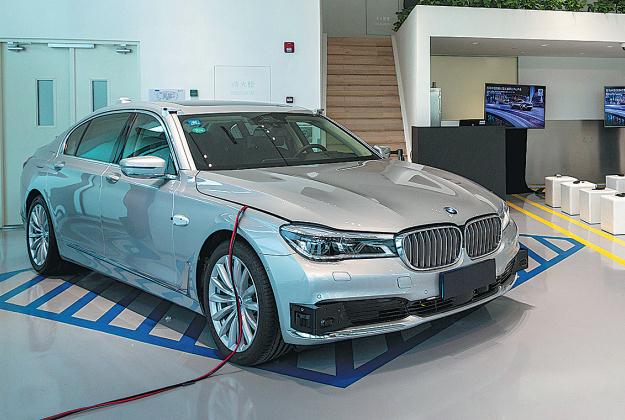 The opening of BMW Group's Shanghai Research and Development Center was the main attraction at the German car manufacturer's Innovation Day, an event held on June 15, where its latest autonomous driving technology and digital services were also showcased.
The 2,500-square-meter R&D center marks the latest milestone for BMW's "In China, for China" strategy, which focuses on localization in the domestic market. The Shanghai R&D center follows that of BMW's Beijing R&D center and the expansion of its Shenyang high-voltage battery center last month.
"As one of the most vibrant cities in China, Shanghai is in touch with the latest trends and represents cutting-edge technology and innovation," said Jochen Goller, president & CEO of BMW Group Region China. "It has become the spearhead of innovation for BMW's R&D network in China and an incubator for future technologies."
BMW's Shanghai R&D center will focus on autonomous driving, digital services and futuristic design, and will expand collaboration with leading high-tech companies, according to Goller.
More than 90 percent of the over 200 technical specialists at the R&D center are Chinese. The experienced and talented professionals are expected to work towards providing Chinese customers with more innovative technologies in the company's product line.
BMW Group's R&D network in China is the manufacturer's largest outside of Germany.
A spokesman for the company said that it intends to increase R&D investment in China as it moves towards future mobility and transforming from being a traditional manufacturer to a high-tech mobility service company.
"The burgeoning internet technologies that have been introduced into auto manufacturing have created the most vibrant evolution in the industry," said Wang Xia, chairman of the automotive industry committee of China Council for the Promotion of International Trade, at the Global Automotive Forum held recently in Chongqing.
Chen Qunyi, vice-president of IAT Automobile Technology Co, said that the automobile sector requires constant learning and long-term knowledge accumulation for long-term success.
"Automakers, conventional or new players, have to work like a piece of a jigsaw and work in connection with others to gain advantages," he said at the forum.
The BMW Innovation Day also featured demonstrations from local technology companies who shared their views with R&D specialists from BMW.
One of the demonstrators was the Technology Office China, which has been working with Chinese high-tech companies on open innovation projects covering the four aspects of Automated, Connected, Electrified and Shared services, or ACES, since 2016, with the aim of building a future mobility ecosystem in China.
Martin Sautter, senior vice-president of Research and Development Center BMW, presented awards to four Chinese startups for their outstanding achievements in the quest for future mobility solutions.
"We collaborate with local technology and innovation companies, providing them with a platform for open innovation.
"This is a win-win partnership, as BMW implements the resulting innovations in its future products and services."