Chinese-built Kenya railway on track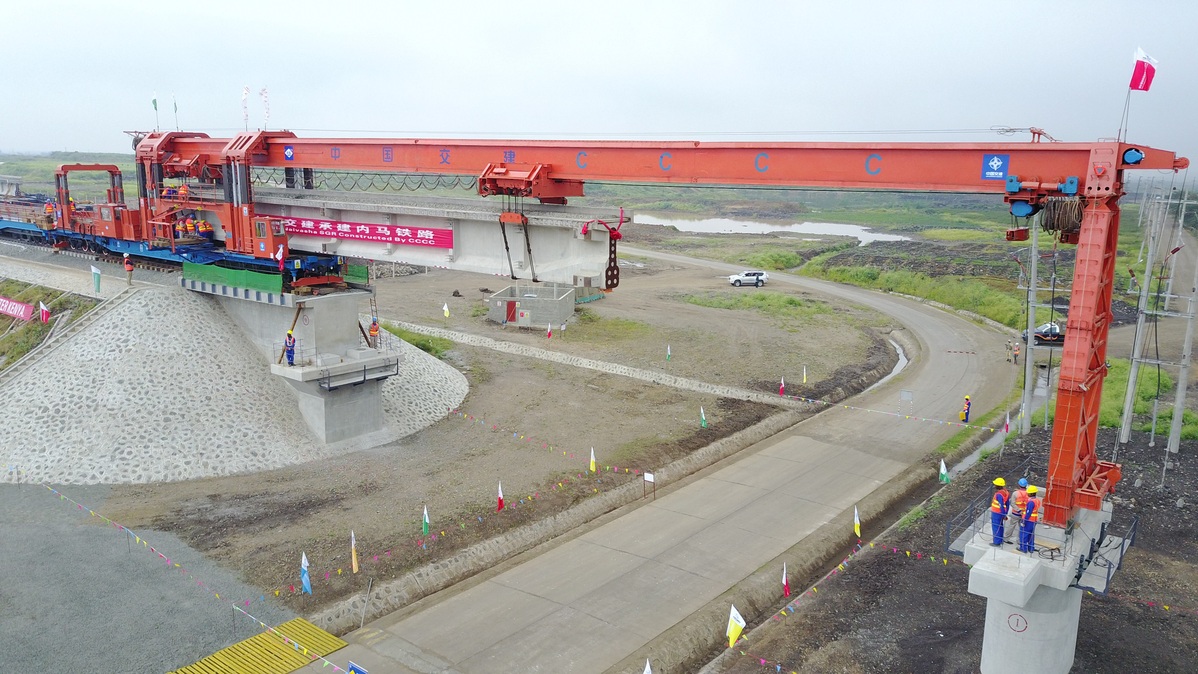 The Kenyan government is confident the ongoing construction of parts of the standard gauge railway will be completed on time in its second phase, just like the Mombasa-Nairobi route. Kenya Railways, the regulatory agency, exuded optimism as China Communications Construction Company started the laying of t-beams from the endpoint of phase one at the Nairobi terminus, about 20 kilometers from downtown Nairobi, toward Naivasha, a geothermal-rich town about 76 km from the capital city.
The 120 km line is the first of three segments that make up the Nairobi-Naivasha SGR Phase 2A construction that is expected to terminate at Malaba, a border town with Uganda. The route will feature five newly built stations. There are 27 bridges which are 17.3 km in length and three tunnels, which are 7.148 km long. The total length of bridges and tunnels is 24km, accounting for 20 percent of the route length.
At the launch announcement for the next phase of construction, held jointly by KR and CCCC officials, Maxwell Mengich, general manager of infrastructure at KR, said the construction is 49 percent complete. He said the project has been fast-tracked to service an industrial park that is going to be constructed near Mai Mahiu, about 54 km from Nairobi. "We expect this route to be operational by the end of June 2019," the engineer said.
He noted the construction has entered a critical part — traversing Nairobi National Park. There are at least 179 piers within the park, covering 5.87km. The bridge must be in strict adherence to environmental impact assessments and environmental management plans to ensure minimal interference with animal movements, he said.
Lu Shan, chairman of CCCC, confirmed the construction progress is smooth and under control. He added many youths have benefited from on-site job training that has built new skill sets. At least 3,000 locals and 1,000 Chinese are involved in the project currently, he said. "I believe the skills they have acquired will help them gain decent jobs after the completion of this project," he said.
Silas Wanyama and Patrick Mboya are among the young workers operating a machine that is laying down the tracks and erecting girders. "It is hands-on training and I believe the skills will be beneficial to me in getting a job when neighboring countries commence similar projects," Wanyama said.