Finnair flying high with China's ongoing growth, development
Share - WeChat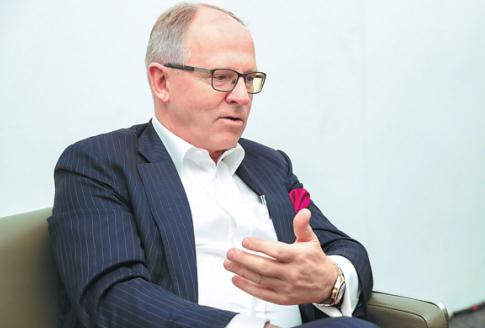 You would think the hometown of Santa Claus would only be busy once a year-but it's humming all year round thanks to an influx of Chinese travelers.
Rovaniemi, located in Finland's Arctic Circle region, is getting an economic boost from Chinese visitors arriving from Helsinki on Finnair flights.
"People need a reason to travel. Finnair wants to be a part of that, making their flight more meaningful," Finnair President and CEO Pekka Vauramo told Xinhua News Agency in an interview.
In his opinion, traveling is human nature-to meet interesting people and explore other cultures.
Vauramo was in Beijing to celebrate the 30th anniversary of Finnair's Helsinki-Beijing nonstop service, which started in June 1988.
Finnair has since carried more than 2.65 million passengers to China on the Helsinki-Beijing route. Now, it tops all European airlines in providing 38 weekly flights to seven destinations in China-Beijing, Shanghai, Chongqing, Xi'an, Nanjing, Guangzhou and Hong Kong.
Vauramo launched his career with the Beijing route at a time when it could take at least 20 hours to get between the two capitals.
"There used to be many roundabout routes, but none was direct. And one of them was Helsinki-Zurich-Bombay-Beijing-Bombay in India," he exclaimed.
"China had just opened up then, and Finnair has been flying with its growth. It takes only seven and a half hours now."
Finnair was the first airline worldwide to launch the Alipay online payment service on longhaul flights to China in 2017. The airline has doubled its onboard duty-free goods sales since then.
"Our expanding network in the surging Chinese civil aviation market is linking Finland and other European countries closer to China," Vauramo said.
"We fly the shortest route, cutting emissions and costs. Short route and short time-we stick to that principle," he added.
During his last flight to Beijing, he met a couple-a Chinese husband and his European wife who had traveled with Finnair for more than 10 years.
They flew Finnair for reasons including its short flight times, excellent service, convenience, low cost and numerous destinations.
Finnair has flown the fuel-efficient, widebody A350 aircraft to China since 2015.
It is a pioneer in sustainable flying and the first airline listed on the leadership index of the worldwide Carbon Disclosure Project, which works with companies and cities to disclose the environmental impact of major corporations.
According to Vauramo, the key to Finnair's future strategy is extending its network and strengthening its capacity in the Chinese market.
"In the early days, people in Finland and other European countries came to China to sell things. Now, it has turned round as more Chinese go to Europe to promote exports of goods and investment," he said.
He has noticed more Chinese investment in industries such as gaming, medicine, biotechnology and other high-tech fields.
"China's opening-up is continuing. And opening makes growth happen," Vauramo said.
He cited Finland's northernmost region of Lapland: "Tourism has become an important way for people to make a living."
Chinese people now make up most of the tourists in Rovaniemi, capital of Lapland. It is the official home of the Santa Claus Village, where Saint Nick keeps busy answering letters from around the world.
"People come to visit Santa, and immerse themselves in nature with the blue skies, northern lights and clean air. I am proud that our flights make their dreams come true," Vauramo said.