Gaming firms explore overseas markets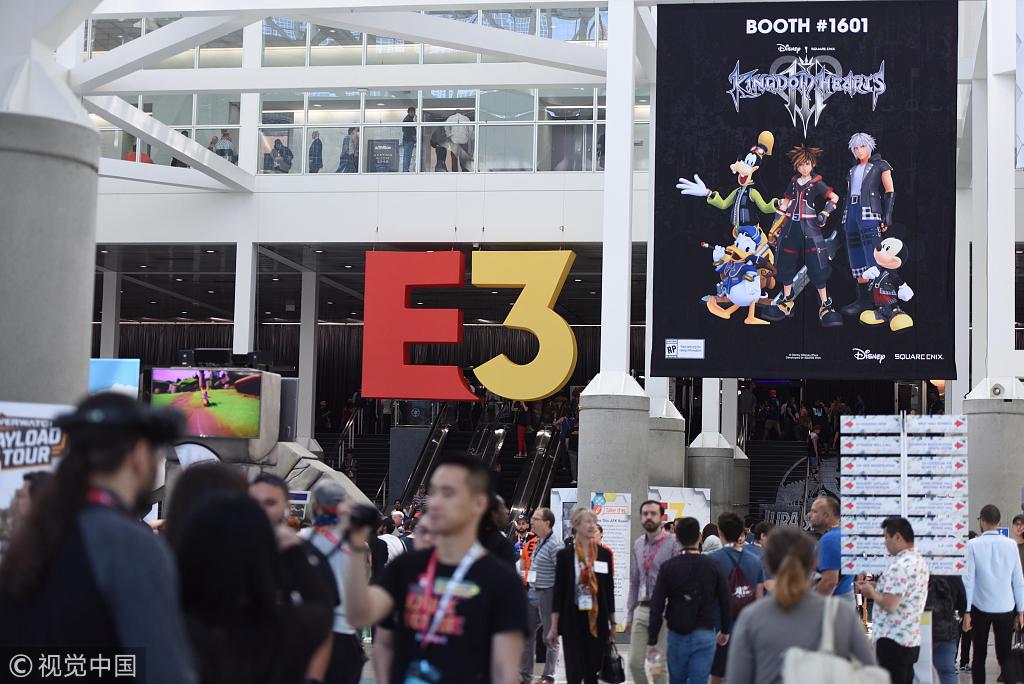 LOS ANGELES-Chinese gaming companies were busy exploring new opportunities at the annual Electronic Entertainment Expo (E3) at the Los Angeles Convention Center in the western US state of California.
As more Chinese companies are looking to overseas markets, E3 has become an important platform to showcase the Chinese gaming industry's latest developments and ambitions.
The three-day show, which closed on Thursday, organized by the Entertainment Software Association, had at least 60,000 attendees, 300 exhibitors and thousands of products on display. In the second year of being open to the public, hardware manufacturers, software developers, and publishers from around the world presented their latest products at the Expo.
"Aiming to explore global markets, Chinese companies have actively participated at E3. Following the development of the internet and improvements in hardware performance, China's game industry has made tremendous progress in recent years and has become the world's highest gaming revenue country," said Huang Yumeng, deputy secretary-general of the Game Publishing Committee of the Chinese Audio-Visual and Digital Publishing Association.
"Overseas revenue of China's own R&D online games reached about $7.61 billion in 2017, with year-on-year growth of more than 10 percent. Small and medium-sized gaming companies are developing the ability to get into overseas markets together with large gaming companies," she told Xinhua News Agency.
The global games market is expected to grow from $121.7 billion in 2017 to $137.9 billion in 2018 and more than $180.1 billion in 2021. China alone will account for more than one-quarter of all global game revenues, reaching $37.9 billion this year. It will remain the number one gaming market by revenues and number of players, according to market researcher Newzoo.
Tencent Holdings Ltd has taken the top spot in the ranking of Newzoo's Top 25 Companies by Game Revenues list, generating $7.4 billion in the first half of 2017, a 50 percent increase year-on-year.
King of Glory, a multiplayer online battle game developed by Tencent, hit China in 2015 and remains popular today. "A major factor in its success is the billion-plus users on Tencent's social networking platforms WeChat and QQ," Dong Zhen, a gaming analyst told China Daily.
He added that powered by the large user base, China's mobile gaming sector is entering a new phase of rapid growth.
To date, the game has accumulated more than 200 million registered users, and the live broadcast, video and other media content of KPL, its professional league, notched a staggering 10.3 billion views last year.
"And this market will continue to grow," Teng Hua, founder of Gamma Data, a next-generation data management company based in Beijing, told China Daily.
Gamma Data also revealed that players in this game pay an average of 11 yuan ($1.72) a month to upgrade their game characters and costumes to help them advance to the next level.
"It's the second time we have attended the E3 show. We see it as our first step into the market overseas. We have brought new games from Beijing as well as our honesty and sincerity," said Zhang Su, deputy director-general of Beijing Bureau of Press Publication, Radio, Film and Television in Beijing Games Release at E3 on Wednesday.
"We hope Beijing-originated games can assert more influence over the international market as a unique brand via this event. We hope Beijing-originated games can better serve players from all over the world, bridging understanding and building friendships across different cultures," Zhang said.
Sales of games in Beijing for 2017 were about $10 billion, 18.7 percent more than last year. Sales of games by companies in Beijing in overseas markets for 2017 were about $2.5 billion, 10 percent more than last year.
Perfect World Games, one of the top gaming companies in China, showcased two of its latest homebred multiplayer online games, ReE-volve and Farside at E3.
"The global market is becoming increasingly important to us." said Jin Rihua, vice-president of the Perfect World Games.
With its technical strengths, innovative design capabilities, profound understanding of different cultures and rich marketing experience, Perfect World Games has launched some clientbased online PC games such as Perfect World, Legend of Martial Arts, Swordsman Online, and a number of mobile games such as Legend of the Dragonslayer Sword, Return of the Condor Heroes and Dream Book.
"As a front-runner among Chinese games developers, overseas market share has increased from 10 percent to more than 60 percent in some projects," Jin added.
Founded in 2004, as China's earliest online game company with overseas operations, Perfect World Games ranked first in terms of overseas revenues of Chinese online games for many years against domestic rivals. The company has exported its products to more than 100 countries and regions, and set up a global operational platform.
"'Going global' is a hot topic for Chinese gaming companies," said Wu Qing, co-founder of Kol Media, founded in 2016 to help Chinese companies wishing to expand internationally by providing marketing and creating opportunities.
"Chinese companies are growing stronger in mobile games and PC games. They are eager to show their development to attract overseas clients while learning more from international top game giants at E3," Wu said.
By providing a one-stop overseas marketing solution, Kol Media wishes to help Chinese game publishers and developers establish their brands and games abroad.
Xinhua-China Daily