It's game on for e-sports at colleges
Share - WeChat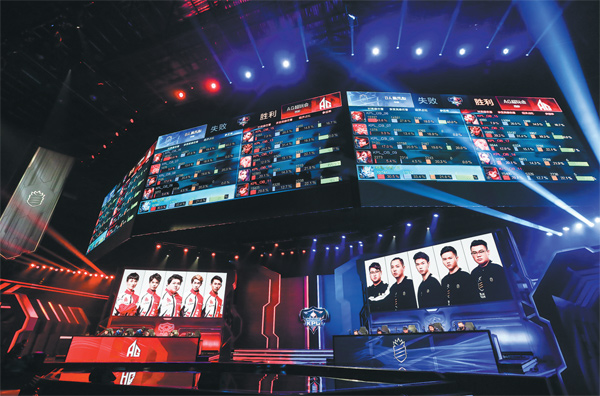 More Chinese universities are embracing gaming as they see big job opportunities in the development of the sector, as Shi Futian reports.
E-sports and education have long been regarded as incompatible in China, with gaming considered the No 1 enemy of academic performance. But that is changing as the healthy development of e-sports gains more recognition.
The inaugural 2018 University Cyber League, co-organized by Tencent Sports, is one example. The only e-sports tournament approved by the Federation of University Sports of China, it is one of the biggest of its kind in China, boasting the most teams and the nation's top university players.
The tournament wrapped up its north, south, east and west division competitions in late April. More than 8,000 spectators attended the divisional competitions, which also attracted over 50 million online viewers.
The divisional champions are now preparing for the league's first national championship, in Suzhou, Jiangsu province, on Sunday.
The winners of the four divisions-20 teams representing 16 universities around China, including top ones like Renmin University of China and Fudan University-will compete in five different arenas: soccer game FIFA Online, basketball game Strongest NBA, first-person shooter CrossFire, multiplayer battle game League of Legends and homegrown hit King of Glory.
"University plays a vital role in facilitating the standardization and industrialization of a healthy e-sports industry in China," said Ewell Zhao, general manager of Tencent Sports.
"Through tournament operation and promotion, Tencent will ensure UCL is a professional, university-level e-sports tournament, which will help facilitate e-sports' development in China."
Although the inaugural UCL is groundbreaking, the development of university-level e-sports remains in its infancy. "We started the e-sports society at our university three years ago, and it was organized by students with no help from teachers or the school," said Li Jiyun, captain of the Renmin University team that was crowned north division League of Legends champion.
Li's team, with members from various years and backing from what is now a university sanctioned e-sports club, is in better shape than the one at prestigious Peking University, whose captain, Ge Jiadi, said it was made up only of freshmen and had received no help from anyone. No Peking University team won through to the national championship.
Despite the fact that many university e-sports teams and clubs in China are managed by students themselves, gaming has earned a place in the academic world, with many universities starting e-sports classes.