Merck focuses on providing high-quality medicine, healthcare products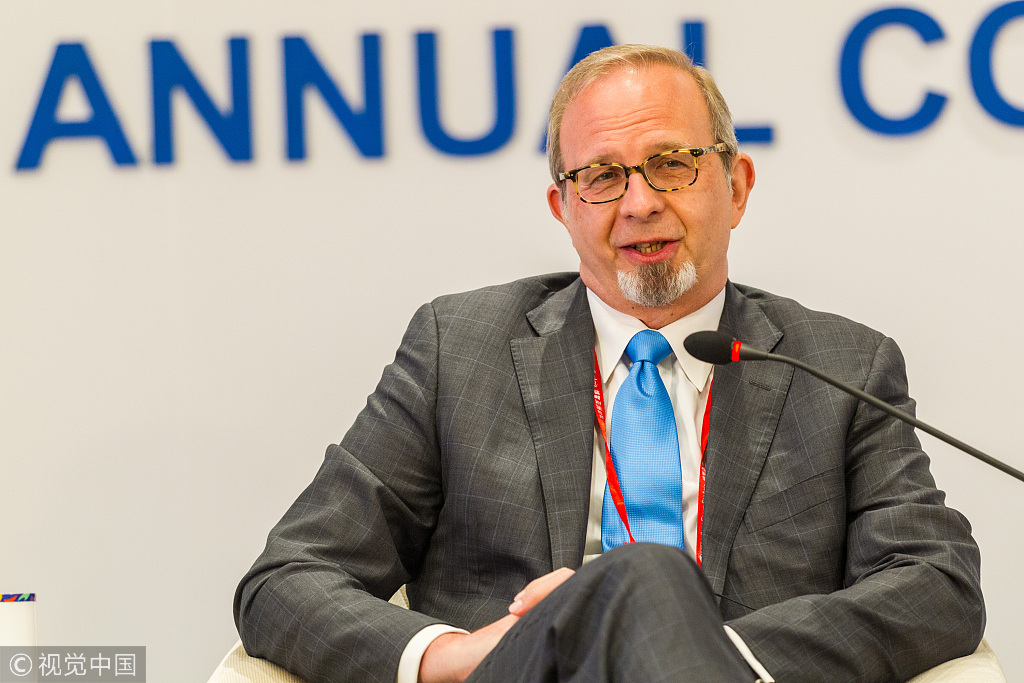 Editor's Note: This year marks the 40th anniversary of China's reform and opening-up. China Daily interviewed top executives of well-known multinational companies for their views on the country's socioeconomic development.
Please use three words to describe China's changes in the past 40 years.
Rapidly transforming: It has taken China just 40 years to become the world's second-largest economy by GDP. When I first came here 25 years ago, the streets were filled with black bikes. Now they have been replaced by cars of different brands, shapes and colors.
Open: China would not have been so successful if it were not for the reform and opening-up policy. In terms of healthcare, China's entry into the International Council for Harmonization will greatly improve its clinical research capability and give it access to innovative medicine.
Innovative: China has followed a unique path in the past 40 years of development. Now President Xi Jinping has reiterated the importance of innovation and pledged to drive it by trying new things in smart ways.
What are the biggest achievements in China since the introduction of the reform and opening-up policy 40 years ago?
It is the ability to learn from world-class advancements. If you look at some of the top-performing Chinese companies such as Huawei or Gree, they have not just grown in size, but also significantly in the quality of production and design.
Meanwhile, I've also seen significant improvements in people's health, including access to basic medical care and innovative medicine. Considering the size of the country and the total population, this is an achievement unparalleled worldwide.
These are of course attributable to the government's determination to implement policies in a quick and efficient manner. For instance, the country has set up medicine pilot zones in Boao, Hainan province, to allow medicines that are approved in other countries to be fast-tracked.
Apart from economic development, what progress in other fields have you witnessed in China in the past 40 years?
What strikes me most is how Chinese consumers have changed. Today, they are really looking to express themselves and have a much wider range of choices compared with two to three decades ago. A lot of the changes we see today come from the betterment of society in the sense that general access to resources and education has substantially improved.
Could China's experiences and practices be used to solve global problems?
Yes. Two cases in point: China's Five-Year Plan mechanism has proved successful, and it has served to guide our strategic plan in China every five to 10 years. For any businesses to thrive, people really need to bank on market access and transparency of policies. The current system in China has given us the self-confidence as to what the macro trends are and where we should be heading.
From an industry-specific point of view, the fast takeoff in e-commerce could facilitate trade in remote areas and there are some valuable experiences that China can share with the rest of the world.
What's the biggest challenge China faces today and how can the country overcome it?
It has to be healthcare. China has an aging population. Currently, the mortality rate from chronic diseases is still high, but people need medicines that are affordable. We are ready and willing to help the country tackle this problem through measures such as opening our second-largest drug plant in Nantong, Jiangsu province, which produces pharmaceuticals on the country's Essential Drug List. The medicines are quite affordable, costing a few renminbi per day.
How has your company benefited from the reform and opening-up policy?
We manage to provide more innovative and high-quality medicine and healthcare products that improve people's lives. For example, we have drugs helping diabetes, cancer and cardiovascular disease patients. In performance materials, we support the development of organic light-emitting diode technology to help flat panel display manufacturers progress by making screens more vibrant and fun to use. In life sciences, we help our customers in China advance biotechnology based on our knowledge from biotech medicines.
Meanwhile, we don't just benefit from China, but help upgrade local manufacturing and improve industry standards. For instance, we have teamed up with agencies affiliated to local governments to monitor water and air quality.
Has competition intensified between your company and Chinese companies?
Domestic companies are moving up in many good ways, so that it is only natural to have healthy competition. When the bar is set high, it also helps us to achieve the best we can.
Instead of challenges we see opportunities. We work closely with many domestic companies and turn them into good business partners, as is exemplified in a recent deal signed with Evergrande Health to boost local drug innovations.
How do you view China's role in the world today?
Traditionally, we had looked at China as just a big market for quite some time. Now China is shaping up to be the trendsetter in the many realms of life-politically, socially and even in terms of consumption. This is also going to be the case in our business: We now leverage talented people in China to contribute to our global strategies, instead of simply developing a specific localized strategy. Everything we do in China serves as a reflection of what we do globally.
What measures are needed if China wants to deepen reforms?
I think it's the specificity of the reforms. During the Boao Forum for Asia in April, President Xi Jinping introduced a host of powerful measures to further open the world's second-largest economy. How will things work out in terms of restructuring and how will the new rules and responsibilities flow down through different layers of government? These are the most critical things for companies. We know for sure that major reforms always take a little bit of time. The faster it happens, the better it is for everybody.
What is the most unforgettable experience you have had in China?
I am deeply impressed by how the nation's healthcare system has improved over the years. I personally use the Chinese healthcare system and go to a public hospital with English-speaking services that make me feel at home.
The other thing is the amazing national unity people have exhibited during major incidents like the battle against severe acute respiratory syndrome in 2003 and the Wenchuan earthquake in 2008. People held together and worked hard to provide the necessary assistance they could. This country is bold, vibrant, innovative and inclusive.