Domestic brands get FIFA boost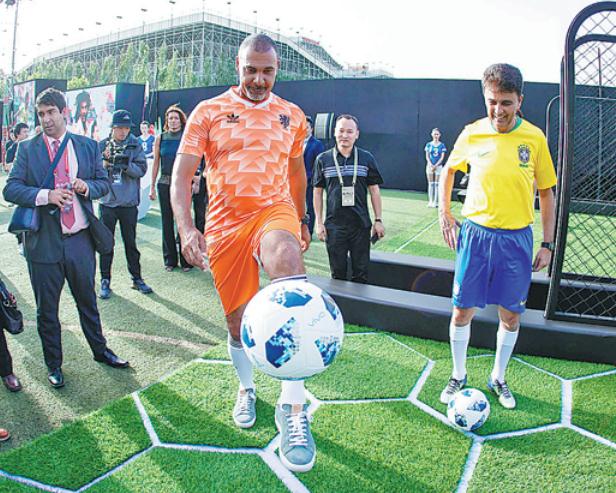 Sponsorship deals offer companies chances to build global awareness
At Beijing's Olympic Forest Park, Brazilian soccer legend Bebeto and former Dutch national team player Ruud Gullit wowed crowds of Chinese fans as they showed off their skills.
Their presence is part of Chinese smartphone vendor Vivo's broader efforts to leverage the upcoming 2018 FIFA World Cup in Russia to build up its international brand.
As an official sponsor of the tournament, Vivo has rolled out tailor-made smartphones and launched a campaign to engage soccer fans in the hope of associating itself deeply with the much-anticipated event, which only happens every four years.
The launch event, held in late May, came as global fans' enthusiasm for soccer hits a new high with the approach of the World Cup in Russia.
Though the Chinese men's national soccer team failed to qualify for this year's event, an increasing number of Chinese companies are setting their sights on the tournament to boost international awareness of their brands.
Besides Vivo, the list of Chinese sponsors for the World Cup includes property-entertainment conglomerate Wanda, home appliance maker Hisense and dairy producer Mengniu, with established brands and lower-profile yet equally ambitious companies on board.
Franck Guignery, head of sales at FIFA, said the organization is excited about the prospect of engaging Chinese fans on a level never seen before, as China is experiencing a surge in interest in soccer.
He made the comments at the event in May when Vivo launched the limited edition smartphones, including the V9 Blue for the overseas market and the X21 Extraordinaire Edition for the Chinese mainland.
According to Guignery, these tailor-made smartphones will be used by staff working on-site at the event.
Vivo signed a six-year sponsorship agreement with FIFA in May 2017, allowing it to sponsor two World Cup events in 2018 and 2022.
Sponsorship of major sports events and leagues has contributed to Vivo's growth in China and facilitated its global expansion, according to Deng Li, brand vice-president of Vivo.
As part of the company's "My Time, My FIFA World Cup" campaign, Vivo will also recruit 128 soccer fans, consumers and guests worldwide who want to document extraordinary moments of the event via special close-up access. A string of music-themed activities will also be held throughout the tournament.
Already the third-largest smartphone vendor in China, Vivo is ramping up efforts to explore overseas markets. It has now expanded its presence in over 370 overseas cities with more than 200 million users worldwide.
In the first quarter of this year, the company shipped about 19.5 million handsets globally, accounting for 5.4 percent of the world smartphone market, data from market research company Counterpoint shows.
James Yan, research director at Counterpoint, said: "By sponsoring the World Cup, Chinese companies can boost their branding influence among foreign consumers, which will lay down a sound base for them to negotiate with local retailers."
That's probably why not only big names, but also lower-profile Chinese companies are scrambling to embrace the event by tapping into the 2018 FIFA World Cup's regional marketing platform.
Menswear brand Diking, e-bike manufacturer Yadea and virtual reality company LUCI, for instance, are among the third tier of FIFA's three-level sponsor system for the gala event.
A regional quota costs less than the top two tiers-a FIFA partner such as Wanda and a tournament sponsor such as Vivo-while offering rights restricted within the region and lower exposure for bidders.
Lyu Qi, president of Diking China, said despite the limited rights, the relatively low cost has made the regional slot a real bargain.
"To be associated with the World Cup was only a dream for our branding in the past, while the regional access has made it come true," Lyu said, adding that it only took the brand 15 days to evaluate, negotiate and secure the deal with FIFA.
"The marketing rights in Asia fit right in with our strategy to expand our brand awareness and boost sales in this specific market," he said.
As FIFA's exclusive sponsorship agency in Asia, sports marketing firm Desports has sold three out of the four Asian quotas on offer to Chinese companies-an outcome that has apparently pleased Desports chairman Jiang Lizhang.
"To secure deals with three partners within half a year is a testament of the surging interest here," said Jiang. "To connect Chinese brands with the world's highest profile sporting property is a real deal for companies with overseas ambition."