Adding fizz to World Cup fever
Share - WeChat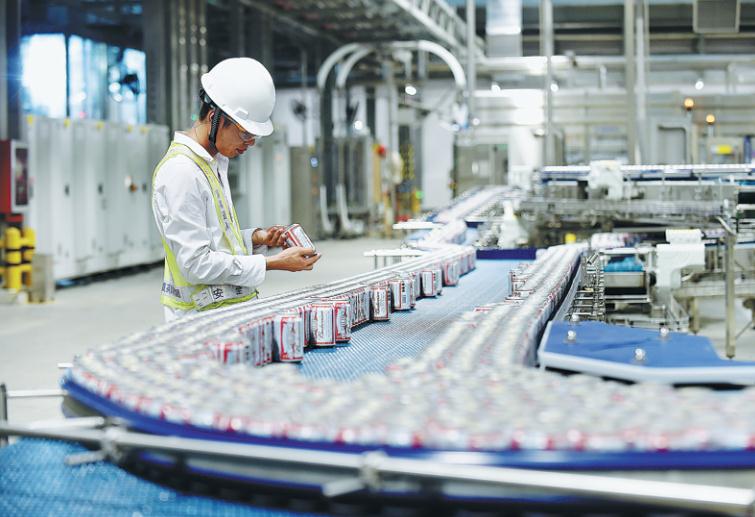 Brewer Budweiser's Brian Perkins scores with tailor-made strategy for the booming China market
Brian Perkins, global vice-president for Budweiser beer brand at brewer Anheuser-Busch InBev, is unlike common folk who liven up their summers with rooftop barbecues with beer, sunbathing at the beach or swimming sessions in outdoor pools.
Perkins, instead, prefers to use the hot summers to wrap his head around opportunities to ramp up sales.
For him, this summer is significant because it-the soccer World Cup-happens once in four years. For the last 32 years, Budweiser has been a partner of the soccer governing body FIFA during the quadrennial tournament.
Perkins has a lot on his plate-organizing ground activities, launching the company's new promotional campaign, arranging the sales channels in key global markets including China, the United States, the United Kingdom and Brazil, and much more-before the tournament starts in Russia on June 14.
Perkins, a South African national and an alumnus of Cambridge University and Harvard Business School, displays great passion for the China market.
Budweiser will introduce World Cup-themed packaging in China. Besides, soccer-viewing parties at hotels in 13 Chinese cities are planned.
Budweiser will also provide specially designed "Red Light cups" in over 300 food streets, 6,000 karaoke singing clubs and bars, 10,000 hypermarket branches, 30,000 restaurants and 170,000 stores.
He said he is confident about the growth potential in China's beer market. The country is growing to be a major market for premium beer on the back of the ongoing consumption upgrade, he said.
"The industry in China is focusing on providing consumers more and better choices. A growing number of Chinese consumers are looking for quality and unique beer products today," he said.
According to a recent report, the Leuven, Belgium-headquartered parent of Budweiser achieved strong growth in both revenue and volume in China in 2017.
AB InBev, the parent of Budweiser beer brand, saw its revenue rise 5.1 percent year-on-year to $56.44 billion in its 2017 fiscal year globally.
"E-commerce is important to our business, especially as young Chinese consumers aged between 18 and 30 have already changed their shopping habits from offline to online," said Perkins, who worked in investment banking and brand consulting before joining AB InBev.
Apart from e-commerce, he is spearheading Budweiser's expansion into other sales channels such as restaurants, off-trade consumption spots such as nightclubs and karaoke singing clubs.
"China is one of the most important markets in the world for us," he said. "We develop different plans for different areas. China is not just one market, it is many markets. For instance, Shanghai is one market and Fujian is another one with different consumption characteristics. We need to draw insights into consumer behavior in different parts of China."
He does that by traveling across China quite often. "I travel to China probably four times a year and I'm very close to Chinese colleagues and actually they've become personal friends," he said in May. "I'll travel to China soon to visit Xiamen in Fujian province. I'm very excited."
One of his strategies is to make international events locally relevant. The strategy has proven to be successful over the past few years in China. "The China market was traditionally dominated by low-priced beer, but recent years have seen rapid growth in more expensive international brands and a decline in cheap domestic brands," said Zhao Shiyuan, a professor at Beijing Technology and Business University.
He said this is particularly true for the country's western and northeastern regions where economic development has spawned higher incomes, better quality of life, lifestyle aspirations, all of which are resulting in, or are likely to lead to, rising consumption of quality beer.
As 3.2 billion people are expected to watch the June 14-July 15 World Cup, Perkins said he will be in Moscow early to make sure Budweiser's brand activation is perfect-after all, it is an opportunity to "bring people together".
"We'll have a Budweiser boat with a big screen that will go up and down the Moscow river, screening each game. We'll have special promotions at the city's top club. We'll also have a Budweiser hotel."
Despite his tight schedule, Perkins shows no signs of fatigue. Instead, he appears game for 24x7 immersive focus on business.
For him, the month ahead is like an epic holiday period. Budweiser's investment in soccer is said to be "the biggest" it had ever made for a campaign like this one. Perkins may be forgiven if he gets heady on the sheer excitement of it all, without having to down 10 to 15 Budweiser beers during a tense game.