PwC harnessing tech to improve services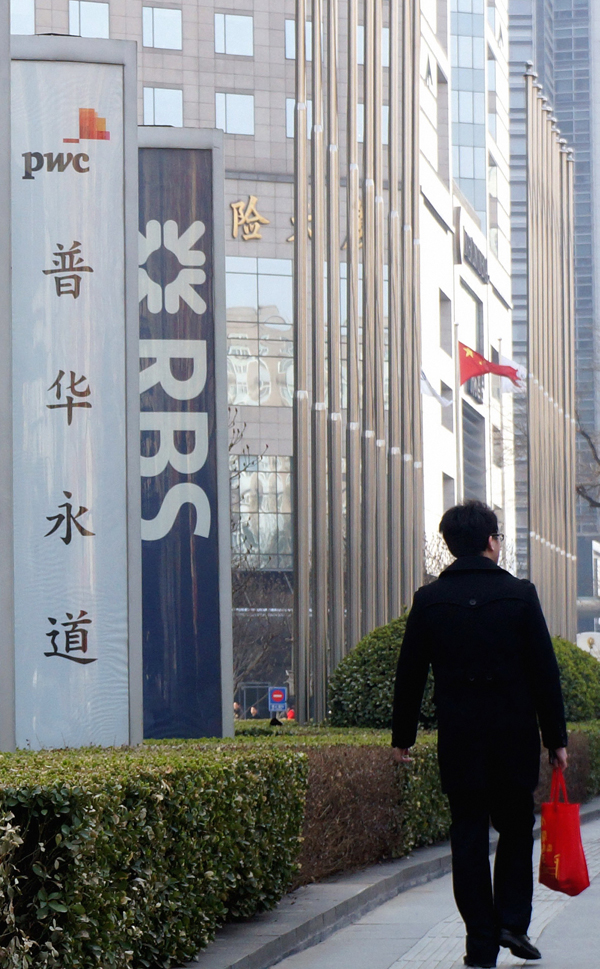 Firm committed to providing advice for global investment, operational strategy
Despite the uncertainties surrounding China-US trade relations and rising protectionism in the world, Robert E. Moritz, chairman of the PricewaterhouseCoopers International Network, said he still sees positive trends that will fuel the global economy's steady and more inclusive growth.
The head of the London-based accounting and consulting firm believes that the rise of the middle class and the need for urbanization in regions such as Asia Pacific will continue to create demand for more goods and services, which is critical for continuous growth.
In particular, China's pursuit of higher-quality growth driven by technology, services and consumption, as well as the Belt and Road Initiative will provide huge business opportunities for multinational companies, not only within the country but also across the regions involved in the initiative, Moritz said.
PwC is well-positioned to benefit from the next round of China's reform and opening-up. The firm hopes to tap into opportunities related to Chinese companies' going abroad and need to better understand their investment destinations.
Meanwhile, data-related technology is transforming PwC's business, as Moritz sees the company transforming from a solely people-driven business, also becoming digital enterprise.
In an interview with China Daily, Moritz talked about his views on the global economy, PwC's future operations and how his experience in Asia and China has influenced his career.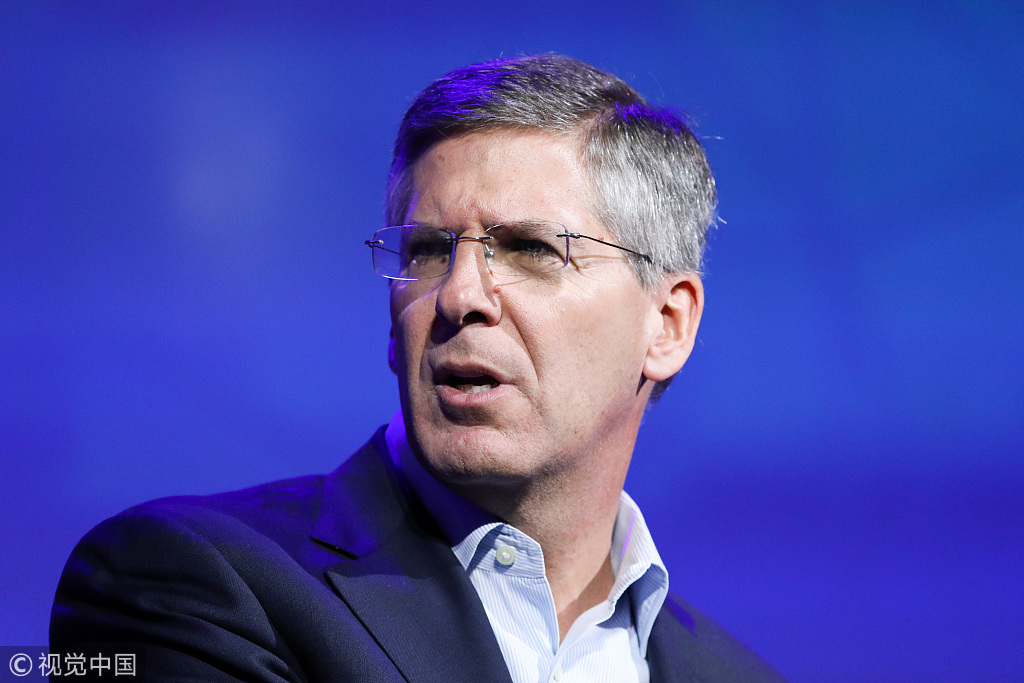 Despite the uncertainties around China-US trade, what are the positive trends that underpin global growth?
First of all, it is the first time in a long time that just about every region around the world is experiencing economic confidence and growth. Previously, we would see one or two regions stumbling or having problems. I think there will be positive momentum going forward.
Second, macro trends remain fundamentally sound. There are many people experiencing rising living standards, especially in terms of the rising middle class and their ability to participate in the economy not only as workers but also as consumers. That creates the demand for goods and services.
Third, there is a need for urbanization, particularly in Asia Pacific and Africa. The movement of people requires infrastructure support and other necessities as part of that urbanization.
All of these megatrends could continue to fuel high-quality and inclusive economic growth for many years to come.
How do you view China's goal of pursuing higher-quality growth driven by technology, services and consumption? What does that mean for multinational companies?
When you look at the concept of quality growth, you have to break down what that means. It is growth that is not so dependent on imports and exports, or on government spending, but rather it is balanced with expanding domestic consumption. You want to look for a balance between manufacturing and services. You want to look for growth that is inclusive in the sense that multiple parties can participate, and that it manages the global climate change issue that we are all dealing with.
So, under that definition, quality growth provides an opportunity for global organizations to participate. It also allows those organizations to work across the country, not just within certain cities. This is not only beneficial to corporations but also to consumers.
Today, you see that the opportunities are not only in China but extend across the countries related to the Belt and Road Initiative, meaning they expand across much more of the region.
How do you view the prevention of financial risks as one of the government's "critical battles"?
Chinese officials are focused on accelerating reforms that will help manage and expand the depth of the financial markets.
The more diversity you have, the higher the system's ability to absorb risks. We heard that the opening-up of the marketplace will allow international entities to participate. I think that will help to provide more participants in the market, lowering the dependence on State-owned enterprises and banks.
There is also a focus on good monetary policy that will better balance debt levels. The government has put forward ideas that continue to help reduce risk to a manageable level. Also, the country continues to grow at around 6 to 7 percent a year, which allows for many opportunities to manage risk as well.
As a global accounting and consulting firm, how has PwC benefited from China's integration into the global economy?
With China's opening-up, there have been three key changes. First, foreign companies are expanding their operations in the country. They need to understand the rules and processes, to figure out how best to invest and to deploy capital, and to ask advice around operational strategy and financial performance reporting assurance. These needs all provide opportunities for PwC's expertise.
Second, China's opening-up has had the reciprocal benefit that its companies now operate around the world. That means Chinese companies need to understand how to capitalize on the different opportunities in regions such as Africa or the Middle East, as well as the different rules in those markets.
The third factor is the Belt and Road Initiative. Companies need to think carefully about strategies, planning, budgeting, taxation, deal-making activities, partnerships and laying out plans that can be executed as effectively and efficiently as possible. That is somewhere we see the combination of all the skill sets that PwC has to offer.
How do you see the future of the auditing sector and how is technology changing PwC's business?
PwC has historically been a people-driven business where knowledge and expertise transfer from person to company. But, as we look at the world today, we find that data is everywhere. So our job is to manage data effectively and efficiently, and use that necessary information to help companies to make faster and better decisions.
In a world with a lot of information, trust becomes even more important, because you are not sure which information to pay attention to or whether it is trustworthy. That is a big opportunity for PwC. You will see us entering the data game more and more, harnessing technology to accelerate the accumulation, analysis and dissemination of data and so improve our services.
In terms of our audit services, there are important technologies that we use today to help with risk analysis and automating data collection. Going forward, there will be more blending of technology and people, as PwC becomes a digital company as much as it is a people-driven business.
How would you describe your management style?
Over my career, it has become clear that the role of a chairman or a CEO is to interact with many stakeholders to determine the best course of action for an organization and to respond to those stakeholders' needs.
That means engaging with clients, the investing public, regulators, academics, potential recruits and existing employees. It is important to be inclusive and intellectually curious about what is important to them. This helps you to determine what your strategy should be and what you should prioritize.
The second key aspect is creating a great leadership team. It is about making sure you have the right and equally weighted resources that demonstrate the values of an organization.
The third is open communication. You always have to be talking not only about what you are doing but why you are doing it.
Those three factors are very important lessons as we think about leading our organizations today, leading them through changes and enabling them to succeed going forward.
How has your experience in China and Asia influenced your career?
I had experience in Asia early on in my career. It not only helped me to be more intellectually curious about countries like China, but also to be more appreciative of it. Spending time in Asia in the early 1990s was a great opportunity for me to experience a different part of the world. It was the first time I had traveled overseas and the first time I had a passport. It allowed me to interact with many people in many different countries.
A chance to go to Hong Kong and the Chinese mainland was great from a personal perspective as well as from a professional perspective. I think that is important as you think about the appreciation of different points of view and that each country has a different way of working. It is important to put yourself in the shoes of the people living in those countries before you try to dictate what you expect of them.
CV
Name: Robert E. Moritz
Age: 55
Nationality: United States
Career:
July 1, 2016 onwards: Chairman of the PwC International Network
2009-16: Chairman and senior partner of PwC US
1995: Became a partner of PwC
1985: Joined PwC
Education:
Bachelor of Science in business administration, State University of New York at Oswego
Family:
Married with two children