Chinese fund invests in British surgical robot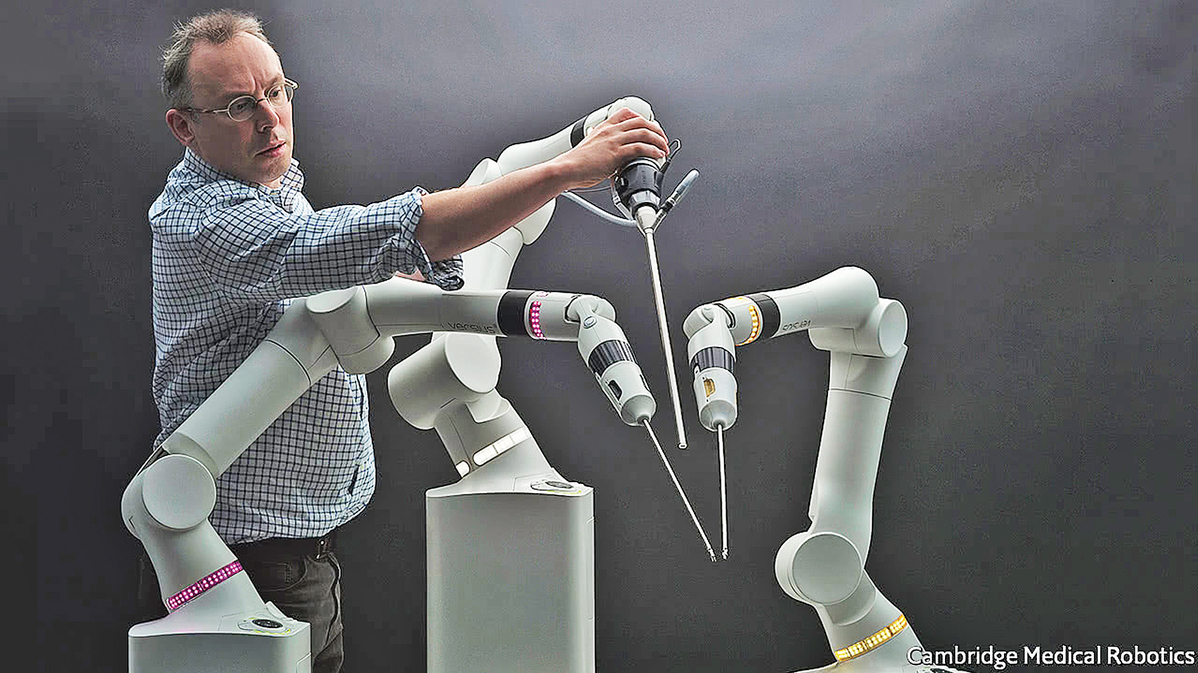 A British company that has developed a robot that performs surgery has raised $100 million in funding from five investors including the Zhejiang SilkRoad Fund in China.
Cambridge-based CMR Surgical has created the world's smallest surgical robot, called Versius, that performs laparoscopy, or "keyhole" surgery, with mechanical arms that mimic the movements of the human hand.
Zheijang SilkRoad Fund, which is principally sponsored and managed by Zhejiang United Investment Group, is investing in CMR for the first time, while the four other investors - Escala Capital Investments, LGT, Cambridge Innovation Capital and Watrium– had previously contributed to an earlier funding round that garnered $46 million.
The latest funds will go toward obtaining regulatory approval in the United States and Europe and taking the robot to market.
Surgeons have used robots to assist in keyhole surgeries for decades, however Versius is capable of tackling surgeries at an unprecedented rate, according to CMR technical director Luke Hares.
"The idea was to increase utilization - to make a device you can use three or four times a day, every day," Hares said. "That compares to current systems that are used on average once every other day."
Laparoscopic surgery is preferred to open surgery in many cases because it is less painful, involves fewer complications and requires shorter recovery time for patients.
During manual laparoscopy, a surgeon makes one or more small incisions in the abdomen and inserts a tube containing special surgical tools and a tiny camera, which is linked to a screen.
Uptake levels for keyhole surgery are low in most countries as the procedure is complicated and requires huge amounts of surgical training.
"You're sort of operating with a long knitting needle through a pivot point, so up is down and down is up," Hares said. "It's incredibly difficult."
A report published in March by the London-based Office of Health Economics estimated that 1.35 million patients in the United Kingdom were eligible for keyhole surgeries in 2016 and 2017." Only 24 percent of those patients received manual keyhole surgery, while 1 percent received robotic keyhole surgery, and the rest underwent open surgery.
"There aren't enough surgeons who can do it, and those who can aren't able to do as many of the procedures as they'd like to do," Hares said.
"When you move to a robotic solution, moving instruments is simple because the robot moves along with the surgeon's hands in the same direction," he added. "We make the whole thing much easier."
Versius is thought to be the world's smallest surgical robot and can be moved around a hospital and assembled for use in under half an hour. Most other designs are bulky and often remain in operating rooms, leading to long waiting lists for their use.
Hares said that surgeons need around three days of training to master the device. This includes learning some of the toughest tasks in keyhole surgery, like tying knots. Surgeons take around 30 hours of training to learn how to tie knots in manual keyhole surgery, whereas with Versius the training period is cut down to 30 minutes.
Hares said operating the device is similar to playing a video game - the surgeon sits in a chair and looks at a screen while maneuvering the robot arms using handheld controls.
CMR aims to bring Versius to market in the US and Europe by the beginning of next year and hopes to go on sale in China in around two years.
"We are taking baby steps in finding the right way to market and sell the system in China, and this investment might be the start of that," Hares said. "The Chinese medical device regulation process is quite possibly the toughest in the world, so it will take us time."