New rules to curb cross-sector risks
Share - WeChat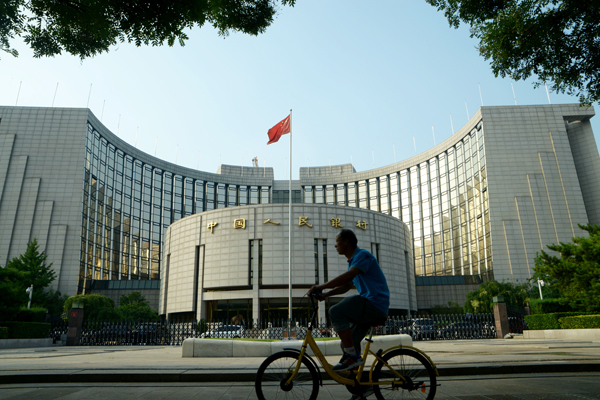 The proposed national regulation on the operation of financial holding groups is expected to reduce cross-sector risk contagion and help trim the excess flab of highly-leveraged financial giants, according to local media reports.
A set of new rules are currently awaiting approval from the authorities and fresh discussions are needed before the final approval, said media reports in Yicai Media Group and 21st Century New Group, citing sources close to the regulators.
Financial holding groups' capital quality and their ability to absorb potential market shocks will be reassessed by the upcoming new rules, before they get new licenses from the country's top financial regulator, according to experts familiar with the matter. The groups conduct a wide range of financial business including banking, securities and insurance.
The bloated balance sheets of big financial holding groups have drawn the attention of Chinese financial regulators, who warned that could foster risks because of fake capital injection and connected transactions between different internal business sectors, under the complicated and opaque shareholding structure.
Lian Ping, an economist with the Bank of Communications, said various types of financial holding companies-State-owned, private and internet companies-will be covered in the new rules, but subject to different regulatory standards.
"Expected regulatory standards will include a capital adequacy ratio and liquidity ratio, aimed at curbing excessive borrowing and high capital leverage of the groups," said Lian. "Indicators to show insider trading and connected transactions should also be written into the rules."
He said that big groups dominated by insurance, local government and internet companies will be the core to the supervisory process.
The overall leveraging level of the groups, as well as that of separate subsidiaries, should be monitored by regulators, said experts.
A pilot program has already started since the beginning of this year, according to a report from Yicai Media Group on Friday, and five financial holding companies are on the list including Alibaba's Ant Financial Services Group, China Merchants Group, and Suning Commerce Group.
Sun Guofeng, head of the financial research institute affiliated with the People's Bank of China, the central bank, disclosed the regulatory logic behind the upcoming new rules when he attended a forum last week.
"Internal firewalls should be built to prevent risk contagions between sectors, markets and regions," said Sun, adding that the rules will also identify, assess and supervise the basic financial activities.
To expand business and obtain multiple financial licenses was once encouraged by the country's regulators, especially since 2005. Some State-owned nonfinancial enterprises, such as some large oil and manufacturing groups, have also invested to hold large scale stocks of financial holding companies, thereby increasing regulatory difficulties.
Yi Gang, the central bank governor, listed the upcoming regulations for financial holding groups as one of the three new policies that the bank was busy working on and "would try to publish as early as possible", when he delivered a speech in late March in which he mentioned that the "barbarian growth" of a few financial holding groups is risky.
The other two sets of new rules, to standardize asset management businesses of financial institutions and tighten regulation on nonfinancial enterprises' investment in financial institutions, have been issued in April, a sign that the country's financial regulators are keen on risk prevention.
The policies will reshape the world's second-largest economy's financial sector structure and business models, and have long-term deep influences for investors, experts said.