Enjoy a taste of Yangtze life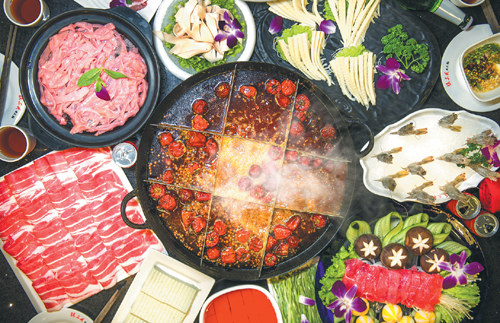 A new restaurant brings the authentic taste of Chongqing hotpot directly from the banks of the Yangtze to the melting pot of Beijing.
Originally the common repast of poor boatmen along the Yangtze River, spicy Chongqing hotpot has since become the fare of foodies across China, with many restaurants including their own interpretation of the dish on their menus.
Fortunately for hotpot hunters in Beijing, Zhensanguan Chongqing Hotpot has brought the original taste of the Yangtze wharf to the melting pot of Sanlitun with the opening of its flagship venue. So what makes it so "authentic"? The restaurant flies all of the necessary condiments and fresh ingredients from Chongqing every other day to ensure that hungry Beijingers are getting the real deal.
Even down to the decor: the restaurant looks just like the ones you would find on the riverside, with a rustic wooden bench and a wall of glass jars each housing different traditional Chinese medicine items.
"Those are just some of the things we use to make the hotpot," explains Qi Ying, Zhensanguan's chef. "But that's not all of them. We use more than 60 ingredients in total."
According to Qi, each ingredient has its own function, such as licorice for detoxifying, and angelica dahurica for moistening the intestines.
"The dose for each ingredient is fixed. If you add more or less, the flavor would be different, and it took us more than a year to study that formula. After repeated trials, we finally got it just right."
The peppers Zhensanguan uses all come from Chongqing. Most are from the Shizhu Tujia autonomous county, while the Sichuan peppers are from Maoxian county. "We only use the fresh Sichuan peppers and cut the seeds when cooking so that there is no bitterness," Qi says.
The first part of the cooking process takes place nearly 2,000 kilometers away, where the seasoning for the dish is fried by chefs in Chongqing, who use a shovel and a large pot to cook it. The seasoning will stay a week in Chongqing before being flown to Beijing, giving the glutinous rice more time to continue fermenting, adding even more sweetness to the flavor.