The exotic secrets of Cow Street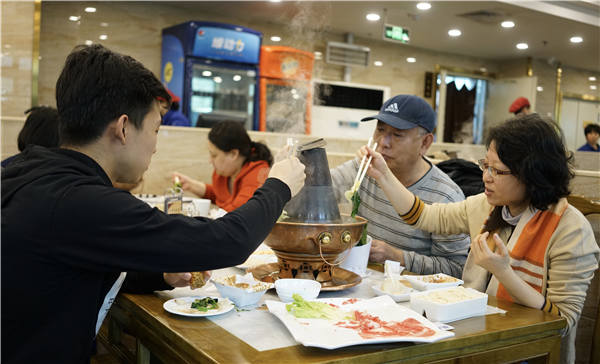 Recipes handed down through the generations ensure that halal cooking holds sway in a Beijing district.
It's Lantern Festival eve, and three long lines of people have formed along the west side of the Beijing street Niujie, and across the road there are two more.
Anywhere else in Beijing and these people could well be lining up to buy the seasonal delicacies of tangyuan or yuanxiao (rice dumplings), but in this case the lines are just part of the daily ritual. What the taste buds of these people in Niujie (literally Cow Street), Xicheng district, are hankering after is homemade halal food, readily available in the area, with its large population of those of the Hui ethnic group.
"All the food you see in Niujie, including snacks and its many delicacies, come with a taste of history, which runs down the generations and can be passed on," says Ma Enci, folklorist who is also the consultant of Niujie Halal Chamber of Commerce. "They also need to keep up with the times."
Hui people used to run many of the small family business in the neighborhood, and there is a saying that they live with two knives and eight ropes - one knife to cut beef and mutton, one knife for glutinous rice cake, and the eight ropes are to tie the shoulder pole to carry the goods.
Almost every Hui family in Niujie has a nickname, their business activity being added to their family name, such as Rice Cake Ma or Tofu Jelly Bai. Some of the families' businesses have been passed on from generation to generation but others have disappeared.
The family name of Ma, born in Niujie, is Bobopu Ma (Pastry Store Ma), but the business ceased when his father died when he was 10.
Ma still cares about the people and food in Niujie, and when Niujie Halal Chamber of Commerce was founded in August 2015 he offered to help.