Aiming to deliver double trouble
Share - WeChat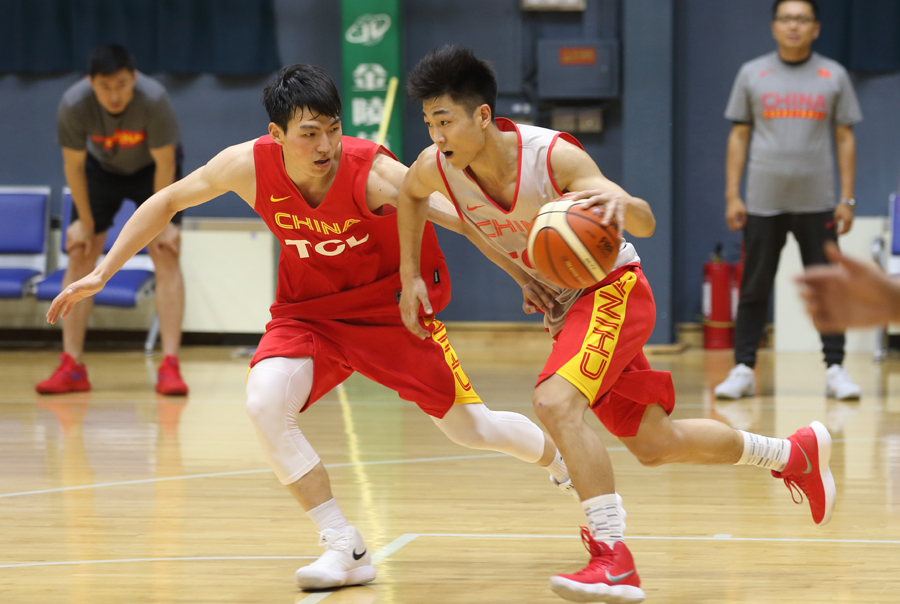 Since the retirement of Yao, Wang and Bateer, who were collectively dubbed the "Walking Great Wall" during their prime in the NBA in early 2000s, China hasn't produced any consistent NBA-caliber stars, although current national leader Yi Jianlian has had short stints with multiple NBA teams and young center Zhou Qi is highly touted after being drafted by the Houston Rockets.
The men's national team's declining international performances over the past two Olympic cycles-fifth-place finishes at the 2013 Asian Championship and 2014 Asian Games and 12th at the 2016 Rio Olympics-have raised questions about traditional talent development methods.
Yao was elected chairman of the CBA in February 2017 as the first basketball chief drawn from outside government ranks. The eight-time NBA All Star has been rolling out reforms, including the double-team initiative and an extended league schedule, to optimize management of the game, which used to be run by government officials.
"It's time to make some fundamental changes," said Li Nan, coach of Team Red. "And the opening-up national system is a good first step."
By donning the national jersey, youngsters will be inspired to work harder and dream bigger, said Li, a sharpshooter on China's 2008 Beijing Olympics squad, which finished eighth.
Wu Qian, interim captain of Team Blue, said whenever he came to the gym for extra practice he wasn't alone.
"The atmosphere in the national team camp is definitely different as we can feel the strong sense of destiny once we step in the training facility that has witnessed the team's past glories," said Wu, a point guard with CBA's Zhejiang Golden Bulls.
"A healthy competition is going on every day and we all want to prove that we can be part of the team when the time comes for the big tournaments."
With key players like Yi, Zhou and Shandong forward Ding Yanyuhang missing because of injuries or NBA tryouts, both teams will rely on relatively immature rosters in warm-up games and major international events over the summer.
Team Blue will play Asian No 1 Iran on May 30 and June 1 before flying to Canada for overseas training to prepare for a World Cup qualifier in September, while Team Red will represent China at the Asian Games in Indonesia after a series of summer warmups against the likes of Australia and Slovenia.
"To put our young rosters through tests against higher-level opponents under international exposure will help us better position ourselves while opening our eyes for the latest advancement of the game," said Kelanbaike, Team Blue's veteran forward from Xinjiang Flying Tigers.