World No 1 paddler's dramatic performance alerts China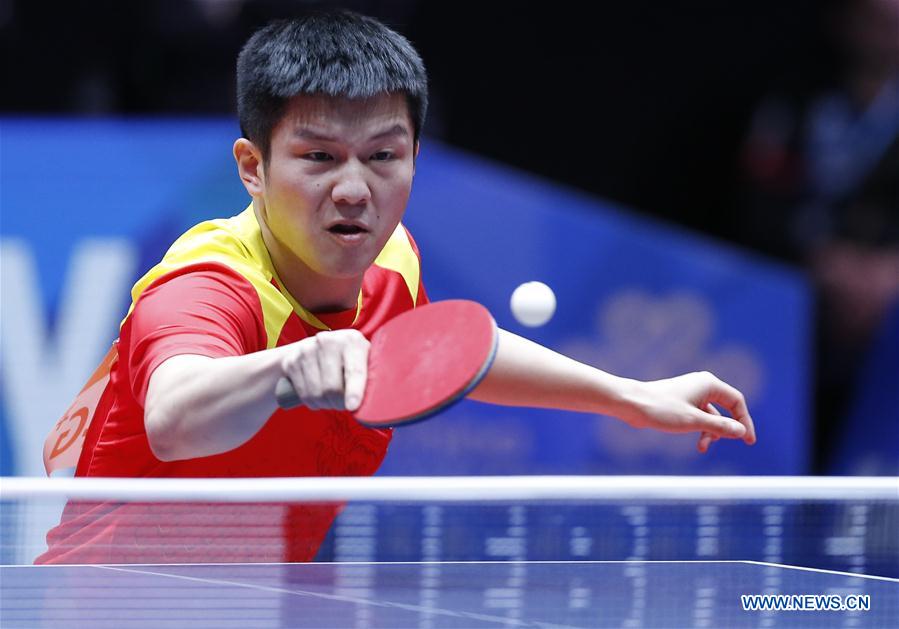 HALMSTAD, Sweden -- World No 1 paddler Fan Zhendong came from 0-2 behind to 3-2 win over Portugal's Joao Geraldo, giving China another 3-0 victory at the table tennis team worlds here Tuesday.
Defending champion China, represented by Fan Zhendong, Xu Xin and Lin Gaoyuan, tried to secure the first place in Group B while facing the tournament's No 8 seed with the absence of Marcos Freitas.
Xu, the only penhold player in the squad, breezed past Portugal's Diogo Carvalho 11-9, 11-5, 11-4.
Fan experienced tough competition from Geraldo, losing the first two sets 8-11 and 10-12.
After a short break, the world No 1 bounced back briskly, equalising the game with 11-9, 12-10.
In the decisive set, Fan built a 7-1 lead and finished with 11-6.
After the dramatic game, Lin beat Tiago Apolonia 11-9, 11-8, 11-7.
"The match was intense and thrilling, however the result was satisfactory," said China coach Liu Guozheng, commenting on Fan's breathtaking victory.
"The players have to learn to keep calm while facing difficulties, getting adapted to the toughness and intensity of the world championships," he added.
China, the No 2 seed of the championships, scheduled to play DPR Korea on Wednesday as the last group match.
Also on Tuesday, in Group A, top seed Germany, led by Timo Boll and Dimitrij Ovtcharov, defeated Hong Kong, China 3-1.
Rallying from an expected loss to England last night, title contender Japan routed Chinese Taipei 3-0 in Group C, while England defeated Singapore 3-1.