More than a brick in the wall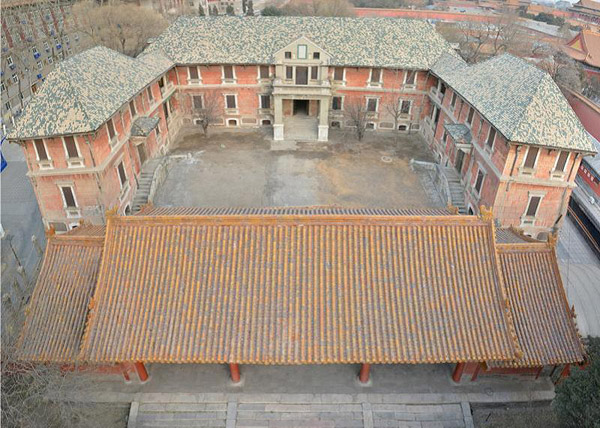 In the case of Baoyun Lou, 140 old bricks were planned to be replaced by new ones at first, but Wu's team found that some broken bricks were usable after being fixed. Only 20 bricks were replaced in the end.
"The principle of minimum intervention was thus used to preserve its genuine historical value," Song adds. "And all renovations should be reversible in case wrong decisions are made."
He also emphasizes that old architecture has to be better used after conservation to prolong its life.
Baoyun Lou sets a good example as a reception room for the Palace Museum.
It is now used as an exhibition venue to review the history of the Forbidden City after it became a museum in 1925. Its courtyard was a stage featuring Treasure the Treasures, an original historical play created by the museum's staff. And it was also a venue for a summit of leaders from China and the United States in November.
Dilemma to be solved
Problems still haunt conservation efforts in China.
At a news conference outside Baoyun Lou on April 16, Shan Jixiang, director of the Palace Museum, said the compulsory bidding system for the conservation has created a threshold.
"Rules demand that the projects introduce market competition," he says. "That will lead the cheapest plans to be favored. However, regular construction workers lack rigid training in professional conservation."
It also leads to modern construction materials being used instead of the originals.
"There is a huge gap in quality," Shan says. "Sometimes, they even don't match at all."
A good thing is: With more academic studies being introduced to conservation work at the museum, a certification system has been established in recent years to ensure all restorers within the Forbidden City are trained properly.
But the lack of tailored materials for conservation remains a bottleneck. Consequently, the Palace Museum is now building connections with regions that supplied construction materials in the imperial years.
Jin Jin from Suzhou, Jiangsu province, is the sixth generation in her family to use traditional techniques to make bricks. The kiln she lived by used to provide the "gold bricks" for the Forbidden City in the Ming Dynasty.
The so-called gold bricks were not actually made of gold but were of top quality and were exclusively used for palaces in ancient China. It sounded like metal when stacked.
According to Jin, one such brick, more than 1 square meter, will take almost one year to produce following 29 steps. After many trials, her workshop successfully made bricks with quality close to the ancient ones. On April 16, it was announced that the workshop had reached an agreement with the Palace Museum to provide 100 such bricks in the next three years.
The cost is sponsored by Taihu World Cultural Forum, which also paid for the Palace Museum to order 1 million pieces of gold foils from a Nanjing workshop for future renovations.
"We can hand over these precious materials ... for the sake of future generations," Shan says.