More than a brick in the wall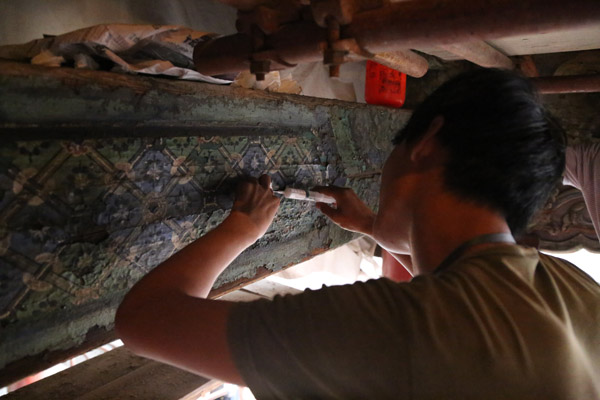 Wu's team did research in the surrounding areas of Baoyun Lou, which was built up on the foundation of an old palace. The palace was destroyed in a fire in 1912, but the front gate of the courtyard survives. The archaeological research found the gate dates to the Ming Dynasty (1368-1644).
"This is different from what is recorded in files saying the original gate came up since the mid-Qing Dynasty (1644-1911)," Wu says. "We may have more discoveries."
Surprises keep popping up.
For example, the tiles, which Wu describes as "beef tongues" because of their strange shapes, were found to be imported from Germany after he went through records, which indicates that a German architecture firm worked in the Forbidden City in 1914.
"We cannot find any similar counterparts of such tiles in China," Wu says. "It's a pity that we cannot identify the specific workshop that made them."
As a compromise, the team cooperated with a workshop in Tianjin to mimic the original material. New "beef tongues" were made to fix the broken ones.
"But we will make sure these newly added parts are recognizable from the original," Wu says. "We have also left information about where they were produced on the tiles to help the future generations to renovate this place again."
He says the Baoyun Lou project has also created a chance to revitalize disappearing traditional craftsmanship. For instance, some doors of this place were painted in a kind of dye made from ash found at the bottom of cooking pots, but the technique is almost lost today.
"Some restorers had suggested that it be replaced with asphalt, but we stuck to using the old formula," Wu says. "We found the right craftsman in Beijing. That saved the skill from dying."