Limits on links to quadruple
Share - WeChat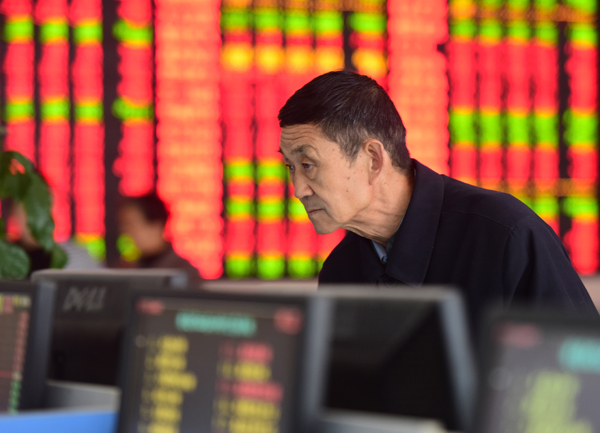 Regulators' move will help Stock Connects to absorb expected MSCI-related surge in foreign capital inflows
Regulators have agreed to quadruple the daily transaction limits of the Stock Connect links between the bourses in the Chinese mainland and Hong Kong.
The increase is part of preparations to absorb the anticipated inflow of foreign capital into China's A-share market after its inclusion in the MSCI emerging markets index in June.
The China Securities Regulatory Commission and the Securities and Futures Commission of Hong Kong announced that the daily transaction limit for the Shanghai-Hong Kong Stock Connect will be increased from 13 billion yuan ($2 billion) to 52 billion yuan, while that for the Shenzhen-Hong Kong Stock Connect will increase fourfold to 42 billion yuan.
The new limits will take effect on May 1.
Yang Delong, chief economist at Shenzhen-based First Seafront Fund, explained that overseas investors will invest in more A-share stocks included in the MSCI index.
As the stock connects between the Chinese mainland and Hong Kong are among the major investment channels for overseas investors, the currently smaller daily transaction limit might be one hurdle for foreign capital inflows. But the increased daily limit will sweep away such concern, he said.
As estimated by China International Capital Corporation Limited, inclusion in the MSCI index is expected to bring in capital inflows valued between $15 billion and $20 billion this year.
"Although the ratio of A-share stocks in the MSCI index is comparatively smaller, it is a milestone for the A-share market, indicating that it has become an indispensable part of the global market. This will definitely attract more overseas investors to look at the A-share stocks," said Yang.
Overseas investors' interest in the A-share market has been evident in the strategic emerging industries in China.
Data from Shanghai-based financial information service provider Wind Info showed 148 companies have seen qualified foreign institutional investors among their top 10 shareholders, based on the 2017 financial reports released till April 12.
High-end manufacturing, medicine, and chemicals are the industries that attracted most of investor attention.
Xie Yaxuan, chief macroeconomic analyst at China Merchants Securities, said that QFIIs will continue to invest steadily in China's A-share market as the country's financial sector opens up further offering more diversified investment channels.
Analysts from Shanghai-based Sinolink Securities said overseas institutions will invest mainly in companies that face little competition in the local market, produce positive financial performance and have potential to emerge as super brands in the future.
Shanghai-based Shenwan Hongyuan Securities said in a note that foreign capital inflows will likely surge between 74 billion yuan and 105.5 billion yuan in May if MSCI decides to include the A-shares in its index by taking only one step at a time.
Therefore, investors are advised to watch closely stocks of companies in areas like finance, food and beverages that were part of the original MSCI index reconstitution plan. The stock composition plan was modified in February.
If the MSCI announces that it will increase the A-share stocks in its index by 5 percent, foreign capital inflows into the A-share market would surge, Shenwan Hongyuan said in its note.
Industries such as medicine, biology, property, communication, computer science and nonferrous metals would benefit the most from any increase in allocation.