Hainan embodies opening-up ethos
Share - WeChat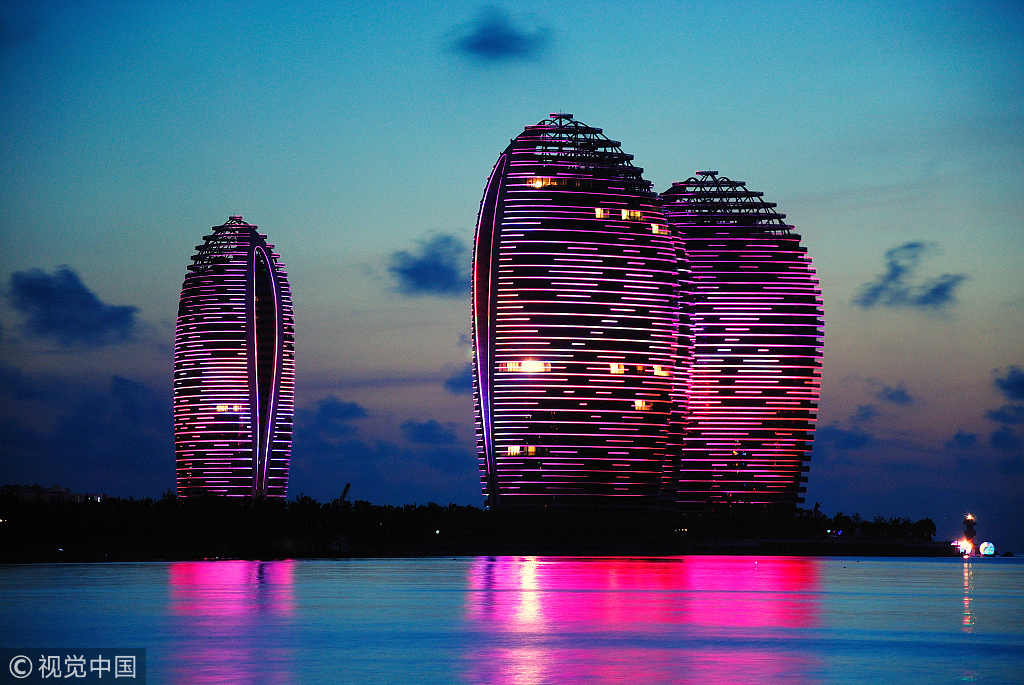 Planned big-ticket developments on the island highlight China's commitment to liberalization and the world's economy
China's opening-up policy, which is already encouraging the world's big companies and investors to redraw their strategies, received a fresh burst of energy this month.
The government announced several creative plans to build Hainan island into an international free trade zone and free port. Next came proposals to give foreign investors full access to China's general manufacturing sector.
All this reaffirms the country's commitment to market liberalization and its role as a key driver of global growth, said business leaders.
The tropical island of Hainan, known for its sandy beaches and resort-dotted coastline, gained prime attention from home and abroad after President Xi Jinping announced on April 13 a grand plan defining the island's future role.
The central government has decided to set up an investment fund to support building a free trade port in Hainan by 2025.
Foreign firms and multinational companies will be encouraged to set up international and regional headquarters on the island, according to a detailed official guideline released on April 14.
The island will gradually phase out sales of traditional gasoline-fueled vehicles, according to the guideline.
"After decades of gaining robust growth from China's huge consumer base, technology and infrastructure upgrading, low material and labor cost, foreign manufacturers can discover more new market growth points today, as the country has moved to substantially expand its reform and opening-up programs, not only in specific sectors, but in specific areas (such as Hainan)," said Xue Rongjiu, deputy director of the Beijing-based China Society for WTO Studies.
China, a top-priority market for many multinationals, will further get integrated into the global economy by allowing foreign companies greater acess to the services industry, including elderly care, health and education. It will lift limits on foreign-owned equity in some areas, and fully open the manufacturing sector, according to the government policies that have been evolving since 2017.
Ulrich Spiesshofer, chief executive officer of Swiss industrial conglomerate ABB Group, said he has seen major changes like rising market demand for high-end products such as industrial robots and state-of-the-art technologies like artificial intelligence and high-voltage direct-current systems.
"On the automation side, China's center of gravity in industry is really shifting away from the heavy industries more into discrete industries and services," he said. "We have also shifted our center of gravity: we are the market leader in robotics in China since decades and have invested strongly. So I would say the underlying sentiment is positive."
Under the government plan, the general manufacturing sector will be completely opened to foreign participation. Access to sectors like telecommunications, medical services, education, elderly care and new energy vehicles will be expanded.
The Ministry of Commerce also said that China will complete a revision of the negative list for foreign investment in the first half of this year. Areas not on the negative list are presumed to be open to foreign investors.
"We came just at the right time with a clear portfolio that is now the simplest in the industry with a much stronger customer orientation in a market that is improving," said Spiesshofer of ABB.
Chinese Vice-Minister of Commerce Wang Shouwen said, "The reform and opening-up policy has been behind China's robust growth over the past four decades, which helped the country to emerge as the world's second-largest economy and the largest contributor to world growth."
From 2013 to 2017, China contributed more than 30 percent of world economic growth, more than the combined contributions of the United States, Japan, and the eurozone, according to World Bank data.
China has also pledged to expand imports, a major and a more direct way to share its development opportunities with the world.
"With the world's largest population, China can provide a huge market for other countries and regions with industrial and infrastructure advantages," said Gao Feng, spokesman for the Ministry of Commerce.
Danish multinational Danfoss Group, a specialist in energy-efficient technologies, will probably agree. It will establish two manufacturing plants in China this year, having achieved a record 30 percent growth in the country in 2017.
What helped Danfoss in China were the government's massive investments in the fields of green energy and energy-efficient technologies to tackle the challenges of climate change and pollution.
"We have been benefitting from China's reform and opening-up policy, and we are very optimistic about our future in China, which is our second home market," said Kjeld Stark, president of Danfoss China.
"The strong growth in China is a clear sign of the perfect alignment between our business portfolio and China's development initiatives," said Stark. "China has contributed one-third of the group's overall growth last year."
In 2017, Danfoss delivered the highest sales growth in six years: its sales increased 10 percent year-on-year to 5.8 billon euros ($7.16 billion).
Despite challenges like rising unilateralism and protectionism elsewhere in the world, France's Schneider Electric SA believes China's new round of opening-up will not only become a main source of the country's own development, but also bring opportunities and shared prosperity to the whole world.
"China's new direction, further reform and openness, will certainly bring more opportunities to Schneider Electric. The opportunity is mainly in areas including green city development, industrial automation and Internet Plus-related businesses," said Jean-Pascal Tricoire, Schneider Electric's chief executive officer.
Tricoire said the tangible development relating to the Belt and Road Initiative will become another highlight for China to further expand its market-opening channels, he said.
Schneider Electric has already worked with a number of Chinese companies such as China National Building Materials Group Co in markets related to the initiative, especially in Europe and Africa.
Schneider Electric has also engaged in innovative works of Chinese startups as the Chinese government has already pledged to make the home market a place for "domestic and foreign firms regardless of their ownership to compete on a level playing field".
"China's economy has benefitted considerably from the more domestically focused, investment-driven growth model after the 2008 global financial crisis, when many developed economies encountered weakened consumption growth resulting from the fallout of the crisis," said Sang Baichuan, director of the Institute of International Business at the University of International Business and Economics in Beijing.
As China's investment-driven growth model has gradually reached its upper limit and engendered potential debt escalation and systemic financial risks, Sang said one of the country's most important decisions in the new round was to make its investment environment more attractive.
"Because foreign-invested companies have become an integral part of the national economy, China certainly needs them to expand capital supply, introduce professionals and advance market-oriented reform," he said.
In the report of the 19th National Congress of the Communist Party of China in October last year and the Government Work Report in March, the government reiterated China will follow international economic and trading rules, increase transparency, strengthen property rights protection, uphold the rule of law, encourage competition and oppose monopolies.
"With the renewed pledges, China will become well-positioned to achieve high-quality development, the fundamental requirement for determining the development path, making economic policies, and formulating macroeconomic regulation," said William Liu, China unit head for Linklaters LLP, the international law firm.
Sherri He, partner and head of consumer and retail industry, at the China branch of A.T. Kearney, a global management consulting firm, said further opening-up of China's manufacturing industry will benefit not only foreign businesses but also Chinese companies. The latter can improve their competitiveness, even though they may struggle a bit in the short term.
In fact, there is minimum protection of Chinese companies in sectors such as home appliances. Yet, these are the sectors where Chinese companies will likely become leading players; and global competitors may lose their competitiveness not only in the China market but also in global markets to their Chinese peers. For, Chinese companies will learn to survive and thrive amid fiercer competition; they see the need to be strong and competitive, He said.
She also said obstacles remain because some longstanding and key areas of reform, including State-owned enterprises and financial reform, still need more time.
"On the other hand, Chinese companies in finance and auto sectors, especially the major banks and large SOE automotive companies, have been too profitable and comfortable as protection was certain. There was not enough pressure and motivation for them to grow to their full competence," He said.
Li Xiang contributed to this story.