A new way to learn English
Share - WeChat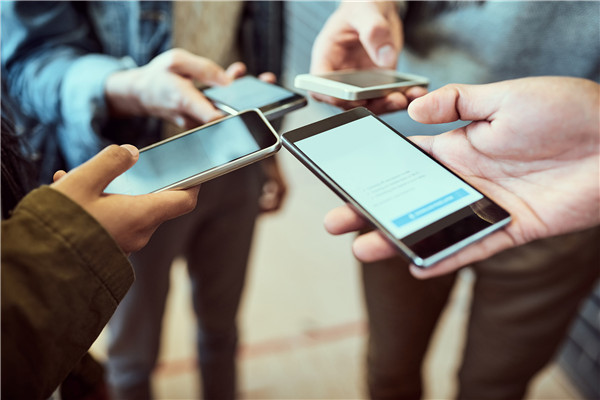 Apps are replacing teachers as technology plays a bigger role in language education.

Ma Ruining has been studying English for a long time, but her teachers are not in the classroom-they're in the palms of her hands.
Ma has several English learning apps, which cater to users who want to improve their English proficiency, from listening to speaking, loaded onto her smartphone.
Although she's tired from eight hours' office work, Ma, who is a product manager at the Xinjiang branch of the China Knowledge Resource Integrated Database in Urumqi, capital of Northwest China's Xinjiang Uygur autonomous region, does not spend her leisure time just relaxing watching TV dramas as she used to.
She takes out her mobile phone and begins to practice her spoken English with an app called Liulishuo ("speaking fluently" in English), which offers solutions to people looking to improve their competency in spoken English.
A 10-second audio clip by native speakers is then played on the app as Ma starts her lesson, after which the app asks her to imitate the piece. The app then evaluates her performance on a scale from 1 to 100 and gives feedback on her weaknesses to allow her to make improvements.
"If you score more than 90, it means your pronunciation is good," says Ma, who has been practicing colloquial English every day on the phone for the past six months.
"At first, I usually only get a score of 70 as I often mispronounce," adds Ma, 26. "I graduated two years ago, but I wanted to improve my spoken English to study or travel abroad some day in the future."
Ma first heard about Liulishuo from an article shared on WeChat in August. She paid 499 yuan ($78) for the complete course which lasted for six months. The advertisement said if the student completes the course with an overall score of 90 or over, they will be fully reimbursed the fee.
"I planned to buy another course with the reimbursement," Ma says.
"It seems to be an indispensable part of my daily life to practice English with my phone. As my study hours gradually accumulated, I've become more confident in speaking English."
Most Popular