Tech bolsters firms' HR tasks
Share - WeChat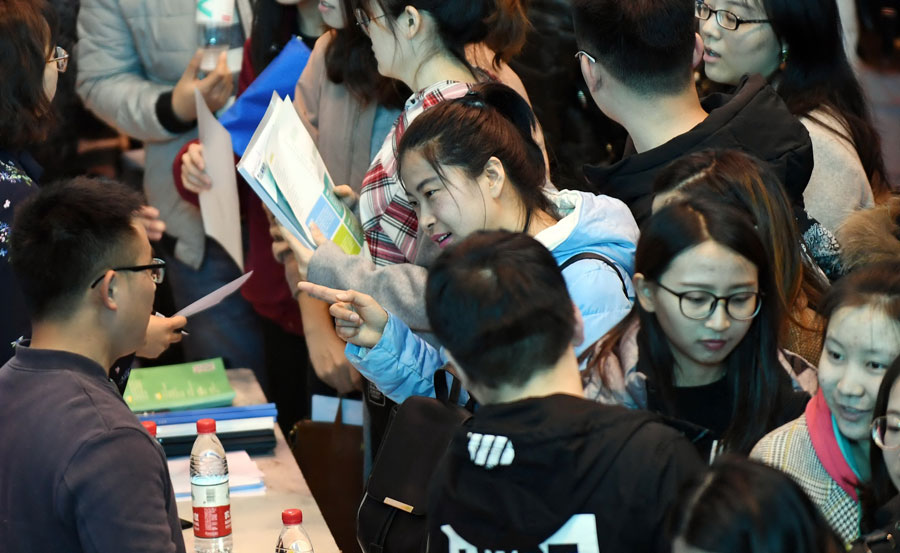 Big data, AI and robots now part of recruitment, talent retention and appraisals
Technologies like big data, artificial intelligence and robotics are transforming China's job market.
A robot recruiter can "read" not only an interviewee's resume but his or her body language, facial expressions, tone of voice and rhythm of speech, and then decide whether or not the jobseeker is competent enough for the advertised position.
For example, Vodafone, a UK-based telecom carrier, has used "robots" to analyze about 50,000 candidates' videos to help select proper customer service agents, according to a report last month on LinkedIn, an online social network for professionals.
LinkedIn surveyed about 9,000 human resources department heads worldwide. Some 90 percent of Chinese interviewees said they are likely to use big data in their recruitment process in the next two years. The corresponding global average was 79 percent, the report showed.
China's labor market has been riddled with high rates of attrition. In 2014, employers saw newly hired employees serving at least 34 months. By 2017, that figure dropped to 22 months, said Wang Xi'na, leader of LinkedIn China's research department.
This heightened attrition is prompting HR departments to spend 50 percent more time in finding the right candidates for vacancies in their organizations, Wang said.
"New entry-level hires cost 1.5 times their salary, while senior managers cost four times," she said. "It will become a trend for HR managers to use big data because it can significantly reduce staff cost and improve efficiency."
Zhou Xiaolin, an HR supervisor at Home Credit Consumer Finance Co Ltd, said the company is busy searching for data analysts to facilitate its risk control management - and technological tools have helped a lot.
Before preparing job ads, they would check recruitment agencies' databases to learn more about the skills needed for the post being filled.
Now, Zhou said, AI can help select the right candidates by matching certain keywords or phrases in resumes, such as "leadership", "quick to learn" and "strong adaptability", with the job profile. "I hope the technology will become more and more intelligent so that we don't have to do repetitive tasks. Maybe one day, it can help us to target the perfect candidate directly."
According to the LinkedIn report, about 40 percent of senior managers blame negative performance of revenue to a lack of the required human resources. However, only 20 percent of HR managers would match long-term strategy of the company with sufficient supply of proper talent.
"Human resources always lead the development direction of the company," Wang said.
In this sense, big data can play a role. Wang said a Chinese company wanted to find out in which overseas city it should set up its new R&D center. Using big data, its HR department evaluated many cities in terms of HR already available in the city and the city's attractiveness for talent elsewhere. The city eventually turned out to be the right choice, she said.
Yi Ping, senior partner of management consultancy Roland Berger, said it still takes time for Chinese recruiters to adopt the technology wholly due to limitations of data volume and decentralization.
She said internet-based, high-tech, financial and consultancy companies rely more on human intelligence, and may step up digitalization of their HR management.
In some companies, an internal monitoring system can show how an employee's gender, quality of training programs, incentives, and even the temperature and lighting in the office could affect performance, she said.
"Google once found using big data that the more French fries were consumed in the canteen, the poorer its staff behaved, that's why they cut the junk food out of the menu and provided more fruit and vegetables."
Yi said recording routine information about work performance throughout the year using big data can help give a more objective portrait for each individual.
Employees of Geely, a Chinese automobile maker, are asked to comment on their work partners every time a project is completed. Their remarks could be in the form of "hardworking" and "worked overtime" through an online platform. Data thus collected can be analyzed and the HR policy can be suitably tweaked, so as to award the best staff at the end of the year, Yi said.
An employee of Alibaba Group surnamed Ma said the company has a similar program that is used to allocate Alibaba's shares and bonus to best performers twice a year.
"It's hard to tell whether the judgment (made using technology) is objective or subjective," she said. "The team leader still has a big say."