Prime Minister of Pakistan heaps praise on project Tarbela hydropower station
Share - WeChat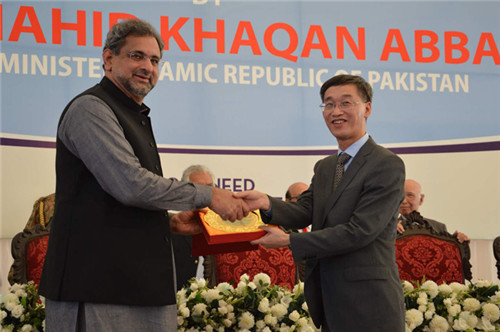 The inauguration of Tarbela 4th Extension Hydropower project was held on March 10.
Shahid Khaqan Abbasi, Prime Minister of Pakistan, and Chinese Ambassador to Pakistan Yao Jing and Counselor of Commercial Office in Chinese Embassy in Pakistan attended the ceremony. On behalf of POWERCHINA, Xiong Lixin, deputy general manager of Eurasian, unveiled the first set of power generation with Prime Minister of Pakistan and minister of Water and Resources.
Abbasi highly appreciated POWERCHINA's contribution on the construction of the project and said the success of generating power ahead of schedule would ease pressure of power supply in Pakistan, which can solve the difficulties of power shortage in peak season.
Lieutenant general Hussein, chairman of Pakistani Hydropower Development Office, said that POWERCHINA is out of this world and overcame many difficulties such as "120-meters-deep water operation and brake-lowering in water inlet" and "Steel Sheet Piling Cofferdam of 32 meters in depth" which are unusual worldwide.
As the largest and the most important one in Pakistan, Tarbela hydropower station's power installation accounts for 20 percent of the total in Pakistan.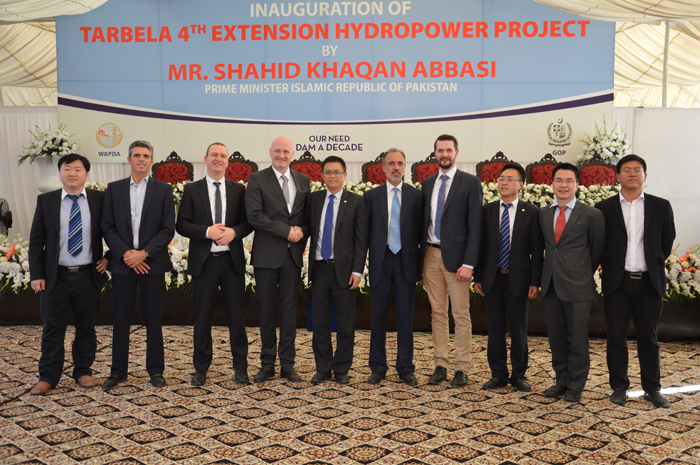 The Four-Phase Expansion Project aims to complete the installation of water diversion and power generation system, including the reconstruction of water intakes, steel penstock and main and auxiliary powerhouse. Capacity of power installation will increase by 1410 mW and provide Pakistan 4-billion-kWh clean energy each year after the Four-Phase Expansion Project goes into operation after May 2018.
The project signifies yet another breakthrough for POWERCHINA after the project of Coal Power Station in Qasim, which brings POWERCHINA into a sound situation that coal power and hydropower advance side by side.