CNPC takes stake in UAE oil concessions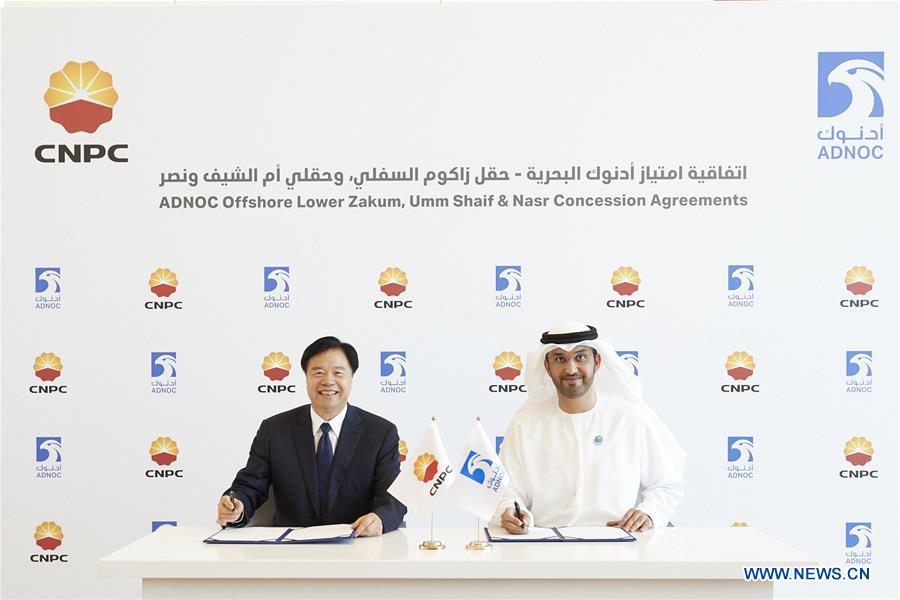 China National Petroleum Corp, the nation's largest oil producer, has signed two deals to take 10 percent stakes in two of Abu Dhabi National Oil Co's offshore concessions under a 40-year agreement.
CNPC, through its majority-owned listed subsidiary PetroChina, paid 2.1 billion dirhams ($575 million) to enter the Umm Shaif and Nasr concession, and 2.2 billion dirhams to enter the Lower Zakum concession, according to the company.
Under the agreements, PetroChina has been granted a 10 percent stake in the Umm Shaif and Nasr concession, and a 10 percent stake in the Lower Zakum concession.
Both concessions will be operated by ADNOC Offshore on behalf of all concession partners.
"The agreements, in addition to strengthening CNPC's growing relationship with ADNOC, will also help to meet China's rising demand for energy and contribute to asset portfolio optimization and the enhancement of PetroChina's profitability," said Wang Yilin, chairman of CNPC.
The outlook for the exploitable reserves and production scale of the concessions is very positive, and the deal will substantially boost PetroChina's offshore petroleum asset structure and diversify the company's assets in the Middle East, he said.
Sultan Ahmed Al Jaber, the chief executive officer of ADNOC, said the company's cooperation with CNPC will further deepen the strategic and economic relationship between the two nations.
According to Zhou Dadi, a senior researcher at the China Energy Research Society, China-UAE cooperation will help both countries further explore upstream exploration, unlocking growth opportunities for both sides.
CNPC was awarded an 8 percent stake last February in Abu Dhabi's onshore concession, operated by ADNOC Onshore. It also has acquired a 40 percent stake in the Al Yasat concession.
Al Jaber told China Daily earlier the company is committed to ensuring oil supplies to China while the country's growing demand for crude remains integral to the company's long-term growth strategy.
China imported 419.6 million metric tons of crude oil in 2017, surpassing the United States to become the world's biggest importer.
All crude exporters are seeking to grab a larger slice of the pie as China's imports are expected to account for more than 70 percent of the nation's crude oil supply this year.