'Technology' is buzzword for manufacturers
Share - WeChat Industries are rushing to meet the goals of Made in China 2025.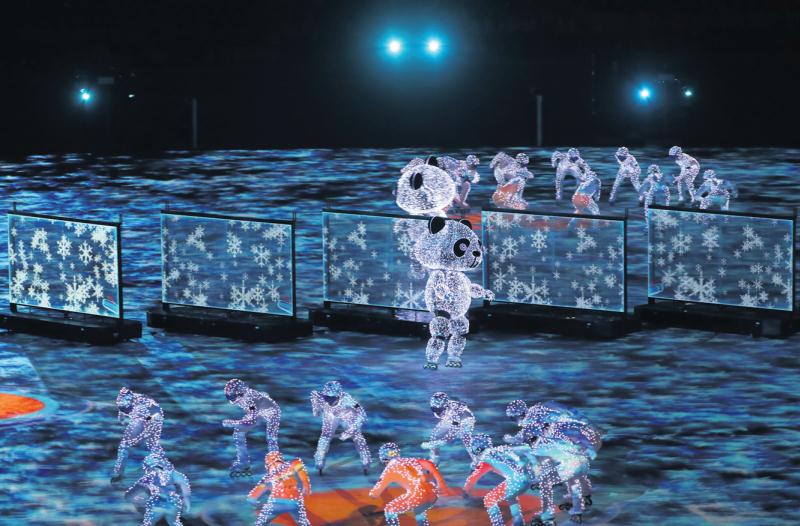 Under dazzling lights, 24 robots "danced" in tune to music alongside human performers in an eight-minute, high-tech show during the closing ceremony of the 2018 Winter Olympics in Pyeongchang, South Korea, in late February.
It was one of the largest live performances of its kind in the world.
The robots that appeared in the show were all made by Siasun Robot and Automation, a typical example of China's growing ranks of manufacturers that are moving up the industry chain.
Siasun, based in Shenyang, Liaoning province, conducts research and development of industrial robot applications, automatic assembly and production lines.
"The biggest difficulty was that the robots were expected to perform a variety of complicated moves and be in sync with the performers, lights and music," said Zhang Lei, who develops mobile robots for Siasun. "We made it happen by using cutting-edge computer vision technology and laser guidance systems."
The technologies used in the show are already helping Chinese factories boost efficiency. They are part of the country's broader push to marshal its high-end manufacturing power, as the world's second-largest economy scrambles to embrace technology and upgrade its sprawling industries.
With significant progress already made, China will breathe new life into Made in China 2025 — its ambitious 10-year strategy to upgrade and transform Chinese manufacturing — in the hope of shoring up weaknesses in major equipment manufacturing and become a global manufacturing giant.
China will promote the development of integrated circuits, 5G mobile communications, aircraft engines, new energy vehicles, and new materials, Premier Li Keqiang said this month when delivering the Government Work Report at the opening of the first session of the 13th National People's Congress, the top legislature.
According to Li, the central government will also cultivate globally competitive industrial internet-of-things platforms and set up innovation demonstration zones.
The Made in China 2025 strategy, rolled out in 2015, aims to turn China into a global leader in manufacturing, with increasing investment in research and development as well as application of cutting-edge technologies.
Minister of Industry and Information Technology Miao Wei said the government has completed the top-level design of the grand plan.
"Concrete steps have also been taken in the past two years to implement the strategy, with significant progress in core technologies and overall manufacturing quality," Miao said.
One of the bright spots is the maiden flight of the country's first homegrown large passenger aircraft, the C919. The narrow-body jet underlines the country's ambitious commercial aviation program, and it is set to provide a major impetus to domestic airplane manufacturing.
This year, the C919 will enter the phase of obtaining airworthiness certification in China after achieving a number of milestones in the past year, including the successful flights of two test aircraft, among the six planned in total, according to Wu Guanghui, chief designer of the C919, on the sidelines of the annual NPC session.
"We can deliver the aircraft to China Eastern Airlines in 2021," Wu said.
When it comes to robotics technology, domestic companies have also made strides in both quantity and quality. In 2017, China produced more than 120,000 industrial robots, a surge of 68 percent year-on-year.
More importantly, the country has beefed up its capability to produce reliable speed reducers, servomotors and control panels, which are the three basic building blocks of sophisticated automated machines. The progress reduces China's heavy reliance on foreign suppliers for these key robotic components.
Wang Jiegao, chief engineer of Estun Automation and general manager of subsidiary Estun Robotics, said the company can produce over 100,000 servomotors a year, which can partially help meet robust domestic demand.
The goal of producing quality industrial products is also gaining momentum in the bullet train sector. In recent years, China has built the world's largest high-speed rail network and become a world leader in providing globally competitive high-speed products and services.
By 2020, China Railway Rolling Stock Corp, which manufacturers the country's high-speed trains, is expected to supply new bullet trains with a maximum operating speed of 400 kilometers per hour to markets related to the Belt and Road Initiative.
The new trains will also cut per passenger energy consumption by 10 percent compared with trains that run at 350 km/h.
"Over the past few years, China has demonstrated its competitive edge in high-speed rail technology," said railway expert Wang Mengshu, who is a member of the Chinese Academy of Engineering.
As China furthers its push to upgrade manufacturing, building industrial internet platforms will be on the top of its agenda, according to Qu Xianming, an expert on the National Manufacturing Strategy Advisory Committee.
"Industrial growth will benefit considerably from the strategy, which can catalyze the long-predicted convergence of IT and industry in China," Qu said.
Haier, the country's largest home appliance manufacturer, is already marching ahead in that direction.
The company has built an industrial internet system, or a network of machines with internet-connected sensors and industrial apps, which collect and analyze data from consumers, suppliers and factories.
The system, CosmoPlat, is designed to allow companies to customize products at speed and scale while boosting productivity and cutting costs.
It garnered 320 million users and 3.9 million enterprises last year, covering electronics, textiles, equipment, construction, transportation and chemical engineering. Based on the open platform, Haier has also launched nine internet-based smart factories, with a target of establishing 12 more this year.
"The most important characteristics of the internet era are the zero-distance relationship with consumers," said Zhang Ruimin, chairman and CEO of Haier, highlighting the importance of integrating users and enterprises in the age of new manufacturing.