Online adult education turns lucrative
Share - WeChat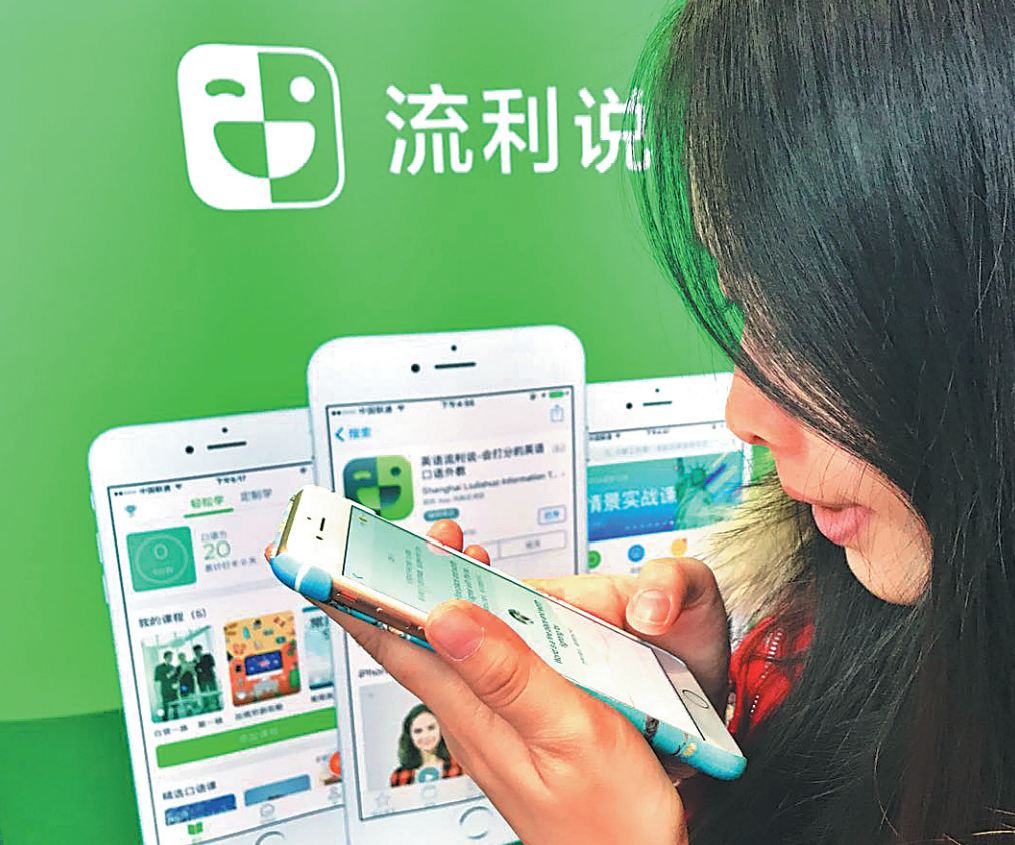 Quality content with a personalized touch commands premium price in a growing market driven by 'middle-class anxiety' over careers
For Chen Hua, 28, an automobile engineer in Shanghai, reading out English text aloud after taking pronunciation lessons on a mobile app has become an evening routine. Chen might skip dinner, but wouldn't trade even one language class delivered by the app for anything.
"Haven't been using English much since I left college," said Chen, who graduated from China's prestigious Tongji University in Shanghai. "I now feel the pressure to pick it up using spare time."
The "pressure" arises from a constant fear of being left behind as English-proficient peers appear to get ahead. Academic circles refer to this as "middle-class anxiety", which is gripping some sections of China's population.
In a report released by leading online recruiter Zhaopin in January, one-fourth of surveyed white-collar workers said they feel more stressed than inspired, citing reasons from volatile paychecks to gloomy career prospects.
Most important of all, many people worry that the worth and utility of their knowledge and qualifications could erode due to thriving technological progress, globalism and entrepreneurship.
"This sentiment of continuous progress is propelling young white-collar workers toward a long-term remedy: education," said Du Miaomiao, an analyst at consultancy iResearch.
And what's better than the internet to utilize spare time to receive education again in life?
The consultancy forecast that China's online education market is poised to grow 20 percent annually to reach 270 billion yuan ($42.8 billion) by 2019, more than one-fifth of the projected global total.
This spells big opportunities for Chinese online education firms, which had attracted 144 million users by June last year, according to data from the China Internet Network Information Center.
"Intensified peer pressure, especially at workplaces, is one factor that fuels our business," said Wang Yi, CEO of Liulishuo, an English-learning app that Chen uses every day.
Wang, a Princeton computer science graduate and former product manager at Google Inc, launched the app over five years ago with the intention to disrupt China's hidebound brick-and-mortar language schools.
Liulishuo-it is Chinese for "speaking fluently"-brings social media and gaming elements to the genre. Its 70 million registered users, one-third of whom have two to three years of work experience, stand to win points upon completion of certain assignments and move on to the next level.
Wang said that unlike preschool or K12 education, the adult-learning market is characterized by an inherent desire for self-improvement. Students of online adult educational courses feel the fee is money well spent.
Already 1 million have signed up for the online training courses in listening and speaking that charge 99 yuan per month, according to the company.
"We are definitely seeing this shift from 'learn to survive' to 'learn to advance and have fun'," said Wang, whose firm raised roughly $100 million in its latest round of financing.
Also cashing in on this trend is Hujiang EdTech, which started out as an online language education provider but has expanded into other subjects.
Last year, it rolled out Hitalk, a service dedicated to colloquial English that gained traction among those aged between 25 and 38.
"For well-educated adults, they know what precisely they lack and which curriculum they want," said Song Jianhong, president of Hujiang's online classes division Hujiang Online Class. "So our offerings (courses) have to be very practical, efficient and effective."
To personalize offerings, Hujiang and Liulishuo have both introduced big data and algorithms to quantify multiple dimensions of speech, as well as automatically tailor courses so that the courses could walk a fine line between challenging the students and discouraging them to the extent that they quit learning.
"With the robotics era looming, more middle-level jobs could be potentially at risk, meaning that the middle class has stronger awareness of what measures they need to take in order to stay ahead of the curve," iResearch's Du noted.
And it's not just confined to language courses. China's growing consumers have shown they will spend big money on the right educational programs.
Chen Ziying, a bank clerk in Beijing, has forked out an annual 199 yuan subscription fee for a macroeconomics lecture series on Ximalaya FM, the country's top audio content platform.
At the start of this year, the new media firm unveiled 20 paid-for programs on topics ranging from finance and psychology to history and culture. It hopes to pump in more resources into high-quality programming and professional content.
Ximalaya co-founder Yu Jianjun said today's consumers have woken up to the fact that they need to pay for quality online content.
"They (consumers) are maturing and evolving from aimlessly accepting whatever is published online to consciously choosing content that promises high-quality programs," Yu said.
Ye Tan, a veteran business commentator who hosts two shows on Ximalaya, said her courses on analyzing everything from a financial perspective aim to address the anxiety of the middle class that the value of their assets like formal education, qualifications, work experience and soft skills would depreciate.
"Most of our listeners value self-motivation and lifelong learning," Ye said. "Those are the words of the day."