Ofo pledges part of bicycle fleet to Alibaba affiliates
Share - WeChat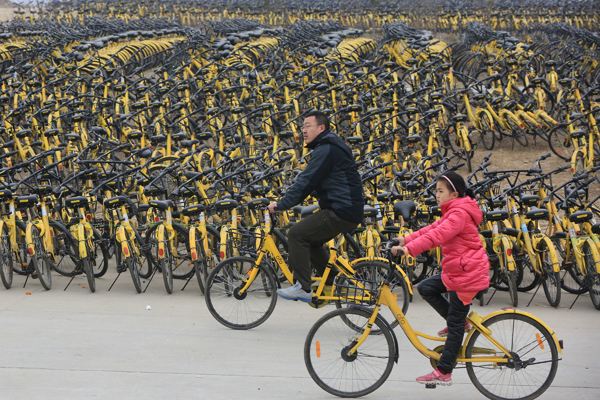 Ofo Inc has mortgaged part of its bicycle fleet to companies affiliated with Alibaba Group Holding Ltd to raise 1.76 billion yuan ($278 million), as the Chinese bike-sharing startup works hard to solve its reported cash crunch.
The first such mortgage deal in the bike-sharing sector highlights Ofo's heavy reliance on fundraising to maintain operations amid its mounting competition with Mobike Technology Co Ltd.
Ofo mortgaged roughly 4.45 million bikes in Beijing, Shanghai, Guangzhou and Shenzhen to a company, roughly translated as Shanghai Yunxin Entrepreneurship Investment Co Ltd, on Feb 5, according to National Enterprise Credit Information Publicity System. Shanghai Yunxin's legal representative is Jing Xiandong, CEO of Alibaba's financial affiliate Ant Financial.
Seven days later, Ofo mortgaged again an undisclosed amount of its bicycles to Zhejiang Tianmao Technology Co Ltd, which is also affiliated with Alibaba.
Guo Tianyong, a researcher at the Central University of Finance and Economics, said mortgage assets can give investors a sense of security when they pour money into startups.
The deal came after bike-sharing companies saw a plunge in orders due to cold weather in many Chinese cities in the winter, which motivated many users to withdraw their deposits.
Meanwhile, Ofo is also in a tense relationship with its investor Didi Chuxing, the country's largest ride-hailing company, after Ofo CEO Dai Wei had disagreements with executives sent out by Didi to help Ofo better run its business.