Dedicated doctor honored for six decades of service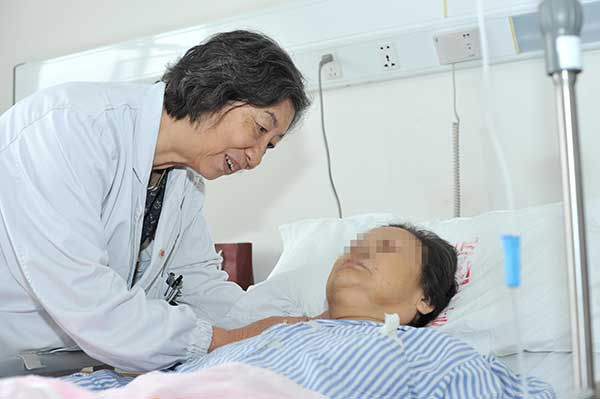 She has worked at the same hospital for over 60 years and helped countless patients. Many have become her friends and rely on her emotionally. They come to the hospital and ask Liao for help on health problems that are not necessarily related to their lung cancer.
Liao said the best part of her job is seeing how much medical science has developed.
"We used to consider a five-year survival period for cancer patients to be good, but now every doctor has many patients who live more than 15 years," she said.
According to data released by the National Cancer Center in February last year, about 10,000 people are diagnosed with cancer every day across the country, and lung cancer has the highest rates of morbidity and mortality.
However, Liao said the morbidity rate for male lung cancer patients is showing a slightly decreasing trend, while that of women remains stable, which means there is a greater focus on females.
Liao's father was a professor of electrical engineering at Shanghai Jiao Tong University, and she had planned to follow in his footsteps. But after his death from an unexpected stroke, she decided to study medicine.
After graduating from medical school in 1957, Liao was assigned to the Shanghai Chest Hospital to work for the department of internal medicine. In the decades that followed, she became interested in lung cancer, an increasingly prevalent yet relatively neglected disease in the country at that time.
Feeling her professional knowledge to be insufficient, in the early 1980s, Liao, then nearly 50, applied to the World Health Organization for funding to study respiratory medicine at McMaster University in Canada.
After 14 months of intensive study, Liao returned to China in 1984. With her newly gained knowledge and skills, she became the first doctor in the country to propose a multidisciplinary diagnosis and treatment strategy for small cell lung cancer, and pioneered the comprehensive diagnosis and treatment of the disease in China. Moreover, she has published more than 200 papers in China and overseas.
"Liao is a responsible and persistent person. Every day she insists on reading CT slices that she doesn't need to", such as those of former patients collected for research purposes, said Jian Hong, a colleague of Liao for more than 30 years. "She uses them as resources for research and teaching young doctors."
Because of Liao's great contribution to lung cancer diagnosis and treatment, she has gained many titles, including honorary chairman of the China Society for Clinical Oncology's collaborative professionals committee and deputy director of the China Anti-Cancer Association's lung cancer professionals committee.
Yet she said none of the honors compares with seeing and treating patients: "I'll keep on helping patients as long as my physical condition allows," she added.