Friendship forged in the furnace of turmoil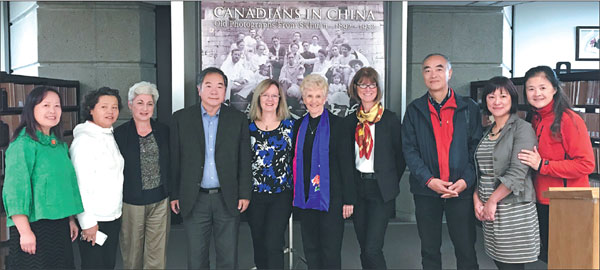 They are little known and almost forgotten, but Canadian missionaries mostly from southern Ontario who traveled to China starting in the late 19th century played a crucial role in the history of Canada-China relations, reports Na Li in Toronto.
Inside the University of Toronto library, a black and white photo that is part of a photo exhibition shows two little girls petting a baby giant panda on a cane chair.
The photo is of Marion Walmsley Walker and her sister playing with the panda named Pandora in Chengdu, Sichuan province, in 1938.
"It has been 68 years since I left the home of my birth and the Canadian School that I loved," said 86-year-old Walker, who attended the photo exhibition last October with her family.
"How many memories are there: of learning, athletics, music, fun and growing up."
The exhibition of archived photographs on the library's eighth floor, Canadians in China: Old Photographs from Sichuan 1892-1952, documents the lives and contributions of Canadian missionary doctors in Sichuan during those eventful years.
In 1891 Walker's grandfather, Doctor O. L. Kilborn, went to Chengdu from Canada with his wife Jennie. In 1910, through joint efforts of missionary organizations of Canada, Britain and the United States, Kilborn and others founded West China Union University.
Walker's parents went to Sichuan from Canada in 1921. Her father, Lewis C. Walmsley, had a good knowledge of Chinese culture. He received a PhD in education from the University of Toronto in 1945. His dissertation was on the education system of classic Chinese literature. He translated the Collected Poems of Wang Wei, in collaboration with Chang Yin-nan.
Three generations of Kilborns served in China for a total of 72 years (61 years in the Chinese mainland and 11 years in Hong Kong), contributing to China's medical science and education. Their service ended with son Leslie Kilborn's retirement.