Heilan crosses revenue milestone with tech
Share - WeChat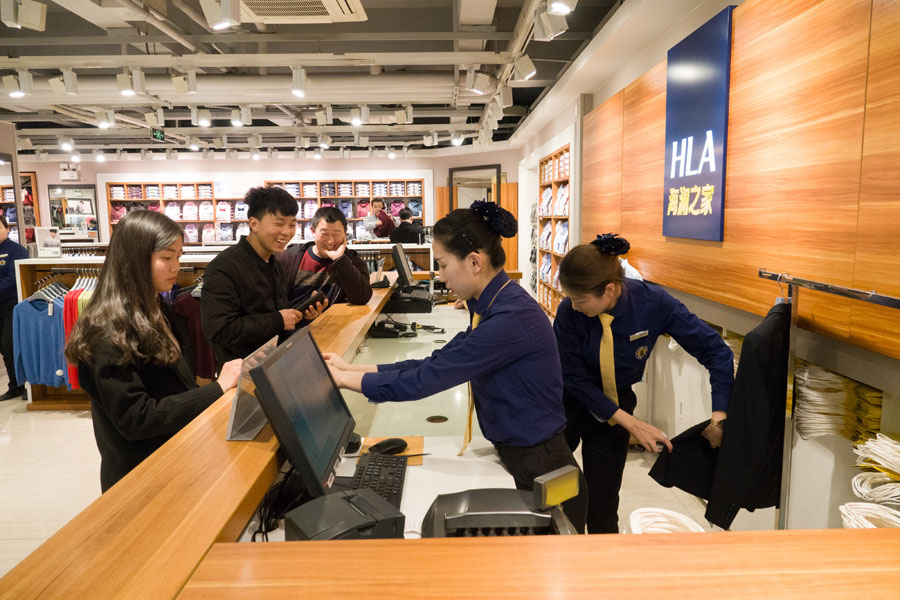 Wuxi-based apparel retail chain Heilan Group Co Ltd became the city's first enterprise to generate more than 100 billion yuan in revenue, thanks to adoption of state-of-the-art technologies.
Storing and sorting immense quantities of goods, and logistics, used to be the biggest headache for retailers like Heilan, which owns more than 5,000 stores across China.
But radio-frequency identification or RFID technology, which embeds a little chip in the label of each garment, solved the problem.
By scanning the chip, Heilan's computer system can recognize the store where the garment should be delivered. This, combined with automated sorting, helps improve the efficiency of distribution logistics.
"It takes just 30 seconds for a piece of clothing to go through the procedure of storage, pickup, sorting and delivery preparation. This greatly lowers the labor cost and enhances storage and logistics efficiency," said Kou Sha, deputy director of Heilan Group's administration office.
According to Kou, the facilities at the company's industrial park handled about 400 million items of clothing in 2016.
RFID chips collect comprehensive data on every piece of clothing, covering trials, sales at every store, and help in product research and development, as well as goods distribution, Kou said.
RFID machines sort and scan piles of boxes with nearly 10 times the efficiency of manual laborers. They can collect the information for 400 labels in a little over five seconds, without having to open any box.
The company's increasing use of the internet of things and its subsequent growth have managed to offset the impact of the sluggish garment retail sales in China on the sector's fortunes.
Online sales of the company reached 120 million yuan in 2016. The figure is expected to reach 1 billion yuan for 2017 (actual data is yet to be released). The expected robust growth is credited to adoption of new technologies.
Last July, Heilan Home, a notable male fashion brand owned by Heilan Group, opened in Kuala Lumpur, the capital of Malaysia. Seven other stores are operating in the Southeast Asian country, according to Kou.
Founded in 1988 with 300,000 yuan by its founder Zhou Jianping, Heilan Group is currently operating more than 10 brands targeting male, female, fast fashion, affordable luxury, and household and consumer goods with attention paid to cost-effective production and product quality.