B&R helps SEZ upgrade
Share - WeChat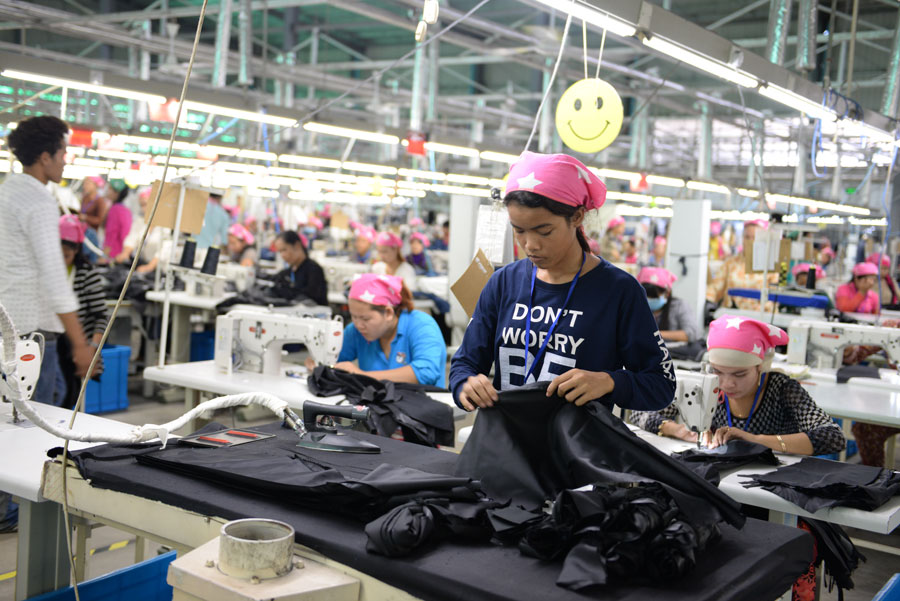 With committed efforts of both Chinese and Cambodian governments, the Sihanoukville special economic zone or SEZ along the southwest coast of Cambodia is upgrading itself.
Under the China-pioneered Belt and Road, or B&R, Initiative, the SEZ is recognized as a role model by the local government.
Jointly developed by Wuxi based garment giant Hodo Group and Cambodia International Investment Development Group in 2007, the Sihanoukville SEZ is the first of its kind. It was developed based on an intergovernmental agreement and bilateral coordination mechanism between China and Cambodia.
Covering about 11 square kilometers, the SEZ has attracted 121 companies, including 104 Chinese ones, five Cambodian, and the rest from developed markets such as the United States and Japan.
The companies mainly specialize in industries like textiles, garments, machinery, electronics, leather products and wooden flooring.
According to Chen Jiangang, chairman of the SEZ, the zone will soon be upgraded to exploit opportunities brought by the B&R Initiative and Cambodia's industrial development plan for 2015-25.
More projects will be introduced to form a complete industry chain and enhance the competitiveness of the SEZ. To that end, there will be 300 companies operating in the zone, offering jobs to up to 100,000 workers.
"Our goal is to build it into a role model under the Belt and Road Initiative, which can cater to the demand of the local market and residents," said Chen.
Over the past decade, Hodo has built infrastructure in the SEZ. It has worked with the local customs, commerce and labor departments to work out one-stop administrative service for companies to finish various procedures.
Now, the investment application process, registration, customs clearance, commodity inspection and the issuance of certificate of origin are done at one booth at the local government level, which helps improve companies' efficiency.
According to Chen, Hodo has also set up a labor market in the zone to provide necessary human resource services, especially to those seeking bilingual (Chinese and Cambodian) talents.
"The most important thing is to transform the local residents, who were once farmers, into professional workers. It is about skills and their mindset," he said.
So, Hodo worked with the Wuxi Vocational Institute of Commerce on 11 programs, training up to 25,000 local workers in Cambodia.
Thanks to this SEZ, Sihanoukville province overtook others to register the highest GDP per capita in Cambodia in 2016, which was approximately $1,800.
As Chen explained, the success of the SEZ can be largely attributed to the dedication of both governments.
In a meeting between Chinese President Xi Jinping and Cambodian Prime Minister Hun Sen in October 2016, the two countries signed the China-Cambodia Joint Declaration to continuously carry out the construction of the Sihanoukville SEZ.
In an article for a local newspaper in Cambodia early January, Chinese Premier Li Keqiang wrote that the SEZ "stands a symbol of renewed China-Cambodia friendship by delivering real benefits to the people".